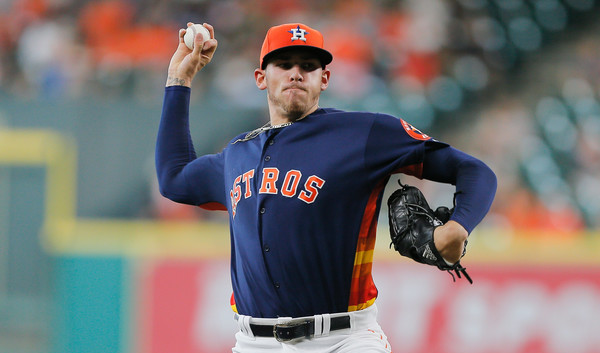 According to multiple reports, the Astros are prepared to do something big this offseason. They had a breakout 2015 season, winning 86 games and beating the Yankees in the AL Wildcard Game before losing to the Royals in the ALDS. Rather than build on that success in 2016, they slipped to 84 wins and fell five games short of a postseason berth. They want to wipe that disappointing 2016 season from their memories.
So far this winter Houston has been connected to big name players like Edwin Encarnacion and Miguel Cabrera. More realistically, the Astros are also said to have interest in Yankees catcher Brian McCann, who has been deemed expendable thanks to the emergence of Gary Sanchez. Jason Castro is a free agent and the 'Stros want a veteran backstop who can lead the staff and also provide some offense. McCann can do exactly that.
The Yankees are reportedly willing to eat up to half the $34M remaining on McCann's contract to facilitate a trade, but if they do that, they want a better package in return. Makes sense. Pitching is said to be the top priority this offseason and I'm guessing that will be the focus in any McCann trade. McCann has a full no-trade clause, so he's in control here. There are indications he will approve a trade to the Astros because they figure to contend and he'll be able to DH. We'll see.
Despite all their tanking over the years, Houston's farm system is not loaded with talent at the moment. They've got plenty of good prospects, don't get me wrong, but it's not like the Yankees will be sifting through a farm system as deep as, well, their own. Here are some 'Stros youngsters who could pique New York's interest as they work through a McCann trade. The players are listed alphabetically and all scouting reports come from MLB.com.
RHP Chris Devenski
Background: Devenski, 26, was a 25th round pick by the White Sox in 2011. The next year he was sent to the Astros as the player to be named later in the Brett Myers trade. Devenski worked as both a starter and reliever in the minors, and after making his MLB debut as a starter this season, he settled into a relief role and had a 2.16 ERA (2.34 FIP) in 108.1 innings. Only Michael Fulmer bested Devenski in fWAR (3.0 vs. 2.8) and bWAR (4.9 vs. 2.8) among AL rookie hurlers.
Scouting Report:
"The key to his success is his plus changeup, which allows him to get swings and misses from lefties and righties alike despite having otherwise fringy stuff. Devenski's fastball operates at 89-91 mph and tops out at 93. He also has a curveball that he can throw for strikes. Devenski can't overpower hitters, but he keeps them off balance and doesn't beat himself with walks or homers."
Why Should The Yankees Want Him? Devenski has the tools to start thanks to his three pitches and good control. His velocity ticked up as a reliever — he averaged 92.3 mph and topped out at 97.6 mph in 2016 — but even at 89-91 mph he can have success turning a lineup over multiple times, especially if he maintains his 4.9% walk rate. The upside here is a cheap back-end starter with the fallback option of a pretty good reliever.
Why Should The Yankees Stay Away? There are reasons to believe Devenski is not as good as he was this past season. I can't help but look at his 33.5% ground ball rate and 0.33 HR/9 (3.5 HR/FB%) and think that's probably not going to last long-term, especially not for a dude with an 89-91 mph fastball as a starter in a small ballpark like Yankee Stadium. That doesn't mean Devenski can't still be valuable with, say, a 1.00 HR/9 as a starter, it just means his 2016 performance probably isn't who he will be going forward.
RHP Michael Feliz
Background: The 23-year-old Feliz originally signed with the Athletics as an amateur out of the Dominican Republic, but his contract was voided after he failed a drug test. The Astros scooped him up, he served his 50-game suspension, and he's since blossomed into a hard-throwing righty. Feliz received a cup of coffee last year and spent the entire 2016 season in Houston's bullpen, where he had a 4.43 ERA (3.24 FIP) with a great strikeout rate (35.2%) and an okay walk rate (8.2%) in 65 innings.
Scouting Report:
"His fastball sits in the mid 90s and gets up to 98 mph. His slider is his best secondary offering, and his changeup gives him a third quality offering. He mostly works around the zone, but his delivery will need more refinement before he truly commands all of his pitches. If he can make the necessary adjustments, he'll have all the makings of a frontline starter."
Why Should The Yankees Want Him? Feliz has good size — he's listed at 6-foot-4 and 230 lbs. — and tremendous raw stuff, though he didn't throw his changeup a whole lot in relief this year. The natural ability is there, as is the potential to start long-term. A 23-year-old kid with this kind of arm is always worth pursuing.
Why Should The Yankees Stay Away? Like many young kids with big arms, Feliz lacks overall command and it'll come down to improving his delivery. That's not easy to do. Also, some other scouting reports, such as Baseball America's (subs. req'd), aren't as enthusiastic about his slider and changeup as MLB.com. Feliz has talent. He is need of refinement though, and he may not be ready to step into the rotation next season.
RHP Francis Martes
Background: Martes went to the Astros in the Jarred Cosart trade with the Marlins, when he was still in rookie ball. He's since developed into one of the game's top pitching prospects. Martes, 20, had a 3.30 ERA (2.73 FIP) with a 25.0% strikeout rate and a 9.0% walk rate in 125.1 Double-A innings this summer, where he was more than four years younger than the average Texas League player. MLB.com currently ranks him as the 29th best prospect in baseball.
Scouting Report:
"(Martes) now operates at a consistent 93-95 mph with a peak of 98. His breaking ball improved even more significantly last year, becoming a devastating power curveball. His changeup is in its nascent stages but shows some promise. Martes' control also got a lot better during his first full year with his new organization … (He's emerged as) a potential frontline starter."
Why Should The Yankees Want Him? Martes is one of the top pitching prospects in baseball, and he's nearly MLB ready. He figures to start next season at Triple-A and could earn a midseason call-up, regardless of whether he's with the Yankees or Astros or whoever. The fastball/curveball combination points to a future at the front of a big league rotation.
Why Should The Yankees Stay Away? As with most 20-year-old pitching prospects, Martes is still rough around the edges. He doesn't have much of a changeup, and that's a pretty big deal. His control isn't all that great either. Martes is very exciting. That fastball/curveball combo is as good as it gets. But until he refines his changeup and strike-throwing ability, it's hard to think he'll be an effective MLB rotation option.
RHP Joe Musgrove
Background: The Blue Jays drafted the 23-year-old Musgrove with the 46th overall pick in the 2011 draft, then traded him to the Astros in the ten-player J.A. Happ trade at the 2012 deadline. (Ten-player J.A. Happ trade!) Musgrove was a borderline top 100 prospect coming into 2016. He made his MLB debut in August and had a 4.06 ERA (4.18 FIP) with nice strikeout (21.5%) and walk (6.3%) rates in 62 innings spread across ten starts and one relief appearance.
Scouting Report:
"Musgrove takes advantage of his big, physical frame to throw his low-to-mid-90s fastball from a good downhill plane. He mostly attacks hitters with his fastball and pounds the zone with it, creating plenty of ground ball outs. He also has a good curveball and some feel for his changeup, but both of his secondary offerings still need more refinement … He has all the makings of a future workhorse starter."
Why Should The Yankees Want Him? The MLB.com scouting report doesn't mention what Baseball America (subs. req'd) calls "plus command/control," which allows everything to play up. Musgrove is a no-doubt starter long-term thanks to his ability to locate four pitches — PitchFX has him throwing a slider in addition to the fastball/curveball/changeup in the scouting report, and you can that slider in the video — and that's exactly what the Yankees are looking for.
Why Should The Yankees Stay Away? There aren't many reasons, really. Musgrove is not a budding ace or anything. His ceiling isn't sky high. He's more likely to settle in a solid mid-rotation pitcher, which is perfectly fine. Not exciting at all, but fine.
RHP David Paulino
Background: Like Martes and Musgrove, the 22-year-old Paulino was acquired in a trade when he was still in rookie ball. The Astros got him as the player to named later in the Jose Veras trade with the Tigers in 2013. Paulino was rehabbing from Tommy John surgery at the time. This season he had a 1.91 ERA (2.32 FIP) with 28.6% strikeouts and 5.4% walks in 94 innings split between Double-A and Triple-A. Paulino made his MLB debut in September and allowed four runs in seven innings. MLB.com currently ranks Paulino as the 70th best prospect in baseball.
Scouting Report:
"(Paulino) came back from his elbow reconstruction to operate at 93-95 mph and hit 98. His curveball also has improved significantly, becoming a legitimate power breaking ball and giving him a second pitch that grades as well above-average when at its best. Paulino has made strides with his changeup too, and he had no problem regaining his control after Tommy John surgery … He has frontline-starter ceiling but also little track record."
Why Should The Yankees Want Him? Paulino's raw stuff is electric. Mid-90s gas, a bat-missing curveball, and an improving changeup, all with decent control. On top of that, the kid is listed at 6-foot-7 and 215 lbs., so he's a big intimidating presence on the mound who gets great extension out in front. It's very easy to dream on Paulino and envision him becoming a top of the rotation starter.
Why Should The Yankees Stay Away? Injuries, for starters. Paulino had Tommy John surgery in 2013, and that along with some other issues limited him to 106.1 total innings from 2011-15. Also, Paulino was suspended for a month this past season for an undisclosed violation of team rules. Like Jorge Mateo, but a longer suspension. Even if the suspension doesn't bother you and you're willing to overlook the injuries, the bottom line is this kid has thrown 203.1 innings over the last six years. Total. That's an awful lot of development time missed.
OF Kyle Tucker
Background: The only position player in this post was the fifth overall pick in the 2015 draft. Tucker, 19, is the younger brother of Astros outfielder Preston Tucker. Kyle hit .280/.354/.433 (125 wRC+) with ten homers and 33 steals, plus promising strikeout (16.6%) and walk (9.8%) rates, in 122 games between Low-A And High-A this season. MLB.com currently ranks him as the 49th best prospect in baseball.
Scouting Report:
"Tucker makes consistent hard contact thanks to fast hands, a balanced left-handed swing and a mature approach. He also has plenty of raw power and could deliver 20 homers per season once he fills out his lanky 6-foot-4 frame … (Tucker) profiles best in right field. He has solid arm strength and speed, though he figures to lose a half-step once he matures physically."
Why Should The Yankees Want Him? Because he's one of the best pure hitting prospects in the minors, that's why. Tucker is not quite Christian Yelich but it's the same basic skill set. Quick hands and a sweet lefty swing that generate oodles of hard contact. The Yankees have a ton of outfielders in their farm system, but that doesn't matter. Tucker is better than pretty much all of them. He's the best prospect in Houston's system in my opinion and therefore the best non-big leaguer the Yankees would be able to pry loose in a McCann trade.
Why Should The Yankees Stay Away? Aside from the fact Tucker is only 19 and in Single-A, meaning there's still plenty of time for things to go wrong, I can't think of one. I guess also because he doesn't satisfy the Yankees' long-term pitching needs?
* * *
The Yankees have had interest in righty Lance McCullers Jr. before, specifically last year during Andrew Miller trade talks, but the Astros shot that down. I assume McCullers is still off limits. The same is probably true of righty Forrest Whitley, Houston's first round pick in this past summer's amateur draft. Here is MLB.com's top 30 Astros prospects list, if you want to sift through that some more.
I'd love to see the Yankees get Tucker in a McCann trade, but I don't think it's going to happen, even if they eat $17M of the $34M left on his contract. Out of everyone else in this post, Musgrove is the guy I hope the Yankees target. He has four pitches and good command, plus he got his feet wet at the MLB level this year, so he's ready to step right into the rotation. It would be nice to have a young pitcher who is more than a good stuff/bad command guy one of these years, you know?