Eleven questions and eleven one-paragraph answers this week. You can send us mailbag questions or anything else using the Submit A Tip box in the sidebar.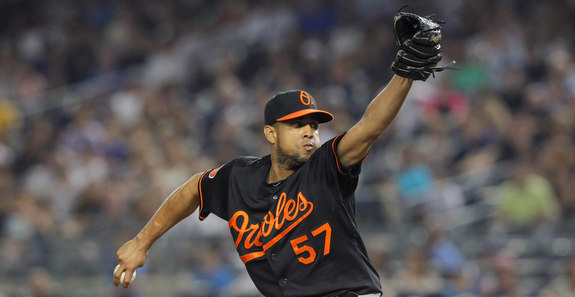 Dan asks: Doesn't it make a lot of sense for the Yankees to go after Francisco Rodriguez? He'd provide a power arm for the bullpen (which clearly still needs one or two more pieces). He has closer experience if Robertson doesn't work out.
Rodriguez, 32, didn't sign until the middle of April last year, remember. He did pitch better in 2013 (2.70 ERA and 3.65 FIP) than he did in 2012 (4.38 ERA and 3.83 FIP), so maybe that means he won't have to wait as long to find a new team this offseason. K-Rod still misses plenty of bats (10.41 K/9 and 28.0 K% in 2013) but he's also become way more fly ball (only 36.4% grounders) and homer (1.35 HR/9 and 15.2% HR/FB) prone in recent years as he's lost velocity. He's not the elite, shutdown reliever he was as recently as 2011 anymore, but Rodriguez is still a solid bullpen arm who can help the Yankees. They might be wary of his off-field issues though.
David asks: Now that the Yankees have signed Masahiro Tanaka, are they more free to trade Ichiro Suzuki? I thought they might hold onto Ichiro long enough for him to help with the sales pitch, but they really need an OF who can hit the ball out of the park now and then. On the days Beltran plays the OF and Jeter plays SS, would Ichiro be the current option at DH?
I don't think Ichiro was ever part of the sales pitch to Tanaka — if we was, we haven't heard anything about it — and they were always free to trade him. It just seems like there are no takers, even if the Yankees eat some salary. The bench right now looks really awful (Frankie Cervelli, Brendan Ryan, Ichiro … Scott Sizemore?) with no one who can be used as a pinch-hitter or anything like that. Beltran and Alfonso Soriano figure to split DH and right field, but on the days one of them sits, it'll be Ichiro who plays. That's not ideal. I'd like to see an actually hitter on the bench, someone who can run into a fastball or at least get on-base at a decent clip.
Sam asks: We see Robinson Cano get 10/240, Clayton Kershaw land 7/217, and Tanaka (without an MLB pitch to his name) get 7/155. Is there a point, in your opinion, where we hit a ceiling of what an MLB player is being paid, or are we looking at $500+ million dollar contracts down the road?
This isn't an MLB only thing, though MLB salaries have inflated more rapidly than the rest of the working population's. It's only a matter of time before we get a $500M+ contract and I bet it'll happen sooner than we expect, maybe within the next 20 years or so. Heck, there will be a point where the average annual salary in the U.S. is $500M, but that won't happen in our lifetimes. As long as the union stands its ground and does not allow a salary cap, MLB salaries are only going to continue going up. It's the way of the world.
Kevin asks: Do you think last year's three first round draft picks and the planned spending frenzy in international free agency can lead to the Yankees' farm system being decent and (dare I say it) maybe even good? I know they won't have a first round pick this season, but it's not like you are completely missing out on talent if your starting your draft in the second round.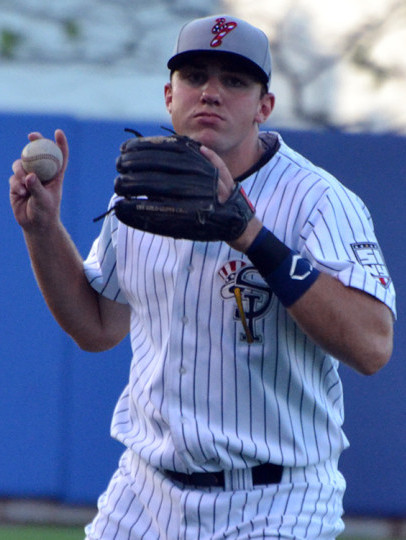 To steal a phrase from Hubie Brown, there is a lot of upside potential in the Yankees' farm system this year. They're adding what amounts to four first round talents in Eric Jagielo, Aaron Judge, Ian Clarkin, and Ty Hensley, who is due to return from his hip(s) surgery. Manny Banuelos will also return from Tommy John surgery to give the system a boost. International guys like Abi Avelino and Luis Severino will have a chance to improve on last year's success as well. Just based on the guys already in the system, there's a lot of potential for a big step forward in 2014. Every team has a handful of guys who could really awesome if they stay healthy and take a step forward and yadda yadda yadda, but I feel like the Yankees have more than the average team.
Dan asks: Will the failure to achieve $189m put away all talk of getting under for the foreseeable future? Or every offseason from now on will the Yankees consider $189m as a possible offseason strategy to evaluate each year?
Given all the long-term commitments they handed out this winter and the fact that Alex Rodriguez's salary will be back on the books next year, I don't see how the Yankees could get under the luxury tax threshold in the future. My real quick math already has the 2015 payroll at $152.1M for only eight (!) players, and that's with two above-average producers (David Robertson and Brett Gardner) heading for free agency and needing to be either re-signed or replaced. The Collective Bargaining Agreement expires after the 2016 season and I have to think the luxury tax threshold will rise at that point. There's too much money in the game to keep it at $189M; they might have to bump it up to $200M or even $210M.
Uke asks: Now that the Yankees have gone over the $189 million goal, why don't they offer Ervin Santana and Ubaldo Jimenez one-year contracts with the stipulation that they won't make a qualifying offer next year?
The Collective Bargaining Agreement says you can't sign a player and promise to not make the qualifying offer in the future, though I'm not sure how they'd go about enforcing that. I'd love to see Ubaldo fall into their laps in March, similar to what happened with Kyle Lohse last year, but I'm counting on it. I wouldn't be surprised if he signed this weekend. Adding another starter, even someone like Bronson Arroyo, to knock the internal guys down a peg would be awesome in my book, but the infield and bullpen have to be the priorities right now.
Dustin asks: Should the Yankees put a claim on Brayan Villarreal if he falls to them? He walks way too many, but his strikeout propensity would do well in low-to mid-leverage innings, kind of like how Joba Chamberlain was used of late.
The Red Sox designated the 26-year-old Villarreal for assignment a few days ago after an ugly season in which he walked nine and struck out six while allowing ten runs in 4.1 big league innings. His 2.67 ERA (3.17 FIP) in 42.1 minor league innings looks great, but he also walked 30 batters (6.4 BB/9 and 16.5 BB%). Villarreal had a strong 2012 season with the Tigers (2.63 ERA and 2.98 FIP in 54.2 innings) but he's a classic hard-thrower who has no idea where the ball is going. Very similar to Brian Bruney when the Yankees signed him. All you can do with a guy like that is hope he irons out his command for a long stretch of the season. The Bombers need bullpen help but they don't have room for Villarreal on the 40-man roster and I'm not sure if he's worth clearing a spot for.
Charley asks: Do you think now that the Yankees got Tanaka that Vidal Nuno has a leg up on the fifth starter spot since he is a lefty? Joe Girardy typically likes to split his lefty/righty pitchers and now they have only one lefty in CC Sabathia.
In a perfect world, the Yankees would have more than one left-handed starter because of Yankee Stadium's short right field porch and the various power lefty bats in the division (David Ortiz and Chris Davis, primarily). I don't think it's a requirement though. At this point the team needs to just assemble the best pitching staff it can regardless of handedness. If Nuno wins the fifth starter's spot in camp, great. If it's David Phelps or Adam Warren, well that's okay too. To answer the question, no, I don't think Nuno's handedness gives him a leg up on the competition. I think they'll give the job to whoever impresses the most.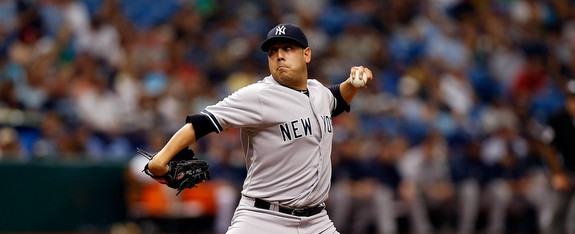 Paul asks: Let's play glass-half-full for a moment and assume that Michael Pineda is healthy and producing in ST and gets the #5 rotation slot. Phelps would almost certainly go to the BP. What about Warren and the other #5 competitors? Are they too similar in the roles they would fill to go with him?
I think both Phelps and Warren would go to the bullpen in that case, one as the long man and one as a more traditional short reliever. Warren was the long man all last year while Phelps did the short relief thing in September after returning from his forearm injury. It's possible one would go to Triple-A to remain stretched out as the sixth starter, but I think both would wind up working in relief given the state of the bullpen. Using both as multi-inning middle relievers (rather than a long man and a one-inning guy) would be pretty neat. It would obviously be awesome if Pineda showed enough to win a rotation spot in camp. That would really create some roster options for the Yankees.
Tucker asks: In the past with these ST starter competitions, we've seen the Yankees seemingly give one candidate a leg-up. I think this year we could see that happening with Pineda. Do you agree, or do you think that a different starter fits that role better?
The Yankees have definitely held some rigged Spring Training competitions over the years, most notably the fifth starter competition in 2010 (Phil Hughes over Joba) and last year's catching competition (Chris Stewart over everyone). If it does happen with the fifth starter's spot this year, I think Phelps would be the guy with the advantage given the last two years. That's just a hunch though. Pineda is coming off two lost years and might need more time in Triple-A to shake the rust off. As I mentioned before, I honestly think this competition will be more legitimate — whoever pitches the best in camp will win it. Of course, Spring Training competitions don't end in Spring Training. If the fifth starter doesn't perform well early on, someone else will take his spot. The team has enough candidates that they won't have to live with a poor performing fifth starter for more than a few starts.
Kyle asks: Do you see the Yankees re-signing Brian Cashman or will they let someone else take the role as GM, like Billy Eppler?
I wrote this post about the future of the front office two years ago, after Eppler was officially named the assistant GM. It seemed like the Yankees were setting up a line of succession — Eppler spends three years learning the ropes as the assistant before taking over as GM when Cashman's deal was up. Cashman would presumably be moved to some kind of president or director or chairman or whatever role. The Indians (Mark Shapiro and Chris Antonetti) and White Sox (Kenny Williams and Rick Hahn) have both made similar moves in recent years. I still expect something like that to happen. Ownership clearly loves Cashman but this will be his 16th year as GM. Things can get pretty stale after that much time and a new voice could do wonders for the organization (it could also do a lot of damage, remember). Moving Cashman into a different role and making Eppler the GM seems very possible and I do think that is what will happen.