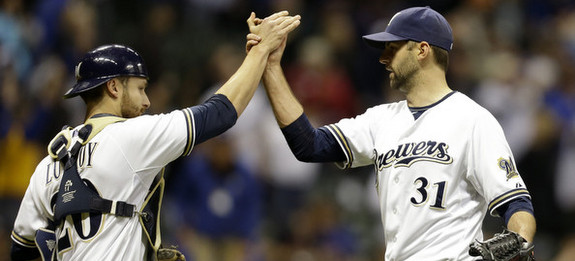 The last week or so has been total hell on the Yankees bullpen. David Robertson (shoulder) and Boone Logan (biceps, elbow) are both banged up and Shawn Kelley (triceps) spent a few days on the sidelines as well. Joba Chamberlain has been forced into high-leverage work and that just isn't a good idea. Mariano Rivera, who clearly isn't the Mo of old right now, has been asked to record more than three outs three times in his last four appearances and figures to see even more multi-inning work before the season ends in 19 days.
Robertson is expected to rejoin the team this week — perhaps as soon as today — and hopefully that is the case, but you never know with the Yankees and their recent history of setbacks. Pretty much everyone has one. Logan's test results will be reviewed by Dr. James Andrews and that's never a good sign. The Yankees re-signed journeyman Mike Zagurski yesterday, which is an indication they are at least somewhat concerned Logan will not be returning anytime soon.
A trade in September is not something you see all that often, but New York swung one last night to acquire infield help in the form of Brendan Ryan. They should also consider trading for bullpen help at this point. Like Ryan, whoever they acquire at this point would not be eligible for the playoff roster since they weren't in the organization on August 31st, but there probably won't even be a playoff roster in a few weeks if Yankees don't get help. Here are three bullpen arms on non-contending teams who could be available in a trade at this unusual time.
Burke Badenhop, Brewers
Milwaukee is one the very worst teams in baseball and they don't have a whole lot of desirable tradeable chips — aside from untouchables Carlos Gomes and Jean Segura, that is — which is why their deadline sell-off featured only Francisco Rodriguez and John Axford changing addresses. The 30-year-old Badenhop was rumored to be on the block as well, but he ultimately stayed put and has a 3.60 ERA (3.58 FIP) in 60 innings this summer. He's essentially a righty specialist — has held righties to a .251 wOBA while lefties have tagged him for a .377 wOBA (more walks than strikeouts too) — who limits walks (1.80 BB/9 and 4.9 BB%) and gets ground balls (51.6%) but doesn't miss many bats (6.15 K/9 and 16.8 K%).
If used correctly, Badenhop can be a real weapon against right-handed batters in the later innings of a game. He pitched with the Rays last season and was pretty effective (3.03 ERA and 3.62 FIP), so the AL East and a postseason race and all that won't be new experiences. Badenhop is only owed approximately $240k the rest of the season and, as an added bonus, he will remain under team control as an arbitration-eligible player in 2014. The Brewers took Grade-C prospects for K-Rod and Axford, who had much sexier track records than the sinker/slider guy Badenhop, so the cost shouldn't be prohibitive.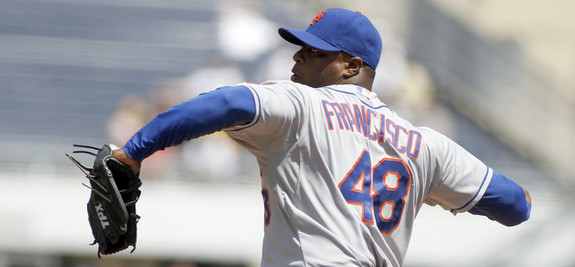 Frank Francisco, Mets
Frankie Frank missed almost the entire season with bone spurs in his elbow and, according to Adam Rubin, there are some in the organization who think the 33-year-old had a "lack of urgency" during his rehab. He did return this past weekend and has pitched in two games, facing four total batters while allowing a single and recording a walk, a strikeout, and a ground ball. Francisco managed a 5.53 ERA (3.90 FIP) in 42.1 innings while missing time with oblique and elbow problems last season. He's always been a high strikeout (career 9.92 K/9 and 25.6 K%), high walk (3.98 BB/9 and 10.3 BB%), low ground ball (34.4%) guy.
One team official told Rubin it is "certainly possible" the Mets will look to trade Francisco before the end of the season just to save some of the $715k they still owe him. That same official responded "Why wouldn't we work something out with them?" when asked if they'd be open to trading with the Yankees. Francisco has late-inning/closer experience and will be a free agent after the season, plus the Mets would probably give him away at this point. Remember, we're not talking about replacing Robertson or Kelley here. We're talking about replacing Jim Miller or Matt Daley.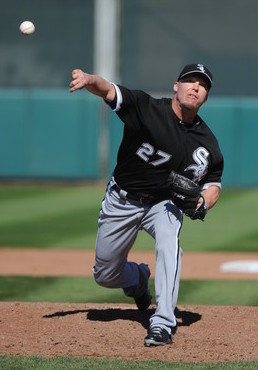 Matt Lindstrom, White Sox
Lindstrom, 33, has very quietly been one of the most effective relievers in baseball over these last three years. He has a 2.89 ERA (3.03 FIP) in 56 innings for the ChiSox this season and a 2.87 ERA (3.16 FIP) in 157 innings since the start of 2011. After coming up has a super-hard-thrower who didn't always know where the ball was going, Lindstrom has scaled things back in recent years and now uses a mid-90s sinker/low-80s slider combination to generate a ton of ground balls (53.9%) and infield pop-ups (10.4%). Both his walk (3.70 BB/9 and 9.7 BB%) and strikeout (6.91 K/9 and 18.1 K%) rates have taken steps back this year, however.
As we saw firsthand last week, the White Sox are truly awful. Worst non-Astros team in the AL awful. They acknowledged that by trading away Jake Peavy, Alex Rios, and Matt Thornton at the deadline, so it stands to reason that Lindstrom would be available as well. He is owed roughly $355k through the end of the year with an affordable $4M club option ($500k buyout) for 2014 season in his contract. The Yankees need relievers, both right now and next season with Rivera and Joba (and Logan) due to become free agents, and Lindstrom is the kind of guy who can help both situations. He's no bullpen savior, but if nothing else, he sure and the other two guys in this post would add useful depth — as opposed to the Daleys and Millers of the world who are just there because they're warm bodies — to the bullpen down the stretch.