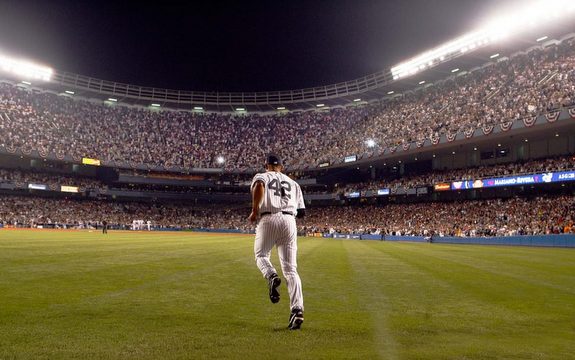 There are four notable former Yankees eligible for election to the National Baseball Hall of Fame in 2019. Two will almost certainly never be elected. Andy Pettitte, a beloved fan favorite, simply doesn't have the case and Gary Sheffield's more compelling case is not translating into votes. Of the two remaining, Mike Mussina should already be enshrined—and 2019 may finally be his year. That leaves Mariano Rivera, about whose candidacy there is no doubt. He will be inducted in 2019, but for a player like Rivera, mere induction is not enough: he deserves to be the first player unanimously voted into the Hall of Fame.
Mike listed why he will not receive that honor a few weeks ago, and the reality is that he is right. Odds are a voter or two will strategically create a spot on their 10-spot ballot for a player who may need to clear the 5 percent threshold to remain on the ballot in 2020 by leaving off near-lock Mariano. But deserves to be and will be are different arguments, and on the merits alone, there is simply no compelling case to be made for leaving Mariano off of even a single ballot.
Rivera pitched 1,283.2 innings in his 19-year career (1996-2013), almost all of them in the 8th or 9th inning of close games. He was on the mound for the final play of an MLB record 952 games, recorded another MLB record 652 saves and compiled the best league-adjusted ERA (2.21 ERA, 205 ERA+, 49 ERA-) for any pitcher with over 1,000 innings pitched in the history of baseball. He walked only 2 men and allowed per 7 hits 9 innings pitched for a clean 1.000 WHIP, and, most impressively, gave up one home run every 18 innings pitched. All of this in the steroid-era against many of the game's most fearsome hitters.
This translates to a 56.2 bWAR, which is the most WAR compiled by a reliever by a truly laughable amount. Jay Jaffe's JAWS ranks him second, but that's because Dennis Eckersley's total is skewed by his years as a starter. As Mike wrote, among pitchers with 80 percent or more of their appearances in relief, Rivera is first in WAR—Hoyt Wilhelm is second at 50 WAR in more 1,000 more innings, and if you squint, you can see Goose Gossage's 41.9 WAR in 3rd place. Rivera's contemporaries in the top 30, Tom Gordon (34.9) Joe Nathan (26.7), Billy Wagner (27.7), Trevor Hoffman (26.7) and Jonathan Papelbon (23.5) are not even close.
That is especially noteworthy because of an obsession among baseball writers to anoint his successor, even when Rivera himself was still dominating. A Google search of "next Mariano" reveals that Roberto Osuna, Zach Britton, Joba Chamberlain, Craig Kimbrel, Kenley Jansen and Jonathan Papelbon have all been dubbed baseball's next Rivera. The best of these comparisons occurred while Rivera was playing, and almost always ended in a humorous fashion.
That's because of almost superhuman longevity, which is worth detailing in a quick exercise by highlighting three seasons in the beginning, in the middle and very end of his career.
At age 26, Rivera logged what is one of the most dominant seasons in relief in modern baseball history. In 107.2 IP he pitched to a 2.09 ERA (240 ERA+) with a 1.88 FIP, 10 strikeouts per 9 innings pitched and surrendered only 1 home run. He was worth, according to Baseball-Reference, an absurd 5 wins as a multi-inning setup reliever and was a key player in the shocking 1996 World Series run.
In 2006, a decade later, 36-year-old Rivera posted another 4 win season. In 75 innings had a 1.80 ERA (252 ERA+) despite only recording 6 strikeouts per 9 innings (but walked only 1 per 9) and surrendered 3 home runs. This was hardly a notable season at the time; it was just another season of Mariano Rivera being Mariano Rivera.
Finally, at age 43 in 2013 (a year after a season-ending ACL injury), Rivera had 44 saves in 64 innings. His 2.11 ERA (190 ERA+), nearly 8 Ks per 9 and impeccable control (1 walk per 9) remained in line with his career numbers; he retired because of the travel, not because of any regression or diminished returns. This, more than anything else, is what separates Mariano Rivera from his peers—three seasons, each almost ten years apart, in which he was virtually unhittable.
But if Rivera's regular season achievements have no comparisons, it is the postseason where the separation is most stark. There's almost no point repeating the laundry list of achievements, but two things stand out: 1) Rivera got better across the board in October (he had a 0.70 ERA) and 2) in 141 postseason innings (two full seasons), Rivera surrendered only two (2!!) home runs. He won 5 World Series, was on the mound for the final out of four consecutive World Series and had some of the most heroic performances in the recent Yankee dynasty. The unfavorable endings of the both 2001 World Series and 2004 ALCS are so memorable not just because of their natural excitement, but because so much of the action came against Rivera—it's as if nobody could believe their eyes.
All of this adds up to a simple, undeniable fact: we will never see another Mariano Rivera. He is, by any standard, the most dominant relief pitcher in baseball history, the baseline against which all other relievers are judged. His postseason heroics will never be matched, his longevity defies belief and, of course, he did it all with one pitch for two decades.
Tom Kelly, the manager of the 1996 Minnesota Twins, best summarized him after an early season matchup against the '96 version of Rivera: "He should be in a higher league. Ban him from baseball; he should be illegal." Voters now have a chance to actually put him in a higher league by making him baseball's first unanimous Hall of Famer.
After all, if Rivera pitched without peers throughout his career, that is how he ought to be inducted to the Hall of Fame: a cut above the rest, having accomplished what nobody else could do, or will ever do again.