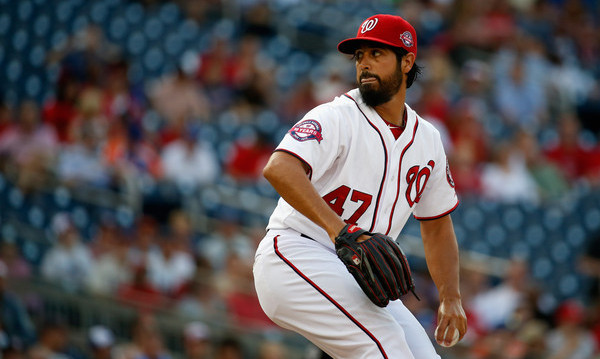 5:29pm: Murti tells me the Yankees and Nationals talked about Gonzalez at the Winter Meetings last season in San Diego.
4:30pm: According to Sweeny Murti, the Yankees "briefly" talked to the Nationals about left-hander Gio Gonzalez last year. I don't know if that means at the 2014 trade deadline — the Yankees made a bunch of moves then, remember — or last offseason, or even earlier this year. Doesn't sound recent though.
Jon Heyman says Washington asked for Christian Yelich when the Marlins called earlier this offseason, so obviously they're not looking to give Gio away. Considering Gonzalez had the extra year of control last year and was better in 2014 than 2015, I'm guessing the asking price was even higher when the Yankees inquired. Yelich is both awesome and signed dirt cheap. No wonder Miami said no.
Gonzalez, 30, had a 3.79 ERA (3.05 FIP) in 175.2 innings in 2015. Look at his runs allowed numbers and you'd think he was on the decline — he's gone from a 2.89 ERA in 2012 to 3.36 in 2013 to 3.57 in 2014 to 3.79 in 2015. His FIP has been sub-3.10 in three of those four years though, plus both his strikeout and walk rates have held steady. He also posted a career high grounder rate (53.8%) in 2015.
The Yankees are said to be looking for starting pitchers under control beyond 2017 and Gonzalez fits the bill, but only barely. He's owed $12M next year with a $12M club option for 2017 and a $12M vesting option (based on innings) in 2018. So there's a chance Gio would become a free agent after 2017 like pretty much every non-Luis Severino starter on New York's roster right now.
At the moment, Gonzalez is penciled in as Washington's third starter behind Max Scherzer and Stephen Strasburg. Some combination of Tanner Roark, Joe Ross, and A.J. Cole are slotted into the fourth and fifth spots at the moment. The Nats are looking to add a starter this offseason and I guess they could look to move Gio to offset salary, but that seems unlikely to me.
I don't love Gonzalez but he would be a clear upgrade for the rotation and add a somewhat reliable innings guy. (Gio has thrown at least 175 innings in five of the last six seasons.) There are some available pitchers who wouldn't move the need a whole bunch — think Doug Fister or Bartolo Colon — and are just extra bodies. Gonzalez would be a legitimate upgrade, and the Nationals understandably want a lot in return.