The Yankees have become a broken record of great pitching and abysmal offense. Sunday afternoon's Game Two loss put them in a 2-0 hole in the best-of-seven ALCS as things now shift to Detroit. Not for nothing, but getting out of Yankee Stadium is probably a good thing.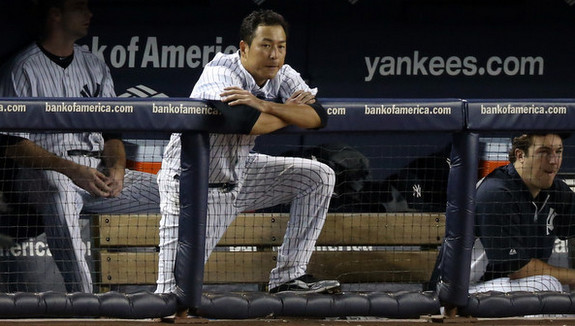 #HIROKtober Doesn't Need Rest
The decision to start Hiroki Kuroda on short rest in Game Two was anything but a slam dunk as valid concerns about the 37-year-old's workload were abound for the last month or so. Instead of wilting under the innings total and struggling as many expected, Kuroda turned in a masterpiece. He took a perfect game into the sixth and ultimately lasted 7.2 innings that should have been a full eight had second base ump Jeff Nelson not blown a call — Nick Swisher threw behind the runner at second on Austin Jackson's single and Robinson Cano applied the tag for the third out with ease. Nelson blew the call — here's proof he was out — and Kuroda's night was over.
All told, the veteran right-hander allowed three runs in those 7.2 innings, but two of those runs scored after he left the game and the B-relievers took over. Boone Logan allowed a hit to a righty (surprise surprise) and Joba Chamberlain allowed a hit to Miguel Cabrera. Kuroda allowed just five hits (four singles), didn't walk anyone, and struck out a season-high eleven. Ten of his 12 ball-in-play outs were on the ground. He was dominant, looking more like the midseason version of himself than a guy pushing 240 innings. It's unbelievable that the Yankees haven't converted these pitching performances into wins.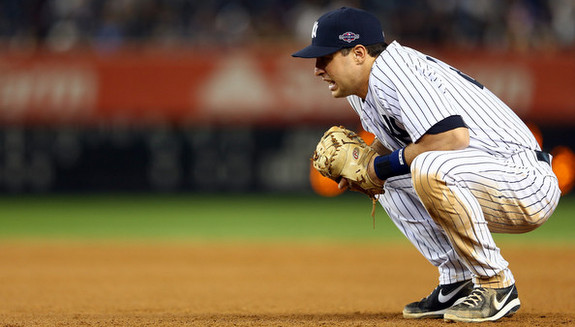 This Offense Creates The Wrong Kind Of Runs
Three singles, three walks (one intentional), and a double. That was the New York offense on Sunday. Mark Teixeira (double) and Raul Ibanez (walk) reached base with two outs in the first and Ichiro Suzuki made it to third base with two outs in the seventh, but no runs crossed the plate. Ibanez singled to leadoff the fourth but was erased on a botched hit-and-run with Russell Martin at the plate, a clear sign that the Yankees are getting desperate to generate offense.
The futility, as you know, runs up and down the lineup. Cano took an 0-for-4 and is now hitless since the first inning of Game Two of the ALDS, a span of 26 at-bats. That is the longest playoff hitless streak in team history. The bottom four hitters in the order went a combined 2-for-17 (singles by Alex Rodriguez and Swisher) with a walk (Curtis Granderson) and nine strikeouts. Ichiro reached base on an error once in four plate appearances in his first day as Derek Jeter's replacement in the leadoff spot. Joe Girardi semi-tore into his club for not making adjustments after the game, a problem that they simply may not have enough time to fix.

Leftovers
Girardi got ejected for arguing with Nelson following the blown call at second — his fifth ejection of 2012 and fourth in a game against the Tigers — and went a big instant reply rant after the game. He basically said what most fans have been thinking, that it's ridiculous that the technology exists and is not being used. That said, Girardi made it clear that he does not blame the call (or yesterday's blown call on Cano at first base) for the two losses to open the series. He was just stating the obvious.
Detroit scored their first run in the seventh after Kuroda nearly pitched his way out of a first and third situation with no outs. The speedy Quintin Berry was on third, the slow-footed Cabrera on third. He threw five straight splitters to Prince Fielder to strike the lefty slugger out, then Delmon Young bounced a routine double play ball to short. Fill-in shortstop Jayson Nix shuffled the ball to Cano for the first out, but he bobbled the transfer and that was that. Young was safe at first without a throw and Berry scored. Kuroda was so close to escaping the jam unscathed, but his defense betrayed him. Between that and the utter lack of run support this season, the guy must hate his teammates.
The Yankees have scored a total of 20 runs in their seven playoff games, including just eleven in the five games at home. The scored four runs in the two games against the Tigers this weekend, and all four came in one inning off the combustible Jose Valverde. In fact, non-Valverde pitchers have thrown 40.1 consecutive scoreless innings for Detroit, which is ridiculous. And I thought the Yankees were getting great pitching.
Box Score & WPA Graph
MLB.com has the box score and video highlights. I suppose the good news is that the Yankees have been down 2-0 in a best-of-seven playoff series eight times in their history, and they've rebounded to win the series four times. The most recent was, of course, the 1996 World Series against the Braves. Who will be the 2012 Jim Leyritz? For some reason Martin seems too obvious, so I'll say Nix. Anyway, the last team to come back from a 2-0 deficit in a best-of-seven was (sadface) the 2004 Red Sox.

Source: FanGraphs
Up Next
Monday is a travel day, so the Yankees (and their fans) will get a much needed day off. These two teams will reconvene at Comerica Park for Game Three on Tuesday night at 8pm ET. Phil Hughes is scheduled to get the ball against Justin Verlander in a mismatch that already went New York's way once this season. Check out RAB Tickets if you want to catch the game.