As much as baseball needs instant replay, the Elias free agent ranking system is perhaps in need of even more help. The rankings are generally laughable, and if you happen to be dubbed a Type-A free agent as a reliever, your value generally plummets once (if) your old club offers arbitration. We saw this two years ago with Juan Cruz, a guy that had posted 12+ K/9's for consecutive years but couldn't find a job because no one wanted to give up a high pick. I actually wrote a post imploring the Yankees to sign him since, at the time, they would have only surrendered a measly fourth round pick because of their first three picks were gone already, but that's an extreme case.
Now that we know which players have been offered arbitration and will require draft pick compensation, we can cross them off our winter wish list…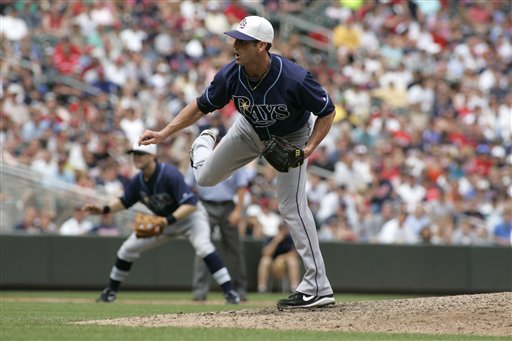 Grant Balfour
The Rays are going to be swimming in draft picks next year; they have seven ranked free agents including three Type-A's, meaning they could come into ten extra picks if they all sign elsewhere. One of those Type-A's is Balfour, the hard-throwing Australian that has done fine work out of Tampa's bullpen over the last few seasons. He's struck out 234 batters in 203 innings with the Rays, getting his walk rate down to just 2.8 per nine last season. He is a fly ball pitcher, which would have been a bit of a problem in Yankee Stadium, but when you factor in the draft pick compensation, any chance of the Yankees pursuing him just went out the window.
Frank Francisco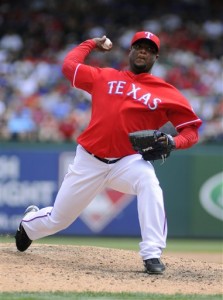 Francisco, 31,  was just about the only reliever I identified this winter as a potential buy low candidate for the Yankees. He's coming off a strained rib cage that kept him out from the end of August right through Texas' World Series run, so his stock is on the low side just because of that. His numbers have been nothing short of fantastic over the last three years, however. Francisco has struck out exactly 200 batters while walking just 54 unintentionally in 165.1 innings since 2008 thanks to his fastball-splitter combo, but the big drawback is that he can be homer prone (18 HR allowed during that time). I didn't have him in mind as the undisputed eighth inning guy, just another high strikeout reliever to add to the bullpen.
The Rangers have a ton of hard throwing relievers in their bullpen, plus the newly minted Rookie of the Year at closer, so Francisco seemed like a slightly expensive luxury they could afford to let walk. He earned $3.265M last season, a nice chunk of change for a reliever, and an arbitration hearing could push him up to $4M. I didn't expect Texas to offer him arb yesterday, but they did. The required draft pick compensation takes him completely off my radar. For shame.
Jason Frasor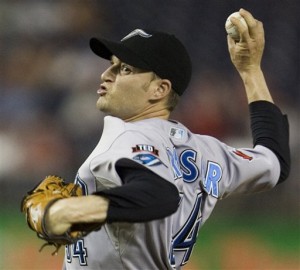 Yankee fans have seen enough of Frasor during his time with the Blue Jays, and in fact they've seen him pitch in just about every relief role imaginable; long relief, middle innings, setup, ROOGY, closer, you name it. The 33-year-old finally found his way as a strikeout/semi-ground ball pitcher over the last two seasons, making the jump from solid to very good. Frasor has struck out just about a batter per inning (121 in 121.1 IP) and has kept the walks down (34 unintentional) during that time, and his grounder rate jumped to 43.4% in 2010. He had been just north of 38% before that, which isn't all that bad either.
Toronto offered the Type-A free agent yesterday, so once again a team will have to surrender a high draft pick to sign a fungible reliever. For super-elite performers like Rafael Soriano, that's fine. For anyone less than that, it's a legit deal-breaker. Frasor earned $2.65M last season and is certain to get a bump up and over the $3M hump, which is fine on a one-year deal, even if you include a club option, but once you add in that draft pick, it's just not worth it.
* * *
Arbitration offers, and really the broken Elias ranking formula, killed the free agent value of Balfour, Francisco and Frasor. Unless a team has multiple first round picks or has already surrendered their top pick for signing another free agent, chances are they'll look at these three and realize that there are some comparable arms out there that don't require free agent compensation. The system's broken and needs to be fixed, but we all know that already. There's a good chance that all three of these righties will accept their team's offer of arbitration, simply because the market won't offer them much.