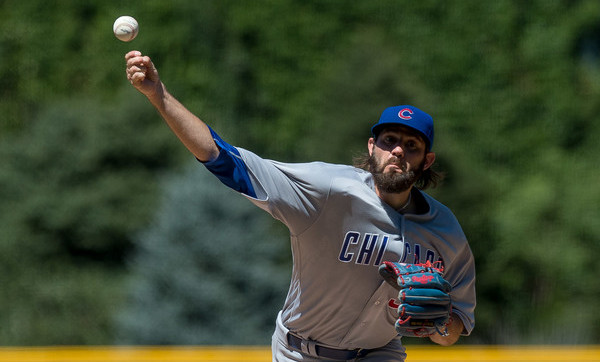 According to Brian Cashman, the Yankees went into this offseason looking for "pitching, pitching, pitching," and so far they've (re-)signed Aroldis Chapman. And that's it. Unless you count claiming Joe Mantiply off waivers and signing Jason Gurka to a minor league deal. The rotation has been untouched and Chapman has been the only bullpen upgrade.
Of course, this free agent class was very thin on pitching, so it's not like the Yankees have sat idle while a bunch of potential aces came off the board. Rich Hill, who was in independent ball 18 months ago, was the top starter on the market. Ivan Nova was arguably the second best option. Yeah. This was not a good offseason to need pitching, that's for sure. Free agency is thin and trade prices are sky high.
The best free agent starter still on the board right now is veteran righty Jason Hammel, who spent the last two years with the Cubs and became a free agent when the team declined his $12M option. They had to pay him a $2M buyout, so it was essentially a $10M decision. The Cubs reportedly left it up to Hammel, and decided to test the market. Does he make sense for the Yankees? Let's look.
Recent Performance
Over the last three seasons the 34-year-old Hammel has been a boringly reliable middle of the rotation pitcher. He's threw no more than 176.1 innings and no fewer than 166.2 innings in each of those three seasons, and during that time he has a 3.68 ERA (4.02 FIP). Like I said, boringly reliable.
The 2016 season was Hammel's worst in seven years in terms of strikeout (20.8%), walk (7.7%), and home run (1.35 HR/9) rates. Homers were up around the league and Hammel wasn't too far off from his career 1.13 HR/9, so maybe we can give him a mulligan there. Here are the last three years: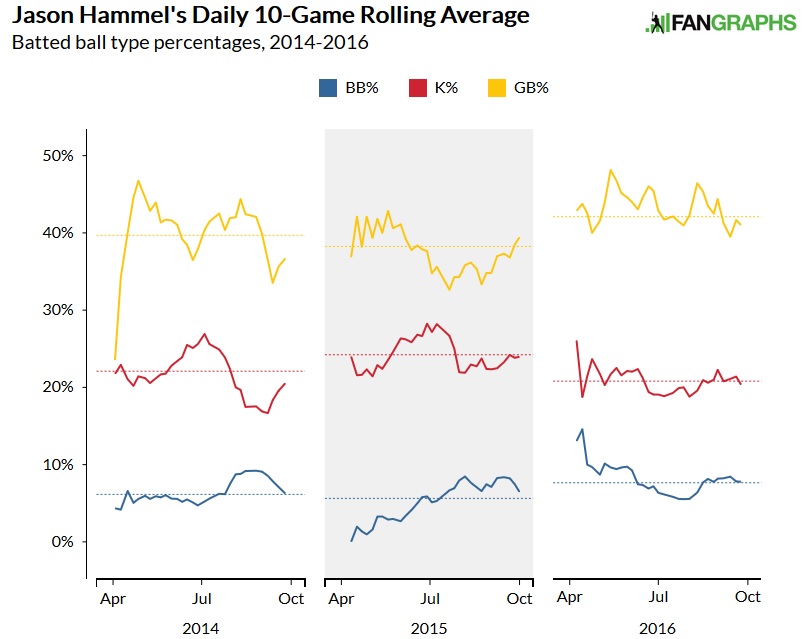 Not great, not awful, no alarming spikes. Hammel's strikeout and walk numbers were indeed his worst in several years last season, but they weren't that far off from his 2014-15 numbers either. Consistency is boring.
One aspect of Hammel's performance that can not be ignored is his tendency to fade in the second half. It's happened three years in a row now. Last season Hammel failed to complete four innings in three of his final seven starts, and he allowed 35 runs in his final 32.1 innings of the season. Egads. Look at this: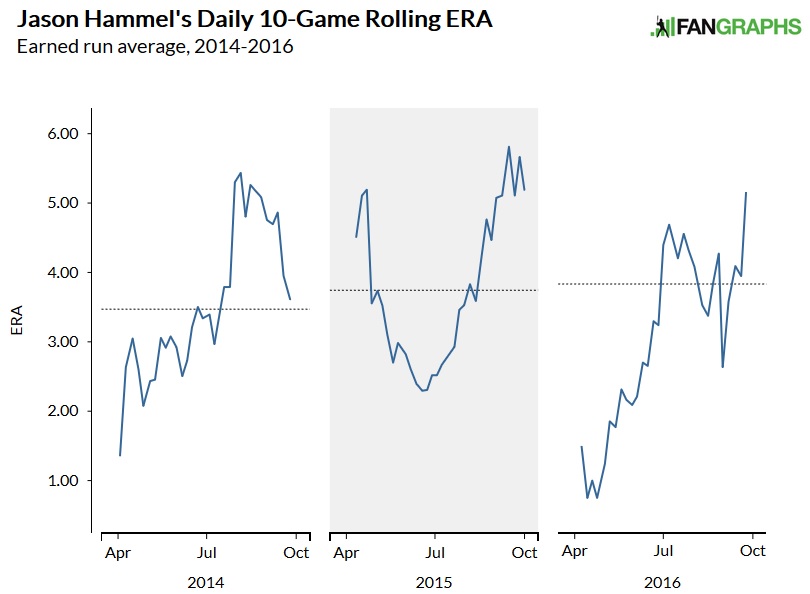 Once is a fluke, twice is a coincidence, three times is a trend. Hammel is not a 200-inning workhorse. He's essentially a 170-inning pitcher who is most effective during the first 140 innings. Things get dicey after that. As long as his next employer is aware of that and acts accordingly — use off-days to skip a start now and then, things like that — it's not a huge problem.
Current Stuff
Hammel has gone through several transformations since his time with the Devils Rays way back when. He's gone from four-seamer/curveball pitcher to sinker/slider pitcher to four-seamer/sinker/slider pitcher. Hammel still throws the curveball now and then, and every once in a while he'll toss a changeup, but for the most part he's a three-pitch pitcher these days. The 2016 numbers:
Four-seamer: 9.1% whiffs and 29.2% grounders (MLB averages: 6.9% and 37.9%)
Sinker: 2.8% whiffs and 58.8% grounders (MLB averages: 5.4% and 49.5%)
Slider: 17.5% whiffs and 42.2% grounders (MLB averages: 15.2% and 43.9%)
Hammel does not have a dominant pitch. He was able to get a good amount of ground balls with his sinker a year ago, and the slider was probably his best pitch overall considering it was basically average at getting both swings and misses and grounders. Because his changeup is close to a non-factor, lefties (.344 wOBA) had more success against Hammel than righties (.292 wOBA) last year. Here's some video:
Like I said earlier, boringly reliable. Hammel won't be appointment television. He's not very exciting, but he is generally effective.
Injury History
The Cubs did not carry Hammel on their postseason roster — I'm not sure he would have been on the playoff roster anyway given Chicago's other options — because elbow tightness ended his season in late-September. He also missed most of August with forearm tendinitis. That's not good. Forearm trouble is a common precursor to elbow trouble. By all accounts though, Hammel's elbow is structurally sound and he'll be ready in time for Spring Training.
The recent forearm and elbow woes are the first time Hammel has had arm trouble in his big league career. He missed a month with a groin strain back in 2010 (who cares) and about two months total following right knee surgery in 2012. Hammel had surgery to repair cartilage damage, returned in six weeks, then felt renewed soreness and missed another two weeks. The knee has been problem free ever since.
Injuries have not been a problem throughout Hammel's career. And it means basically nothing. Hammel finished the season hurt, with an arm problem no less, and it can be considered a recurring injury. He had forearm trouble in August and then elbow trouble in September. That's scary and certainly a reason he remains unsigned in January. Forget that he's been healthy most of his career. He finished the year hurt and that's the most recent information.
Contract Estimates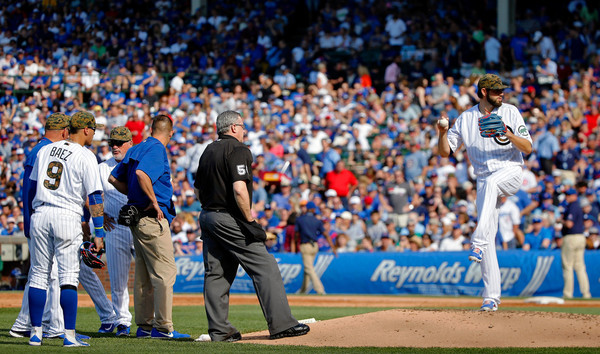 Once Jeremy Hellickson accepted the qualifying offer, Hammel was no worse than the third best starter on the free agent market. He seemed poised to cash in big as a free agent, and he still might, but so far things have been quiet. Here are some contract estimates:
It sure seems like Hammel won't be getting a three-year contract this offseason. I'm guessing he'd jump all over a three-year offer at this point. Recent reports indicate Hammel has received nothing more than one-years contract offers this winter, which is telling. Teams must be afraid of that elbow.
Hammel lost $10M when the Cubs declined his option. He and his agent — Hammel changed representatives earlier this winter because his market was not developing — are probably looking to at least recoup that $10M, so does that mean the floor is a one-year deal worth $10M? Possibly. I'm taking a shot in the dark here.
Does He Fit The Yankees?
Yes because he's a veteran starting pitcher who has been pretty good in recent years and won't cost an arm and a leg. There is no such thing as too much pitching depth. The Yankees will appreciate having an extra veteran starter around whenever the kids inevitably hit a bump in the road all at once. You know it's coming.
That yes comes with several caveats though. For starters, there's the whole elbow thing. That's kind of a big deal. Secondly, home runs have always been an issue for Hammel and Yankee Stadium will only exacerbate that. And third, Hammel won't be playing in front of the Cubs' historically great defense anymore. The Yankees have a solid team defense, much better than in previous years, but it's not on par with Chicago's.
Last year Hammel had a 3.83 ERA (4.48 FIP) with the Cubs. Again: boringly reliable. Move him to Yankee Stadium (and the other hitter friendly AL East parks) in the DH league and it might be a 4.50 ERA (5.00 FIP) in 2017. That kinda stinks, doesn't it? I'm just spitballing though. Who knows what'll happen next year. Point is, there are several reasons to believe Hammel's performance is about to take a turn for the worst.
Still, it's not like Hammel would be blocking a young pitcher. This isn't like signing Mike Napoli and sending Greg Bird to Triple-A. Signing Hammel to the cheap one-year contract he appears destined to sign would be a worthwhile move for the pitching needy Yankees, even with the elbow red flags. (It ain't my money!) It's just a question of whether Hammel is willing to pitch in such a hitter friendly park. Yankee Stadium isn't a good place to rebuild value.