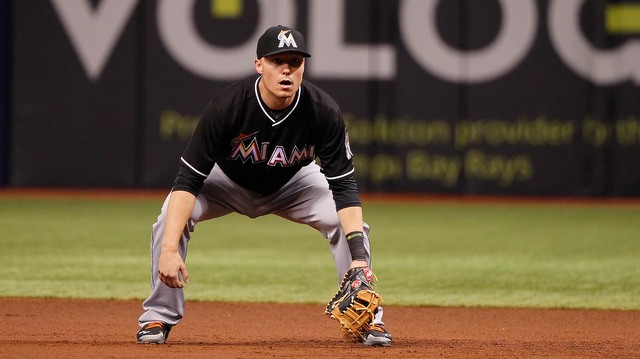 We are now a little more than one week away from the trade deadline, and at this point the buyers far outnumber the sellers. FanGraphs says nine teams have less than a 5% chance of making the postseason (only two in the AL), which actually seems kinda high. Not all nine of those teams will sell of course, and even the ones that do sell might not be matches for the Yankees. Making trades is really tough nowadays thanks to the second wildcard.
One club that is very much out of the race and as ready to sell as it gets is the Marlins, who come into today 38-55 and 12 games back of a postseason spot. The Marlins don't screw around, when they decide to sell, they act quickly and decisively. There aren't weeks of rumors. They know who they want, pull the trigger, and move on. Obviously this season hasn't played out as hoped, though I doubt they'll go full tear down. Probably more like a retooling. Luckily for them, they have a lot of rental players to market, some of whom could fit with the Yankees. Let's look 'em over. (Players listed alphabetically.)
UTIL Jeff Baker
Yesterday we heard the Yankees are looking for a right-handed bat, and the 34-year-old Baker has hit .290/.350/.509 (126 wRC+) against lefties in his career. That's great! The problem? He's hitting .208/.288/.434 (99 wRC+) against southpaws this season, albeit in only 59 plate appearances. This could easily be a sample size issue. Baker hit .319/.362/.462 (128 wRC+) against lefties just last year.
We're talking about a bench player here, a platoon bat on the short side of the platoon, and it's damn near impossible to predict how guys like that will perform the two months after the trade deadline. Not only are they transitioning to a new team and a new city and all that, they also don't play a whole lot. Remember Craig Wilson? That dude hit .282/.384/.518 (134 wRC+) against lefties in his career, including .307/.378/.545 (136 wRC+) for the Pirates in 2006, then put up a .222/.286/.400 (76 wRC+) line against lefties with the Yankees after being acquired a deadline.
With bench players like Wilson and Baker, the only thing you can do is bank on track record and hope they play up to their career averages. Baker has experience all over the field but is mostly a first baseman, a second baseman, and a left fielder at this point. He's an impending free agent on a bad team and that figures to make him available. The Yankees are looking for someone for a similar skill set. Baker is a fit and hardly guaranteed to produce, because baseball doesn't work like that.
What Will It Cost?: Baker is a utility guy. Utility guys get traded for cash or players to be named later. Gordon Beckham was traded last year for player to be named later that turned out to be a non-top 30 pitching prospect (Yency Almonte) down in rookie ball. Boom, there's your trade reference point.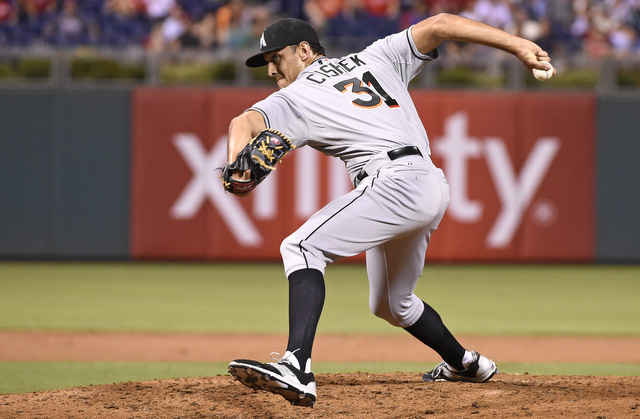 RHP Steve Cishek
Unlike the other guys in this post, Cishek isn't a rental. He's more of a 2016 piece than a 2015 piece, because his 2015 has been awful: 4.65 ERA (3.45 FIP) in 29 innings. This is a guy who had a 2.70 ERA (2.59 FIP) in 253.1 innings from 2011-14. Then poof, it was gone, so gone the Marlins sent Cishek to Double-A earlier this year. Not Triple-A, Double-A. To his credit, Cishek has a 0.77 ERA (2.20 FIP) since being recalled, but that is only in 11.2 innings.
The 29-year-old Cishek has a funky low arm slot and a low-90s sinker/low-80s slider combination that neutralized lefties despite said arm slot. Left-handed batters have hit .237/.325/.357 (.295 wOBA) against him in his career, which is stellar by low-slot guy standards. Batters of the opposite hand see the ball well from low-slot guys. For what it's worth, Cishek told David Laurila earlier this month that his struggles were all mechanical:
"When the season started, my arm slot was a little low and my velocity was down," explained Cishek. "I tried a little too hard to bring my velocity back up and started yanking everything. I was flying open and the ball was just taking off on me.

"If I'm throwing from too low, my sinker doesn't sink. It's flat. If I'm able to move my hand up an inch or two, I'm able to get the diving action I've had in the past, with a little more thump behind the ball."
The PitchFX data shows Cishek has climbed back into the 92-94 mph range after sitting right at 90 earlier this season, which backs up the mechanical trouble. Here is Cishek's delivery in case you've never seen him pitch. It's easy to see how a delivery like that could fall out of whack from time to time.
Cishek saved 94 games over the years and he's a Super Two, so he's already pulling down $6.65M this season, his second year of arbitration. That puts him in line for $8M or so next season even with this year's struggles, making him a non-tender candidate. The Marlins are not exactly a big spending team, as you may have heard. Cishek's salary likely made him a goner after this season no matter what.
Trading for a non-tender candidate who might not help this year is sorta dumb, though the Yankees are one of the very few teams who can afford to pay Cishek that $8M next year to be a seventh or eighth inning guy (or eat it if he stinks). They talked to the Marlins about relievers before signing Andrew Miller this offseason, and I assume Cishek's name came up, so they could have long-lasting interest. (He is 6-foot-6, after all. The Yankees love their tall pitchers.) I think this is unlikely to happen, but I figured I'd cover all my bases.
What Will It Cost?: Boy, this is interesting. The Marlins are going market Cishek as the shutdown closer he was from 2011-14 while teams are going to look at him as a reclamation projection. An expensive reclamation project. Two busted closers were traded for each other last summer (Jason Grilli for Ernesto Frieri), but that doesn't help us. The Brewers traded John Axford for a control-challenged MLB ready reliever (Michael Blazek) a few years ago, which could be the asking price for Cishek. The Marlins could very well be in "we're going to non-tender him anyway, so we'll take what we can get" mode.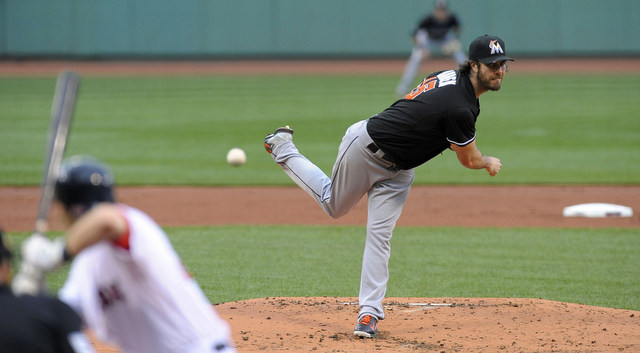 RHP Dan Haren
I feel like Haren is a perennial "should the Yankees get him?" guy. Every year we're talking about him. Haren was very good for a very long time with the Athletics and Diamondbacks, but he is clearly in the twilight of his career nowadays, so much so that he was considering retirement before the season. Haren has a 3.46 ERA (4.31 FIP) in 117 innings this season, though the ERA hides his career-low strikeout (17.1%) and ground ball (31.4%) rates.
I've long felt Haren was not a good fit for the Yankees because he's always been extremely homer prone — 1.31 HR/9 this year and 1.11 HR/9 in his career, and that's after spending all those years in Oakland — and now he's still homer prone, only with an 86 mph fastball instead of a 93 mph fastball. Haren doesn't walk anyone (4.9%) and he's really durable, so you know he'll take the ball every fifth day and there's value in that, I'm just not sure they will be quality innings.
Haren will be popular at the trade deadline because he comes with zero salary — the Dodgers are paying all of it. That doesn't help the Yankees any. Quite the opposite, in fact. It levels the playing field and the concept of absorbing salary to lower the prospect price flies out the window. Haren will be a pure talent swap, not a salary dump. Given his decline and propensity for the long ball (even in big parks), Haren doesn't seem like a fit for the Yankees unless all hell breaks loose in the next ten days.
What Will It Cost?: The going rate for an impending free agent back of the rotation veteran innings guy appears to be two or three Grade-C prospects. The Ricky Nolasco trade from a few years ago seems like a decent reference point. The Dodgers sent three pitching prospects to the Marlins for Nolasco: a Triple-A reliever (Josh Wall), a Double-A reliever (Steve Ames), and a Single-A starter (Angel Sanchez). Sanchez was ranked as the Dodgers' 16th best prospect before the season by Baseball America while Ames and Wall were not in their top 30. Haren coming with zero salary could complicate things.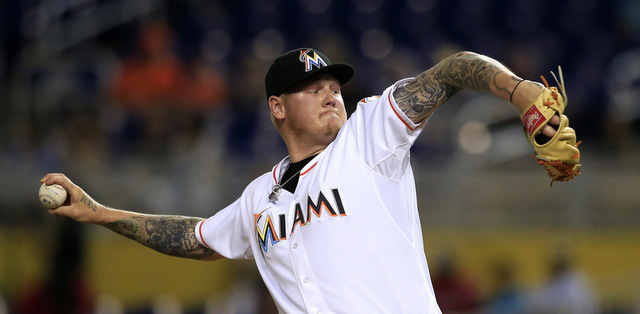 RHP Mat Latos
The Marlins acquired Latos from the Reds in the offseason and, in his very first start with Miami, he allowed seven runs in two-thirds of an inning. Yikes. Since then though, the 27-year-old Latos has a 4.10 ERA (3.41 FIP) in 13 starts and 74.2 innings, which still isn't great, but it is better than the overall numbers would lead you believe (4.90 ERA and 3.48 FIP).
Latos has had a lot of physical problems over the last year or two, including hamstring, knee, and foot injuries this season. He also missed the first two and a half months of last season due to elbow (bone spur) and knee (meniscus) surgery. Latos' velocity hasn't really been the same since all the injuries: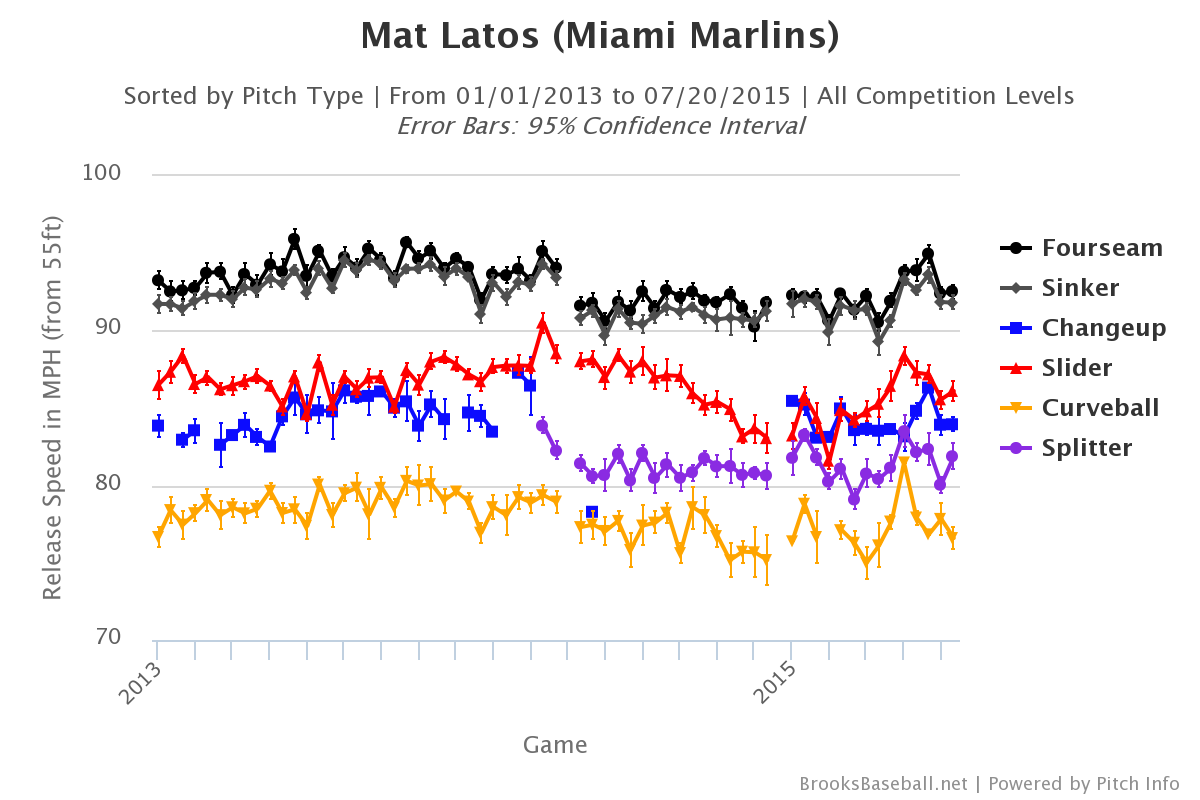 The velocity did come back earlier this season, albeit temporarily. Latos is back to sitting in the low-90s now, where he was earlier this season and last year. His strikeout (20.8%) and walk (7.5%) rates are fine, and Latos has never been a ground ball guy (40.9% in 2015 and 43.1% career), so his underlying performance has been right in line with the rest of his career. The problem is his career-low pop-up rate (6.5%), his career-high hard contact rate (33.9%), and his near career worst performance against lefties (.336 wOBA). The contact he's giving up is bad contact.
Latos is owed about $4.7M through the end of the season and will be a free agent this winter, so there's no long-term risk, just the risk that you'll give up an asset for him and he'll stink. It happens, that's part of baseball, but Latos seems riskier than most given his recent injury history and so so performance. He's a warm body who can come in and take a rotation turn every fifth day, but is he the kind of guy who can put a team over the top? Maybe three or four years ago. But not now.
What Will It Cost?: Latos and Haren are both rental starters but they're different. Haren's a known commodity, proven durable, pitching like he always has. Latos is coming off injuries and his performance hasn't been great. He's a broken starter, so to speak. I'm not sure what a good reference trade would be. Justin Masterson to the Cardinals? St. Louis gave up their No. 8 prospect (James Ramsey) to get him. Brandon McCarthy last year? The Yankees gave up an MLB ready swingman in Vidal Nuno. The Marlins traded an MLB ready arm (Anthony DeSclafani, their No. 5 prospect) and a minor league depth catcher (Chad Wallach) to get Latos in the offseason. So I guess the asking price has to be lower than that, give his performance and half-season of team control, right?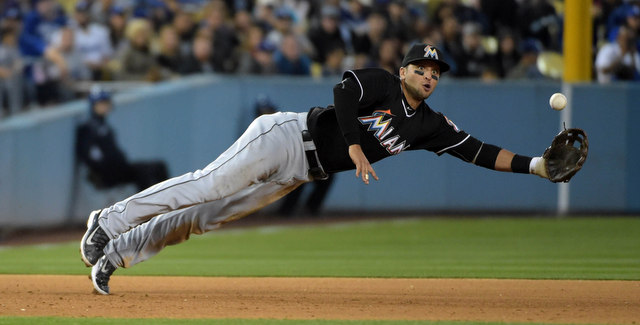 UTIL Martin Prado
Prado is a fine player, but I'm not sure anyone has seen their perceived value increase thanks to two months in pinstripes as much as him. He raked in 37 games with the Yankees last year (146 wRC+). It was pretty awesome. Prado is also hitting .281/.325/.407 (101 wRC+) in his last 1,525 plate appearances. That's good. It's not great, it's not bad, it's just good. Basically average. Average is valuable! But given his recent history (117, 104, 103, 92 wRC+ from 2012-15), I'm not sure how much longer he'll be even average.
That said, the Yankees have a total black hole at second base, and even a below-average Prado is a big upgrade over what the Yankees are running out there. As an added bonus, he's a right-handed bat, which will help balance the lineup. As an extra added bonus, Prado's versatile and would give the Yankees coverage at other positions. That said, should they bring him back, it should be to play second everyday. That's the area of need right now.
Prado is making $11M both this season and next, and the Yankees are actually playing $3M of that each year as part of the trade that sent him to Miami. The Yankees have said they prefer rental players at the deadline, but they did acquire Prado and his contract last year, and he would be a nice depth player next season, albeit an expensive one. Prado is not really the hitter he was with the Yankees last year, but he's a quality two-way player who would help New York quite a bit.
What Will It Cost?: Well let's see, the Yankees traded Peter O'Brien to get two and a half years of Prado last year, though the Diamondbacks aren't exactly known for making smart decisions. One and a half years of Prado should cost less, in theory, especially considering he's been hurt (shoulder) and isn't hitting as well (.275/.317/.375 and 92 wRC+ this year), and at that point you wonder if the Marlins will simply hold onto him for next year and try to contend again.