Six questions and six answers this week. Remember to use the Submit A Tip in the sidebar to send us whatever, whenever.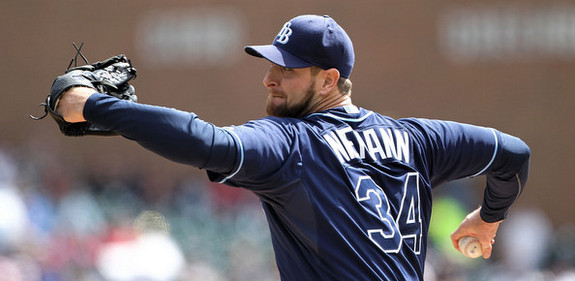 Several people asked: What about Jeff Niemann?
Niemann, 30, elected free agency earlier this week after the Rays outrighted him off their 40-man roster. He did not pitch at all this year and has been limited to one game since May 2012 due to a series of shoulder problems, most notably surgery to repair damage to his labrum and rotator cuff. Niemann's had a lot of injury problems over the years, most dealing with his shoulder. That's always scary.
Before the injury, the 6-foot-9, 285 lb. right-hander managed a 3.08 ERA (3.09 FIP) in 38 innings last season. He put up a 4.06 ERA (4.13 FIP) in 135.1 innings in 2011 while missing time with a back problem. Niemann never lived up to hype associated with being the fourth overall pick in the country (2004), but he was a rock solid mid-rotation guy who showed steady improvement — particularly when it came to getting strikeouts and ground balls — before this last round of injury problems.
Niemann had his surgery in April and it came with a 9-12 month recovery time. He recently told Bill Chastain that things are going well but a second half return is the most likely scenario while adding that he might not sign until he can get back on a mound and clubs can see him throw. I definitely have interest in Niemann since he's reasonably young and has AL East/pennant race experience, but obviously the medicals need to check out. If he's willing to take a minor league contract, absolutely. Go for it. If he wants something guaranteed right away … eh, that might be pushing it. Some team could cave and given him that 40-man spot, I suppose.
Dustin asks: Two recently DFA'd players to pick up on waivers if they fall to the Yanks: Tony Sipp and Felipe Paulino. Thoughts?
The 30-year-old Sipp was taken off the roster by the Diamondbacks earlier this week and he has the right to elect free agency, but he hasn't done so yet. He pitched to a 4.78 ERA (4.88 FIP) in 37.2 innings in 2013 overall but we're talking about a lefty specialist, overall numbers don't tell the whole story. Sipp was hit hard by same-side hitters this past season (.378 wOBA and 6.05 FIP) but was much more effective from 2011-2012 (.288 wOBA and 4.16 FIP). If he wants to take a minor league deal and compete for a bullpen spot with Cesar Cabral and David Huff in camp, sure.
Paulino, 30, is in the same boat as Niemann. He already elected free agency but hasn't pitched since June 2012 due to Tommy John and shoulder surgery, the latter of which is expected to sideline him until the second half of next year. Before that he was showing steady improvement, with a 1.67 ERA (3.25 FIP) in 37.2 innings in 2012 and a 4.46 ERA (3.69 FIP) in 139.1 innings in 2011. Niemann has a longer track record of success but I think these two are in the same exact situation. If the medicals check out and Paulino is willing to take a minor league contract, then let's do it. If he wants something guaranteed, let someone else give him the 40-man spot.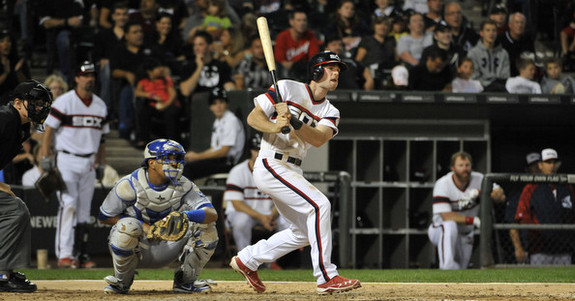 Travis asks: Would a swap of Dellin Betances and Conor Gillaspie of the White Sox make sense for both sides? They love their large-framed pitchers and the Yankees have a need for a left-handed 3B/1B.
I think that's fair value. Both Betances and Gillespie are former top prospects who are out of minor league options and have yet to really establish themselves at the big league level. The 26-year-old Gillaspie did play fairly regularly for the ChiSox this past season, hitting .245/.305/.390 (85 wRC+) with 13 homers in 452 plate appearances. His defense at the hot corner was a tick below-average. The Yankees would be banking on Yankee Stadium's short right field porch boosting his numbers. I do think that trade makes sense for both teams and it's worth noting the White Sox have shown interest in Betances before. Do they still like him? That's the question.
Dave asks: Let's say A-Rod gets suspended for all of 2014 and prior to the 2015 season, the Yankees buyout his remaining contract in a single $61M lump sum. How does that amount affect the luxury tax?
From what I have read, the Collective Bargaining Agreement does not address buyouts for a situation like this. I think it would be treated as a new contract, however. Essentially a one-year, $61M contract. If that's the case, I think the Yankees would simply release him and pay the $61M over the next three years instead. I think a more likely buyout scenario is paying that $61M over six years (with interest) instead of three, doubling the term. The luxury tax hit would be recalculated in that situation but it's not as simple as average annual value because the Yankees have already paid some amount of tax on that contract. The tax hit would be lowered, I'm just not sure how much. The most important thing to remember is A-Rod has no reason to take a penny less than what's owed to him, it's extremely unlikely he'll agree to a buyout that makes all or part of that $61M disappear. He'll make the Yankees release him before agreeing to take less money. That's what I would do.
Nick asks: Nick Cafardo recently reported that Grady Sizemore was getting a lot of attention and that he should be ready for Spring Training. Now I know he shouldn't be counted on for anything but don't you think he'd be a good buy low candidate?
Did you know that Sizemore is 31 years old already? He's not all that young anymore. That really snuck up on me. He hasn't played in a game since September 2011 and when he did play, he kinda stunk (94 wRC+ in 2011, 81 wRC+ from 2010-2011). His list of injuries is so very long — left elbow inflammation and debridement (2009), sports hernia (2009), left knee microfracture surgery (2010), another sports hernia (2011), arthroscopic right knee surgery (2011), lower back surgery (2012), right knee microfracture surgery (2012) — that he's basically the Eric Chavez of outfielders. If Sizemore is cool with taking a minor league deal and showing what he can do in Spring Training, by all means, bring him in. Maybe he has a 2012 Chavez year in him. My expectations are zero though.
Niq asks: Can you remind me what happens if the Yankees sign multiple free agents who received and turned down qualifying offers? Do they lose multiple picks? If not, doesn't that make it easier to sign multiple top free agents? Thanks.
Oh yes, you will absolutely lose multiple picks for signing multiple qualified free agents. Under the current Collective Bargaining Agreement, teams can forfeit the picks they receive as compensation for losing their own qualified free agents as well. It didn't used to work like that. So if the Yankees get a supplemental first round pick for Curtis Granderson signing elsewhere but sign two qualified free agents, they would lose their first rounder and the compensation pick for Granderson. If it's feasible, I think you're better off doing all your shopping in one offseason and losing two or three picks at once (like the Yankees did during the 2008-2009 offseason) than signing one big free agent each winter and forfeiting your first rounder every summer.