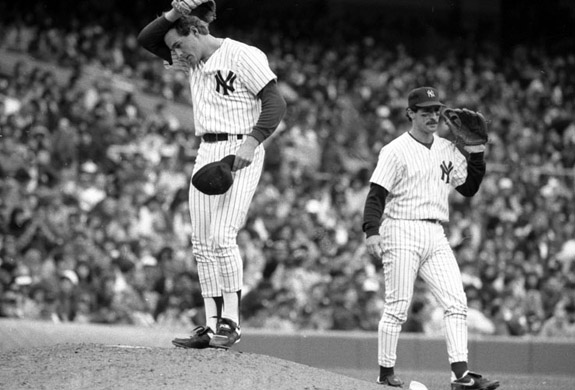 While the 80s generally get lumped in with the Yankees' dark years, they really weren't all that bad. The Yankees did make the World Series in 1981, though they did so in relatively bizarre fashion. After stumbling in 1982 they came back to finish either second or third in the AL East in each of the next four seasons. But as the decade came to a close, the Yankees' started to fall. One big reason was that their pitching staff grew old, and they had little in the way of young replacements.
The mid- to late-80s were all about trading young pitchers and getting essentially jack squat in return. It started after the 1986 season, when the Yankees traded Doug Drabek after his debut season. In return they got a 34-year-old Rick Rhoden, who actually did help in 1987. But that was his final quality season. It's a good thing they got it out of him, too. The 1987 team might have been the messiest pitching situation of my lifetime — and that includes 2008.
The Yankees trotted out 14 different starters in 1987. Only four made double-digit starts. Among them was Dennis Rasmussen, the youngest of the double-digit starters, whom the Yankees traded mid-season. The other three regulars were all 34 or older, including a 44-year-old Tommy John and a 36-year-old Ron Guidry, who started only 17 games. The other 10 starters were a mixed bag, but most of them shared one thing in common: they had little future in the league. Only three of those pitchers were younger than 28 years old in 1987. As was their wont, the Yankees ensured that they wouldn't be in pinstripes much longer.
A 26-year-old Bob Tewksbury started six games for the Yankees in 1987. He might have started more, too, had the Yankees not traded him mid-season for Steve Trout. Tewksbury went on to have a fine career, mostly in St. Louis. The pitching-starved early 90s Yankees could have used him badly. Trout, 29 at the time of the trade and an established mediocrity, completely collapsed. The Yanks traded him after the season, and he lasted just two more in the bigs before calling it quits. Brad Arnsberg, a 23-year-old righty, also made a couple of starts in 87, but the Yankees dished him after the season for Don Slaught. (Who, in all fairness, produced a couple of not-half-bad seasons for the Yanks.)
The clearest indication that the Yankees needed arms that season was Al Leiter's presence on the roster. He was just 21 years old, and didn't exactly have a sterling minor league record. While his results in A-ball in 1986 were decent, he still walked nearly 7 per nine. In 87 he advanced to AA, where he cut down on the walks and upped his strikeout rate. That earned him a trip to AAA Columbus, but he got knocked around a bit there (and walked nearly 6 per nine). Still, the Yankees gave him a September call-up. Again he got knocked around, but there was at least some promise there.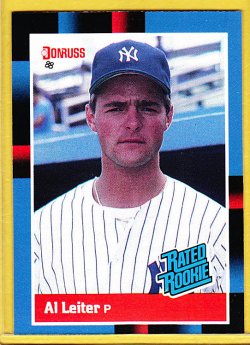 The '87 Yanks finished fourth in the division, and things only got worse from there. Chief among their problems in 1988, when they finished fifth, was pitching. Rhoden and John still took the ball every five days, but they had very poor seasons. New addition John Candalaria pitched well enough, but Richard Dotson balanced him out with 171 horrible innings. The only saving grace in the rotation was the 22-year-old Leiter. He actually pitched fairly well in the first half, a 3.99 ERA with more than a strikeout per inning and a 2:1 K/BB ratio. Unfortunately, his season got cut short by a blister problem that cropped up during a fine start against the Tigers. That put him on the 21-day disabled list (fancy that), though he wouldn't come back until September. Again injury cut him short, as he experienced back spasms in a start against the Red Sox.
Anyone expecting a bounceback from Leiter in 1989 would be sadly disappointed — and then disappointed again. He opened his season with a 5.1-inning, six-run performance against Cleveland, which he followed with three more unspectacular performances. He did pitch into the ninth inning of his second game, striking out 10. The only problem is that he walked nine, and, more importantly, threw 163 pitches. Maybe the Yankees saw that and thought it could lead to trouble. Maybe they were just obsessed with trading any young pitcher with a lick of talent. Whatever the case, they traded Leiter after just four starts, in return receiving Jesse Barfield from the Toronto Blue Jays.
In 1988 the Yankees got some serious production from right field. Dave Winfield hit .322/.398/.530, a 159 OPS+, but he would not be around for the 1989 season. Back problems in spring training led to season-ending surgery. The Yanks did acquire Mel Hall that spring to help fill the void, but he clearly wasn't going to provide the kind of production the Yankees needed. The solution, then, was to acquire Barfield to man left field. He certainly stood to put up better numbers than Hall.
In the early 80s Barfield was a rising star. His production increased into his mid-20s; in his age-25 and age-26 seasons he hit .289/.369/.548, 143 OPS+, while playing in at least 155 games each season. Combined with his absolute cannon arm, and Winfield's near-expiring contract, he seemed a perfect fit. The only problem was that his production had taken a step back in the following two seasons. At ages 27 and 28 he hit just .254/.318/.443, 104 OPS+. If the Yankees were trading for the mid-20s Barfield, it would have been one thing. The late-20s Barfield still had something to prove.
All told, his first season in pinstripes didn't go so badly. He hit .240/.360/.410, 118 OPS+, for a 74-win team. In 1990 he turned in a better season, hitting .246/.359/.456, 128 OPS+. Of course, there was no OPS+ back then, and few people looked beyond batting average, home runs, and RBI. In that sense, Barfield was .246/25/78 in 1990, hardly the stuff of a superstar. He'd last another two years in pinstripes, though he played only 114 games combined. In his early 30s, his career had crashed.
Leiter, on the other hand, almost immediately succumbed to injuries. He got hurt after his first start in Toronto and didn't make another start for the big league club that year. In fact, he threw just 8 innings in three rehab starts. In 1990 he spent most of the year in the minors, throwing 24 innings of rehab in A-ball before another 78 in AAA. Again in 1991 he spent most of the season on the shelf, pitching just 10 innings between the majors and the minors. In 1992 the Blue Jays just stuck him in the minors, where he threw 163.1 innings. It wasn't until 1993 that he finally pitched over 100 innings in the bigs. But it wasn't until 1995 that he was actually any good. That was his last season before free agency.
It's easy to look back on the trade and see failure, because Leiter went on to enjoy so much success later in his career. But the reality is that during his team-controlled years, Leiter did little other than walk hitters. Before reaching free agency he threw just 522 innings in the majors, and spent the better parts of four seasons on the disabled list. It was only after he reached free agency, and really after he made his way to the Mets, that he really stood out as a pitcher. We can't judge the trade based on those performances, because they came long after the Yankees would have retained control of him.
Jesse Barfield was a mostly unremarkable player for the Yankees. He showed that he was not the player he appeared to be in his mid-20s, but was instead a merely above-average hitter. That his career came to a halt just a few years after the trade makes it seem all the worse. But think of it this way: if Barfield had continued performing at slightly above average levels, instead of completely falling off a cliff, do the Yankees trade Roberto Kelly for Paul O'Neill a few years later?
In the mid- to late-80s, the Yankees loved trading young pitching for very little return. Leiter was just another name on that list. It might seem like a terrible trade, because Barfield's performance didn't stand out and Leiter went on to win a World Series and then realize a very fine career. But the Yankees weren't exactly in the wrong here. They had a young, promising pitcher, but they had also worked him hard. He had injury problems the previous year, and then had the infamous 163-pitch start in early April. They ended up dodging a bullet, as Leiter spent much time on the DL after that. At the time it was a short-sighted move, given the team's lack of young arms, but in terms of results it worked out pretty well. Even a healthy Leiter couldn't have saved those early 90s pitching staffs.