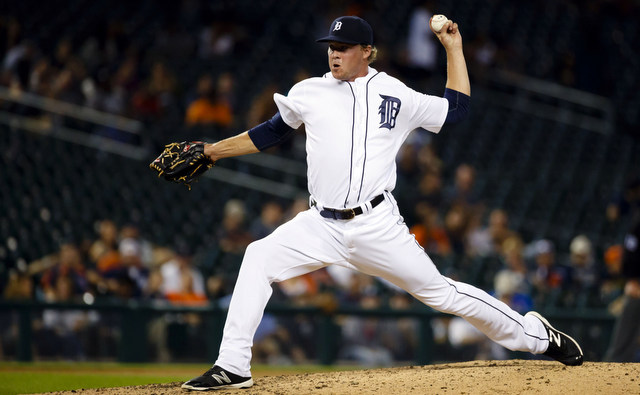 Earlier today the Yankees claimed left-hander Joe Mantiply off waivers from the Tigers, the team announced. Righty Branden Pinder was designated for assignment to clear a 40-man roster spot.
Mantiply, 25, is a pure reliever who spent most of the season in the minors. He had a 2.73 ERA (2.15 FIP) in 59.1 innings between Double-A and Triple-A, during which he held left-handed hitters to a .168/.195/.224 batting line with a 36.7% strikeout rate and a 1.7% walk rate. So at least he has that going for him.
The Tigers called Mantiply up in September, and he allowed five runs on seven hits and two walks in 2.2 innings spread across five appearances in his first taste of the show. He's a classic left-on-left matchup guy with a funky delivery, an upper-80s fastball, and an upper-70s slider. Here's a tiny little bit of video:
The 27-year-old Pinder had Tommy John surgery in April and missed most of the season. He appeared in one game with the Yankees and two games with Triple-A Scranton before blowing out his elbow. Last year Pinder had a 2.93 ERA (4.72 FIP) in 27.2 innings with the Yankees as the primary shuttle reliever.
All this move does is upgrade the 40th spot on the 40-man roster. Mantiply is left-handed and healthy while Pinder is right-handed and hurt. Also, Mantiply has all three option years remaining — he was added to the 40-man roster for the first time in September — while Pinder has either one or two. That's really all there is to it. Chances are Pinder is going to clear waivers and stay in the organization as a non-40-man roster player anyway. Injured fringe relievers aren't exactly a hot commodity on waivers.