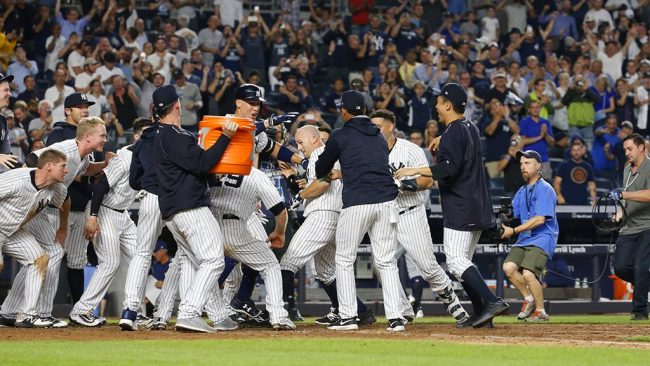 Brett Gardner, walk-off hero
You can add another chapter to the never-say-die tale of this rollercoaster season thanks to a thrilling and dramatic comeback win on Thursday night. After blowing a 3-0 lead in the fifth inning, the Comeback Kids rallied to tie the game in the ninth, setting the stage for the Gritty, Gutty Elder to win it on a blistering walk-off shot two frames later.
It was the Yankees fifth win this season when trailing at the start of the ninth frame, tied for the second-most such wins in the majors through Thursday, behind only the Dodgers (6). It's a stunning reversal from last year's team, which had only three wins of this kind during the entire season. And over the last 15 seasons, its the only time they've had five such wins before August 1. Hooray!
Brett Gardner sparked the stunning ninth inning rally with a lead-off triple and then scored the game-tying run on Gary Sanchez's two-out RBI single. El Gary's grounder, which just barely sneaked through the infield, had a hit probability of only 19 percent, based on the combo of exit velocity (98.3 mph) and launch angle (-18 degrees) recorded by Statcast.
Aroldis Chapman held the Rays scoreless in the 10th and 11th innings as he needed just 19 pitches (16 strikes!) to mow down the six batters he faced. It was only the fourth time in his career he's pitched at least two perfect innings, and the first time since September 2011 with the Reds.
Gardner then led off the bottom of the 11th with a solo shot to right field that quickly cleared the fences and gave the Yankees another wild-and-crazy 5-4 win. It was Gardner's third career walk-off homer, making him one of just seven Yankees since 1930 to smash at least three walk-off home runs as an outfielder. He joins Mickey Mantle, Joe DiMaggio, Tom Tresh, Tommy Henrich, Charlie Keller and Yogi Berra in this legendary group.
As the hero of the night, he also earns our Obscure Yankeemetric of the Series: Gardner, who had moved to center in the ninth, became just the third Yankee centerfielder in the last 75 years to lead off an inning in extras with a walk-off homer. The others were two guys named Mickey — Rivers (1977) and Mantle (1959 and 1963).
And finally our favorite stat of the night:
Yankees are 15-0 when Brett Gardner homers this season.

— Katie Sharp (@ktsharp) July 28, 2017
Master Masahiro
No Comeback Mojo, No Fighting Spirit was needed on Friday as the Yankees jumped out to an early lead and continued to pummel the Rays with an unrelenting combo of power pitching and power hitting en route to a tidy 6-1 win.
Less than 24 hours after his shocking game-ending home run to beat the Rays, Brett Gardner wasted no time in delivering another huge offensive spark by drilling the third pitch he saw deep into the bullpen in centerfield. With that blast, G.G.B.G. became the third Yankee to follow-up a walk-off home run with a lead-off home run in the next game. Roberto Kelly in 1990 and Joe Gordon in 1940 also achieved the feat.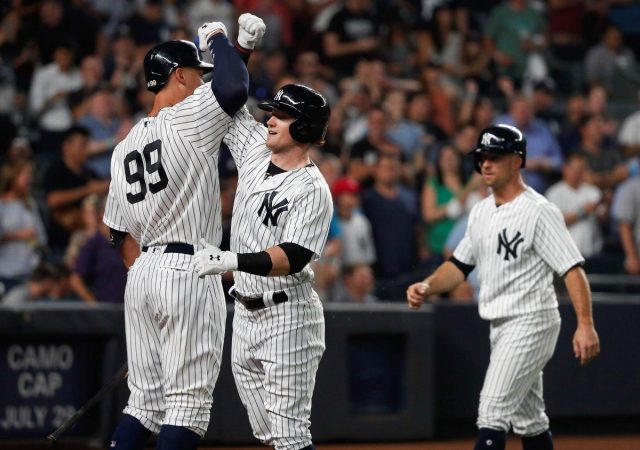 The two other flycatchers — Aaron Judge and Clint Frazier — provided the rest of the power punch, with Judge homering in the fourth and Frazier going deep in the fifth. It was the second time this year all three starting outfielders hit home runs (also on May 2). Over the last 25 years, the only other season the Yankees had two such games was 2000, and the guys that contributed in those two games were Paul O'Neill, Bernie Williams, David Justice and Ryan Thompson.
Chicks dig the longball, but the real star of Friday's game was Masahiro Tanaka. The up-and-down right-hander was back in ace form, as he carved up the Rays lineup with his devastating slider/splitter combo — which generated 20 of his 21 whiffs! — in producing the most dominant performance of his career. He retired the first 17 batters he faced and finished with 14 strikeouts, no walks, two hits and one run allowed in eight brilliant innings.
That masterpiece earned Tanaka an exclusive niche in franchise history: he's the first Yankee pitcher ever to strike out at least 14 guys and allow no more than two baserunners in a game.
Tanaka flashed this type of dominance earlier in the season, too, when he had 13 strikeouts against the A's in May. With his second game of 13-plus strikeouts, he joined an impressive list of MLB pitchers this season to achieve that feat: Stephen Strasburg, Max Scherzer, Chris Sale, Corey Kluber and Clayton Kershaw.
Tanaka also is one of four Yankees in the last 50 years to have multiple 13-strikeout games in a season, along with CC Sabathia (2011), Roger Clemens (2002) and Mike Mussina (2001).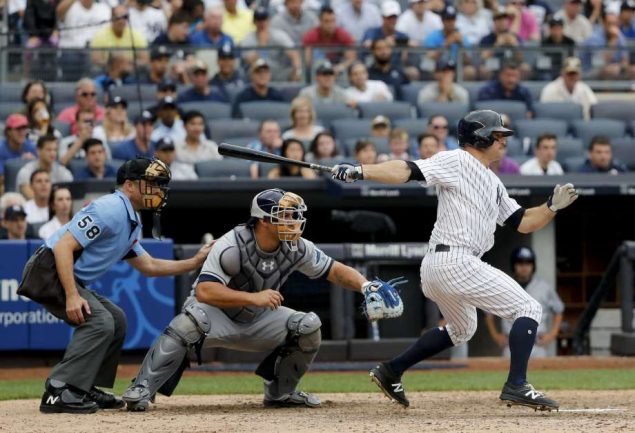 Deja vu all over again
Thanks to another heavy dose of Comeback Kids potion plus a shot of Brett Gardner Magic elixir, the Yankees kept their winning streak alive in dramatic fashion on Saturday afternoon.
They erased three separate Rays leads before finally pulling out the thrilling victory in the bottom of the ninth inning for their fifth walk-off win of the season. Four of them have come since June 23, and in that five-week span through Saturday, only the Royals (5) had more walk-off wins than the Yankees.
G.G.B.G again showed off his flair for the dramatic with a bases-loaded single in the bottom of the ninth. It was his eighth career walk-off hit in pinstripes, a number that is surpassed by only four other Yankees since 1930: Mickey Mantle (16), Graig Nettles (12), Yogi Berra (10), and Joe DiMaggio (9).
It was also the second time in three days that he wore the walk-off hero's cape, making him the first Yankee with two walk-off hits in a three-day span since … Gardner did it August 9-11, 2013 against the Tigers. The last Yankee before Gardner to do this was Claudell Washington in September 1988.
Gardner, doing his best to prove that the clutch gene is a real thing, is the only Yankee since 1930 to do this — two walk-off hits in three days — twice in a career.
#RISPfail
There would be no sweep for the Yankees, who dropped the series finale on Sunday and saw their confidence-boosting six-game win streak snapped. They suffered another frustrating defeat, going 1-for-11 with runners in scoring position and stranding 10 batters in the 5-3 loss.
Jordan Montgomery was maddeningly ineffective as he fell behind early and often, allowing the Rays to tee off on him in favorable counts. He gave up up four runs and needed 71 pitches to navigate a career-low 2⅔ innings, the third time in six July starts he failed to get through five innings.
The problem was crystal clear: Monty threw first-pitch strikes to only six of 16 batters (37.5%), the lowest rate in any of his 20 career outings and the worst by a Yankee starter this season. Here's what that type of inefficiency looks like … yuck: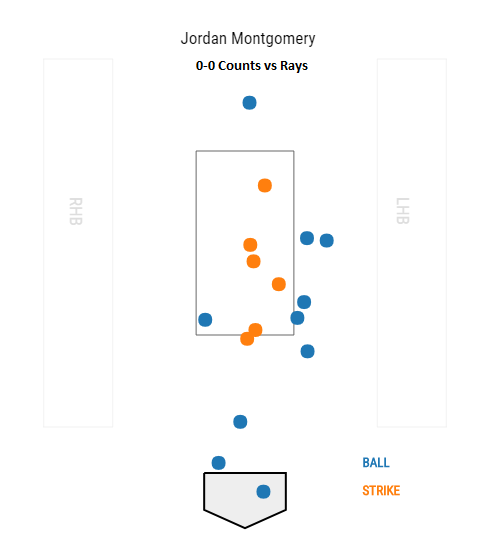 The lone statistical highlight was his five strikeouts, which gave him 104 for his career, a noteworthy achievement for the lefty. He is the sixth Yankee to strike out at least 100 batters in his first 20 big-league games, joining Masahiro Tanaka, Al Leiter, Orlando Hernandez, Dave Righetti and Al Downing.