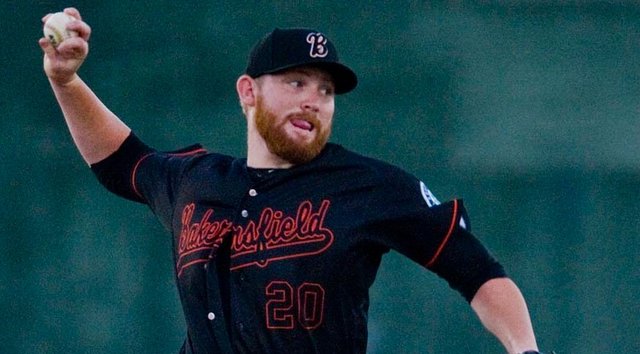 The Yankees have remade their farm system with a series of high profile trades over these last eight months or so. As a result, they have one of the best and deepest farm systems in the game. Guys like Gleyber Torres and Clint Frazier get a ton of attention and rightfully so. It's the quality of the prospects that don't make my 2017 Preseason Top 30 Prospects List, which will be posted tomorrow, that makes the system stand out.
Before we can get to the top 30 prospects, we must first cover the not top 30 prospects. These are five prospects who did not crack this year's top 30 list, but I believe could make next year's if they continue to have success with their development and put together solid 2017 seasons. Just to be perfectly clear, these are not prospects 31-35. Call them sleepers, if you want. Some of them seem a little too high-profile for that, however.
Only one of last season's not top 30 prospects jumped into this year's top 30 list. That's a bummer. I usually like to get at least two in there. It's not simply because of the depth of the farm system either. None of the four who failed to make this year's stacked top 30 list would have made a "normal" year's top 30 list either. For shame. Bad job by me. Anyway, here are this year's not top 30 prospects, listed alphabetically.
RHP Jorge Guzman
Guzman, who turned 21 last month, came over from the Astros in the Brian McCann trade earlier this offseason. He split last season between the rookie Gulf Coast and Appalachian Leagues, where he had a 4.05 ERA (2.64 FIP) with 32.1% strikeouts and 10.1% walks in 40 innings. Guzman is a pure arm strength prospect. He sits in the 97-100 mph range even as a starter — Baseball America says he topped out at 103 mph in 2016 — but shows better command when he scales it back to 96-98 mph, which is still premium velocity. Both his changeup and slider are rudimentary, so right now he's essentially a one-pitch pitcher. Guzman has good size (6-foot-2 and 182 lbs.) and he's not a max effort guy at all. He gets to that velocity pretty easily. It goes without saying Guzman, who could start the year in Extended Spring Training before joining Short Season Staten Island, is a long way away from the big leagues, but his upside is enormous.
RHP Zack Littell
I wanted to squeeze Littell into the top 30 list. I really did. Just couldn't find room for him though. Acquired from the Mariners in the James Pazos trade earlier this winter, the 21-year-old Littell threw a ridiculous 173 innings between Low-A and High-A last summer. The former 11th round pick (2013 draft) had a 2.60 ERA (3.07 FIP) with very good strikeout (21.0%) and walk (5.0%) rates in those 173 innings. Littell is a classic bulldog with a low-90s fastball and quality secondary offerings in his curveball and changeup. The changeup is the more consistent of the two pitches right now, though both are legitimate weapons. Littell's stuff plays up because he has good overall control and excellent fastball command, and also because he's a baseball rat who spends a lot of time reviewing scouting reports and observing opposing hitters on days he doesn't pitch. It seems likely he will start 2017 with High-A Tampa — he threw only 68 innings at the level last year — before getting bumped up to Double-A at midseason.
RHP Nolan Martinez
Martinez is another guy I really wanted to squeeze into the top 30 list. He was New York's third round pick (98th overall) in last year's draft, and his hefty $1.15M bonus was one of two overslot bonuses the Yankees gave out last year. (First rounder Blake Rutherford received the other, duh.) Martinez barely pitched after turning pro, throwing only seven innings in three rookie ball starts. His pro debut, a one-inning start in the rookie GCL, was rained out and the canceled, meaning the stats didn't count, so he truly threw eight innings in four starts last year. Unique pro debut story, eh?
Anyway, the 18-year-old Martinez sits anywhere from 88-93 mph with his heater, and his upper-70s curveball is devastating when he's on. PitchFX data from pre-draft showcase events at big league ballparks showed the curveball already has an above-average Major League spin rate. Martinez doesn't have much of a changeup at this point, he's never really needed one, but he throws strikes and has a good delivery. He's seemingly ticketed for ExST and rookie Pulaski this summer, where the changeup will be a point of emphasis.
RHP Freicer Perez
The Yankees signed Perez as part of their landmark 2014-15 international class, though he was a low-profile prospect who received a $10,000 bonus at age 18. Since then, he's developed into a high-upside prospect with one of the most powerful arms in the system. Perez spent last summer with Short Season Staten Island, where he had a 4.47 ERA (3.81 FIP) with 20.6% strikeouts and 10.5% walks in 52.1 innings. Although he already sits 95-97 mph and has touched 99 mph with his heater, his tall (6-foot-8) yet thin (190 lbs.) frame suggests there may be more velocity coming. Freicer is working to improve his curveball and changeup, neither of which is a reliable offering at the moment, and it's no surprise he's still refining his mechanics as well. Those long arms and legs don't always cooperate. Perez will turn 21 in March and even though he remains fairly raw, there's a good chance the Yankees will send him to Low-A Charleston to begin 2017.
C Donny Sands
Sands, 20, was under-scouted in high school because he didn't get invited to many showcase events in talent-rich Arizona. The Yankees landed him with their eighth round pick in 2015, gave him a below-slot $100,000 bonus, then moved him from third base to catcher following the season. Sands is still rough around the edges defensively, understandably so, but he moves well behind the plate and has a strong arm. He has the athleticism, tools, and baseball aptitude to turn into a quality defensive backstop. At the plate, Sands never took his defensive work into the batter's box, and hit .286/.328/.375 (102 wRC+) with two homers and a ton of contact (10.2% strikeouts) in 122 rookie ball plate appearances in 2016. He has promising power and the innate ability to get the fat part of the bat on the ball. The Yankees are a great catcher development organization — Francisco Cervelli, John Ryan Murphy, and Luis Torrens didn't become full-time catchers until the Yankees got their hands on them, for example — and Sands is their next conversion project.