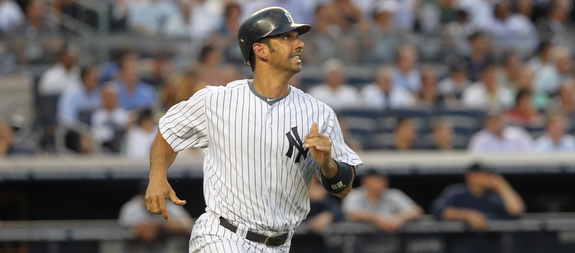 According to Jorge Arangure, Jorge Posada and his wife Laura are suing Juan Carlos Collar and Anthony Fernandez of Quantum Ventures, LLC over "what they believe was a blatant and negligent mismanagement of funds." The suit was recently filed in Miami. The Posadas were allegedly scammed out of approximately $11.2M. Ex-Yankee Jose Contreras is also suing Collar and Fernandez after losing more than $2M.
Posada entrusted his money to Collar and Fernandez way back in 1999, says Arangure. Collar and Fernandez "received all of the player's mail, filed their tax returns, wrote checks for them, and were given the authority to make whatever investments they wanted" with Posada's money. It wasn't until Posada hired an independent investigator to audit his finances in 2010 that the wrongdoing was discovered. Here are the details of the scheme, from Arangure:
Shortly after founding Quantum in 2005, Collar and Fernandez formed a separate company to handle speculative real estate deals—Sunset Trails, LLC—into which they put $3 million of the Posadas' money. But the $3 million didn't ensure the Posadas any ownership of the properties Sunset Trails purchased. Instead, the money only entitled them to membership in the LLC. So the Posadas had no say in what happened with any purchase.

…

On July 28, 2005, Sunset Trails purchased a plot of land for $13.5 million for the purpose of "developing an elite equestrian-themed community for the wealthy," according to Contreras's complaint. Most peculiar was that Sunset Trails purchased the land from Southern Acres of Florida, LLC, who on that same day had purchased the land for $8,402,900. In less than a day, Southern Acres had made a $5,049,000 profit.

…

For example, both complaints outline that Quantum received a 1 percent management fee ($135,000) for Sunset Trails' $13.5 million land purchase. Quantum also set up various conditions within the deal that gave them an even greater profit. For example, Quantum received the first 20 percent of all net profits. In total, Quantum was in a position to receive nearly 60 percent of all Sunset Trails earnings on the deal, a condition to which no independent company would have agreed upon. But Sunset Trails was not an independent company. Collar and Fernandez managed Sunset Trails.

Additionally, Fernandez served as the real estate agent on the deal, meaning he personally pocketed approximately $350,000 on the sale, according to Posada's complaint.
"I've never heard of anything like that. It's jaw dropping," said Posada's attorney to Arangure. "They would go to Jorge and they would have a stack of documents to sign, and they would just say 'sign here,' and Jorge would sign it. He completely trusted these guys with all of their finances. All of their money. Whatever the Posadas made, went directly into their accounts with these guys. That's the kind of trust they had. The Posadas never in any way used other money managers, other investments. Everything was through these guys."
The Sunset Trails land is currently being leased to a farmer and Posada's money is still tied up in it. Collar and Fernandez will make nearly $750,000 in rent over the next five years. Because he was duped into being a member rather than an owner, Posada has no say in what happens to the property. Same with Contreras. Posada also invested over $8M into Quantum Hedge Fund, which invested in "risky, high leverage hedge funds."
According to Baseball Reference, Posada banked more than $117M in player contracts during his time with the Yankees. That is before taxes and doesn't include any endorsements or his MLBPA pension. Contreras made more than $67M during his time in MLB. Both lawsuits are set to go to trial next year.