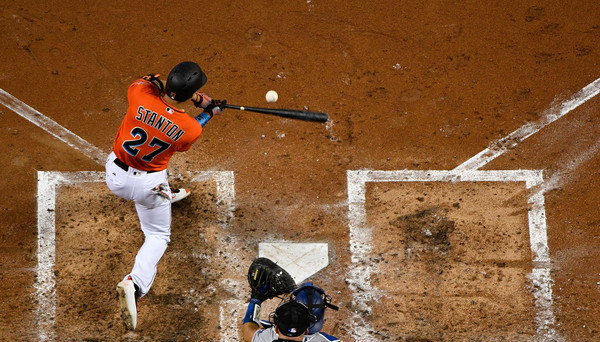 December 11th: The trade is official. The Yankees made the announcement this morning. It is as reported: Stanton and cash for Castro, Guzman, and Devers. Here's the press release.
December 9th: For the second straight offseason, the Yankees are set to acquire the reigning National League home run king. Something tells me Giancarlo Stanton will work out better than Chris Carter.
According to multiple reports, the Yankees and Marlins have agreed to a four-player trade that brings Stanton to New York in exchange for Starlin Castro and two prospects. There is also money involved. The trade is pending physicals — Jon Heyman says Stanton is on his way to New York for that — and neither team has announced anything, though that'll happen soon enough. Here are the trade details:
To Yankees: Stanton and $30M in conditional money
To Marlins: Castro, Jorge Guzman, Jose Devers
Ken Rosenthal says the Yankees only get the $30M if Stanton doesn't exercise his opt-out clause following the 2020 season. There is still ten years and $295M on his contract overall. Thanks to some fancy accounting, Stanton will count as approximately $22M against the luxury tax during the life of the contract, per Rosenthal. His actual salary ranges between $25M and $32M over the next ten years.
The new Bruce Sherman and Derek Jeter led ownership group has been clear they want to slash payroll to get the Marlins' finances in check. The easiest way to do that? Trading their most expensive player, who happens to be the reigning NL MVP. Stanton is waiving his no-trade clause to join the Yankees, who are said to be his second choice behind his hometown Dodgers. He used the no-trade clause to block deals to the Giants and Cardinals earlier this week.
Once Stanton blocked those trades to San Francisco and St. Louis, the Marlins had very little leverage remaining, hence this sweetheart of a trade for the Yankees. Miami wanted to unload as much of Stanton's contract as possible, and the Yankees happily took on a big chunk of it while giving up no one they'll really miss. I don't think the Yankees came into the offseason planning to pursue Stanton. This is something that fell into their laps. It's too good to pass up.
Stanton, who turned 28 last month, authored a .281/.376/.631 (156 wRC+) batting line with an MLB best 59 home runs this season. That is a top ten single-season home run total in history. Stanton, Barry Bonds, Mark McGwire, Sammy Sosa, Roger Maris, and Babe Ruth are the only men in history to hit as many as 59 home runs in a season. Stanton's career averages are a .268/.360/.554 (144 wRC+) line and 44 home runs per 162 games. He's averaged 5.0 fWAR and 5.1 bWAR per 600 plate appearances.
Even before the Stanton trade, the Yankees had four outfielders for three spots (Jacoby Ellsbury, Brett Gardner, Aaron Hicks, Aaron Judge) plus a top MLB ready outfield prospect (Clint Frazier), so things are getting a little crowded. That's not big deal though. This is definitely one of those "get the game's best power hitter for a bargain price and figure out the rest later" situation. I suspect Clint's name will start popping up in trade rumors soon.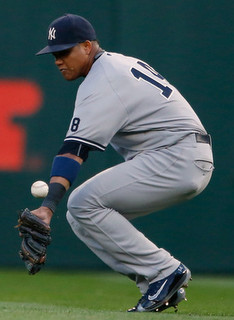 The Yankees are giving up their starting second baseman in the trade, and while Castro wasn't great by any means, he was a solid player who brought stability to the position in the post-Robinson Cano years. Starlin, who will turn 28 in March, hit .300/.338/.454 (110 wRC+) with 16 home runs in 112 games around hamstring problems this season. There are two guaranteed years and $22M left on his contract. The trade clears a long-term spot for Gleyber Torres. Short-term? I'm not quite sure. I'd be surprised if Gleyber was on the Opening Day after missing half of 2017 with injury.
Guzman is the better of the two prospects heading to Miami. He came over in the Brian McCann trade and broke out this season, throwing 66.2 innings with a 2.30 ERA (2.47 FIP) and 33.5% strikeouts with Short Season Staten Island. I had the 21-year-old as a top ten prospect in the system in my preliminary top 30 prospects list, and the fourth best pitcher behind Justus Sheffield, Chance Adams, and Albert Abreu. Guzman is a quality prospect. Gotta give something to get something though.
Devers is the cousin of Red Sox third baseman Rafael Devers. The 18-year-old hit .245/.336/.342 (100 wRC+) with one home run and 16 steals in 53 rookie ball games this year. He was not in my preliminary top 30 list nor particularly close to making it. Keep in mind former farm system head Gary Denbo left the Yankees to join the Marlins a few weeks ago. I suspect Guzman and Devers were two of his personal favorites.
The Yankees were hardly short on right-handed power, but when you have a chance to get Stanton at that price, you take it. Only once in history has a team had two players hit 50+ homers in a season — Maris (61) and Mickey Mantle (54) did it for the 1961 Yankees — and, if nothing else, Stanton and Judge will have a chance to do it next year, assuming MLB does not un-juice the ball. Heck, those two might hit 50+ even with a regular ball.
With Stanton set to join the Yankees, the next order of business is finding some pitching depth. The Yankees have enough room under the luxury tax threshold to re-sign CC Sabathia, possibly even someone a bit more expensive. They also need to figure out second base. My guess is they'll look to see if they can score a cheap free agent (Howie Kendrick? Brandon Phillips?), otherwise they'll stick with internal options like Ronald Torreyes or Tyler Wade until Gleyber is deemed ready. Either way, the Yankees just got a heck of a lot better, and a heck of a lot more fun.