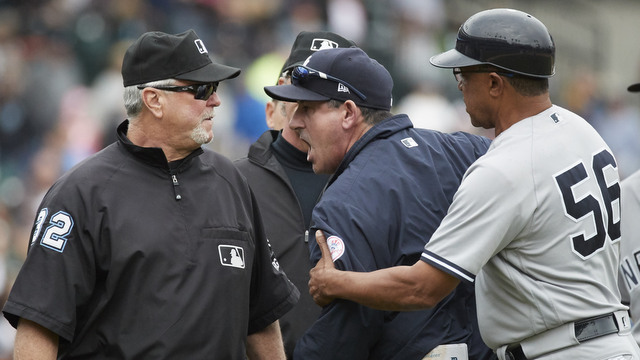 Our season review series has reached the point where it is time to do the impossible: evaluate coaches. No one has come up with a good way to do it, at least from the outside. For the most part we just project player performance onto coaches. Leo Mazzone was a genius pitching coach when he had Greg Maddux, Tom Glavine, and John Smoltz. When he had Rodrigo Lopez, Kris Benson, and Daniel Cabrera? Not so much.
The 2017 season was the last season for this coaching staff as a unit. The Yankees parted ways with manager Joe Girardi after the season and they broke up the coaching staff as well. Most of it, anyway. New manager Aaron Boone will inherit at least one coach and possible more. Let's try to review the season that was with the coaching staff.
Bench Coach: Rob Thomson
The 2017 season was Thomson's 28th with the Yankees. He joined the organization as a minor league coach in 1990 and gradually worked his way up the ladder, holding a variety of coaching and front office positions along the way. This was his fourth season as Girardi's bench coach (2008, 2015-17) and his tenth on the coaching staff overall. He spent the 2009-14 seasons as the third base coach.
Two things about Thomson's season stand out to me, one good and one bad. Let's start with the bad. Why didn't he push harder for Girardi to challenge the Lonnie Chisenhall hit-by-pitch in ALDS Game Two? Argh. Girardi obviously did not trust Gary Sanchez enough to challenge it, but Thomson is his right-hand man, and a quick little "Joe we really need to challenge this" could've done wonders. Alas.
And two, Thomson received unsolicited praise from Girardi and Alex Rodriguez during the postseason. Girardi credited Thomson for his work with the team's young players — "Rob Thomson, he stays on these guys all the time to make sure they're in the right place and ready to go," said Girardi during the ALCS — and A-Rod said something similar during a pregame segment for FOX. They both credited Thomson for working with the kids.
The Yankees did interview Thomson for their managerial opening, though I wonder whether that was something of a token interview, and a sign of respect for all his years in the organization. Thomson said he wanted to remain with the Yankees even if he didn't get the job, and when he didn't, he decided to take the Phillies bench coach job. It seems to me the Yankees decided to move on from Thomson, not the other way around.
Pitching Coach: Larry Rothschild
Once again, the Yankees had the most complained about great pitching staff in baseball. And it wasn't only because of the bullpen. The bullpen was actually pretty shaky the first three months of the season. The rotation was very good overall. To wit:
ERA: 3.98 (5th in MLB and 2nd in AL)
ERA-: 90 (6th in MLB and 3rd in AL)
FIP: 4.18 (7th in MLB and 4th in AL)
FIP-:  92 (7th in MLB and 4th in AL)
K%: 23.7% (7th in MLB and 4th in AL)
BB%: 7.3% (5th in MLB and 3rd in AL)
GB%: 48.1% (5th in MLB and 2nd in AL)
fWAR: +15.2 (6th in MLB and 3rd in AL)
Luis Severino rebounded from a disaster 2016 season to become an ace in 2017, earning him a third place finish in the Cy Young voting. That happened because he worked with Pedro Martinez in the offseason though. Severino worked with Pedro then avoided Rothschild all season. CC Sabathia's resurgence continued thanks to the cutter he learned from Andy Pettitte or Mariano Rivera last Spring Training. I dunno, it was probably one of those guys.
Masahiro Tanaka had a rough first half, which was Rothschild's fault, then rebounded in the second half, because he figured some things out on his own, I assume. Dellin Betances walked a lot of guys this season, something he's never done before in his career, and that is also Rothschild's fault. Rothschild also convinced Tyler Clippard that throwing 90 mph fastballs middle-middle is great way to get outs. And remember when Aroldis Chapman credited Rothschild for helping him get over his issues by tweaking his fastball grip? He was crediting Rothschild out of pity.
The Yankees decided to bring Rothschild back next year — he is the only confirmed holdover coach at the moment — which I guess means Severino will have to avoid talking to him and Chapman will have to continue giving him pity credit for things. Looks like we're in for another year of complaining about a very successful pitching staff.
Hitting Coaches: Alan Cockrell & Marcus Thames
A year ago the Yankees scored 680 runs. This year the Yankees scored 858 runs. They scored their 680th run this year on August 30th, in the 132nd game of the season. That's pretty great! Of course, it helps to have a full season of Sanchez, for Aaron Judge to become literally the best power-hitting rookie in the history of the universe, for Aaron Hicks to break out, for Didi Gregorius to take another step forward, for Austin Romine to inexplicably hit .314 for a month while Sanchez was on the disabled list, plus a bunch of other things.
The single biggest reason the Yankees improved offensively this year was the change in personnel. A year ago the Yankees gave 1,173 plate appearances to A-Rod, Mark Teixeira, and Brian McCann, who combined to post a .301 OBP and a .380 SLG. Yeesh. Out with the old and in with the new. How much credit do Cockrell and Thames deserve for Sanchez doing what he did, and Judge doing what he did, and Hicks doing what he did? Impossible to say. Surely they had something to do with it. If nothing else, the players made Cockrell and Thames look good. But apparently not good enough to save Cockrell's job. He is reportedly out with Thames taking over as the full-time hitting coach, though that has not yet been confirmed.
First & Third Base Coaches: Tony Pena & Joe Espada
As first base coach, one of Pena's jobs involves timing the opposing pitcher to see whether attempting to steal a base makes sense. He literally times the pitcher's delivery with a stopwatch, does the math with the catcher's pop time and the runner's speed, and determines whether running is worth it. I'm not joking. That's part of what first base coaches do. Some team numbers:
SB: 90 (12th in MLB)
SB%: 80% (1st in MLB)
SB Attempts: 112 (16th in MLB)
SB Opportunities: 2,376 (1st in MLB)
SB Attempt%: 4.7% (20th in MLB)
The Yankees had the highest stolen base success rate in baseball, but they also ranked 20th in their attempt rate. Does that mean Pena didn't do his job well because the Yankees should've run more? Well, no. Personnel matters, and it's not just the guy on first base. Why would you send Brett Gardner when Judge and Sanchez are due up? Just let them hit with a man on base. The extra 90 feet isn't worth the risk with those two dudes at the plate.
As for Espada, the third base coach, the Yankees had 20 runners thrown out at the plate this season, the fifth most in baseball. But! They also had 111 runners score from second on a single, the fifth most in baseball. On one hand, the aggressiveness paid off based on all those runners who did score from second on a single. On the other hand, having 20 runners thrown out at the plate kinda stinks, especially with the offense the Yankees had this year. Holding a runner at third and passing the baton to the next guy is a-okay with me.
Espada and Pena will not be back next season. Well, Espada won't for sure. I thought he would get a chance to interview for the manager's job, but that didn't happen, and he is now the Astros bench coach. Pena? He did not interview for the managerial job and it doesn't sound like he is coming back. I know Pena is a fan favorite — is it weird a coach is a fan favorite? I think that's kinda weird — but it really seems like the Yankees are going for wholesale changes with their staff, not one or two tweaks, so Pena is likely out.
Bullpen Coach: Mike Harkey
Harkey really nailed answering the phone and waving his hat whenever a reliever was ready this season. Good response time, great hat-waving form. Knocked it out of the park. Harkey is a Girardi guy — they've been friends for a very long time, since they were Double-A batterymates in 1988 — and I figured that meant he would be gone as well, but apparently he will be back as bullpen coach next season. Huh. It hasn't been announced yet, but multiple reports say so. Rothschild is coming back, Thames and Harkey are reportedly coming back, Thomson and Espada are gone, and Cockrell and Pena figure to be gone. It's been a good run with that staff. Things will be different going forward.