Five questions this week and three of them involve Red Sox players, either current or former. Remember to use the Submit A Tip box in the sidebar to send us anything, mailbag questions or otherwise.

Travis asks: If Oakland is out of the running, which they may be now, would it be smart to look at possible moves for a NYY-OAK trade? Josh Reddick and Kurt Suzuki could be interesting for NY going forward.
Reddick, 25, is having a real big year (136 wRC+ and 17 homers) in Oakland though he has slowed down a bit in recent weeks. He's always had power and so far he's handled left-handers fine (136 wRC+), but it's going to take an awful lot more than 98 plate appearances for him to prove that a career-long platoon issue is behind him. Obviously the Yankees need a young corner outfielder long-term so they should have interest in Reddick, but he's not without his faults (he doesn't walk, hasn't hit lefties, and has a lengthy injury history). Billy Beane always seems to ask for way too much for his guys and I suspect this would be no different.
Suzuki, on the other hand, is just awful. The 28-year-old has hit .234/.292/.353 in nearly 1,300 plate appearances over the last three seasons and is down to .210/.249/.260 this year. The Athletics recently called up Derek Norris and he's basically taken over as the starter even though Suzuki is owed more than $8M through the end of next season. Perhaps he's just worn down after playing so many games behind the plate at such a young age — started 516 of 648 games from 2008-2011 (79.9%) — and his body just can't handle it. Suzuki is owed way too much money and is just so impossibly bad at the plate that I don't want him anywhere near the Yankees. I'd rather go with Frankie Cervelli and Chris Stewart next year if Russell Martin walks. Seriously.
Preston asks: What should the Yankees do at DH next season? David Ortiz seems like an obvious target, although that would clog up the DH spot. Another target might be Kevin Youkilis; he might be in line for a bounce back year and he could back up the corner infields keeping the DH a little bit more flexible.
Youkilis can do all of that and he'd be perfectly fine in that role. The only problem is that some team somewhere is going to offer him a starting job. He's not going to come to New York to be a backup or even a half-time player when another team would pay him more money to start. Youkilis doesn't want to stick it to the Red Sox, he doesn't hold enough of a grudge to take a discount — both in salary and playing time — to wear pinstripes. It's not gonna happen.
The issue with Ortiz is clogging up the DH spot that the Yankees use to rotate their regulars. With Alex Rodriguez and Derek Jeter getting even older, it's that much more important to give them regular rest. Raul Ibanez is a guy you could sit for those two no problem, but Ortiz? I doubt it. He sure would look great in pinstripes and with that short porch, but I would be really surprised if the Yankees spent that much money on a player who is a true DH.
Daniel asks: This may be a bit off the wall, but what about going after Jed Lowrie? He's hit very well since leaving Boston, and could be used as a super-sub with an eye towards taking over for Jeter in a few years.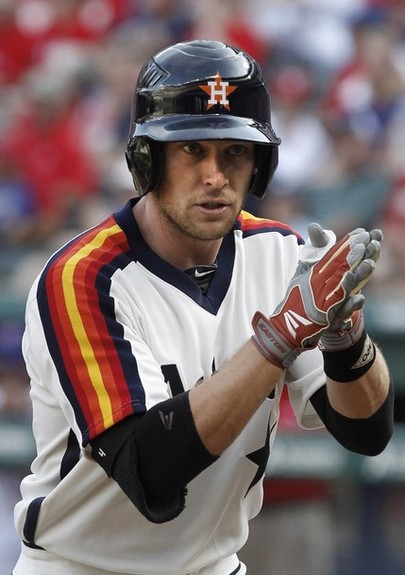 Lowrie is actually second among all shortstops in fWAR this season thanks to his 14 homers and 132 wRC+. The Astros have used him at shortstop exclusively but he has experience at all four infield spots. As a switch-hitter with that kind of versatility, he's an ideal bench target. The only problem is that he's actually a starter and you're going to have to pay a starter's price to acquire him. Houston isn't trading a bench player, they're trading a legitimate starting shortstop — with two years of team control remaining — who the Yankees would choose to use as a bench player. That's not the Astros problem.
Starting shortstops don't come cheap, especially really good ones. Lowrie has slowed down in recent weeks and he is really injury prone — hasn't had 500 total plate appearances in a season since 2008 — but he's definitely a useful player, especially when batting against lefties. I have a hard time thinking that trading several prospects for a would-be bench player would be a net upgrade for the Yankees.
Mark asks: Should the Yanks consider pursuing Michael Bourn this off-season assuming they cannot come to terms with Nick Swisher?
I don't think so. Bourn is really good, but he's likely to command a larger contract that Swisher because he's a better player even though they have very different styles. He does it with speed and defense while Swisher gets on-base and hits the ball over the fence. Plus playing two no-power guys in Bourn and Brett Gardner in the same outfield is really tough to do. They have to replace Swisher with someone capable of hitting the hitting for power; adding another leadoff type to a lineup that already has two of them isn't the answer. That said, Bourn's contract should make him a non-option for New York anyway.
Shai asks: In 1996, Mariano Duncan hit .340 and as a kid I felt that it was a weak .340, like he really wasn't as good (in 1996) as that number. Did he have a high BABIP that year etc?
Andy Fox started nearly 40 games at second base in 1996, though Duncan was the everyday guy at that position for the most part. He hit .340/.352/.500 with eight homers that year, easily the best season of his career at the plate. This is a guy with a career 87 wRC+ suddenly posting a 113 one year. Like I always say, if you want to win a championship (in any sport), you need to get big contributions from unexpected placed. Duncan's production that season was quite unexpected.
Anyway, that gaudy batting line was propped up by a .400 BABIP (.313 career), the fourth highest single-season BABIP of the last 25 years (min. 400 PA). Duncan didn't walk at all (nine walks in 417 PA and one of them was intentional) and most of his power came in the form of doubles (34 two-baggers, three triples, eight homers). Does that qualify as an empty .340? Yeah I think so. I can't imagine someone hitting for that high an average without getting on base 36% of the time, it seems impossible to do. That said, .340 is .340, and it helped the Yankees win the World Series.