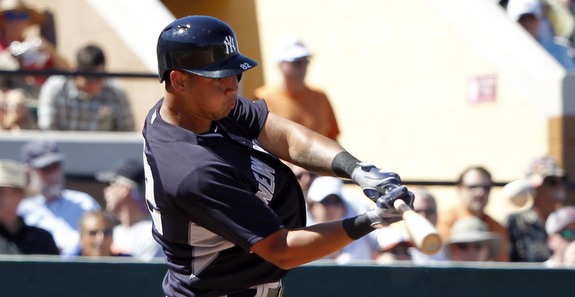 It's easy to overlook, but Opening Day for the minor leagues is this coming Thursday, just two days after the Yankees open their season. Here are some minor league notes leading up to the start of the year, including some unofficial but well-sourced roster assignments from Josh Norris and Nicholas Flammia:
Starting at Triple-A Scranton: OF Zoilo Almonte, RHP Danny Burawa, OF Ramon Flores, IF Corban Joseph, C J.R. Murphy, and C Austin Romine. The rotation will reportedly be RHP Al Aceves, RHP Bruce Billings, RHP Brian Gordon, RHP Shane Greene, and RHP Chris Leroux, though not necessarily in that order. RHP Chase Whitley is said to be in the rotation mix as well.
Starting at Double-A Trenton: RHP Bryan Mitchell, 2B Rob Refsnyder, C Gary Sanchez, and OF Mason Williams. No real surprises here. Despite having some of the best prospects in the system, Trenton won't be very interesting this year.
Starting at High-A Tampa: LHP Manny Banuelos, OF Jake Cave, SS Cito Culver, RHP Rafael DePaula, 2B Angelo Gumbs, 3B Eric Jagielo, and C Peter O'Brien. 3B Dante Bichette Jr. will reportedly be here as well. I'm sure Jagielo will get the playing time priority at third.
Starting at Low-A Charleston: 3B Miguel Andujar, SS Abi Avelino, RHP Rookie Davis, OF Aaron Judge, RHP Brady Lail, RHP Luis Severino, C Luis Torrens, and SS Tyler Wade. Based on his Twitter feed, RHP Jordan Cote will also be there. Pretty aggressive assignments for Andujar, Avelino, Torrens, and Wade. Also, if Wade is there, I wonder what that means for 2B Gosuke Katoh.
Starting in Extended Spring Training: RHP Domingo Acevedo, RHP Manolo Reyes, RHP Simon De La Rosa, LHP Ian Clarkin, OF Alex Palma, and OF Leonardo Molina. Reyes is an older (24) but interesting guy. Acevedo is someone to watch too. OF Tyler Austin (wrist), OF Slade Heathcott (knee), 1B Greg Bird (back), and RHP Jose Campos (being cautious) will all be here after being slowed in spring.
The Yankees have released OF Kelvin De Leon according to Matt Eddy. They signed him for $1.1M back in 2007, but he only hit .236/.304/.371 with a 27.1% strikeout rate in nearly 2,000 plate appearances across parts of six minor league seasons, never getting out of Single-A.
According to his Twitter feed, UTIL Kevin Mahoney has been released as well. He was the team's 23rd round pick back in 2009, and he hit .252/.344/.404 with 34 homers in 381 games in parts of five seasons.
Based on these Opening Day assignments — reminder: these are not yet official — it looks like Low-A Charleston will be the affiliate to watch this summer. That's an awful lot of young talent. High-A Tampa is really promising as well, but man that's a ton of high-end prospects heading for Chucktown. The River Dogs will be fun this year.
Update: Katoh is also heading to Low-A Charleston, according to Norris. Seems like he will split second base, shortstop, and DH duties with Avelino and Wade.
Update Part Two: OF Michael O'Neill will also be at Low-A Charleston to start the season based on his Twitter feed.