I'm not sure when exactly it happened, but at some point recently the Baseball Hall of Fame partnered with the Scout of the Year Foundation to create a free and searchable online database of old scouting reports. The data is very incomplete — it doesn't include every player and it only goes back so far — and the database itself can be slow and a bit of a pain, but those are minor nuisances compared to the wealth of information available.
Thanks to the database, we can look back at what professional talent evaluators — people who do this for a living — had to say about our favorite players once upon a time. For example, here are some bits and pieces of reports from various teams about a young high school senior from Michigan named Derek Jeter back in 1992: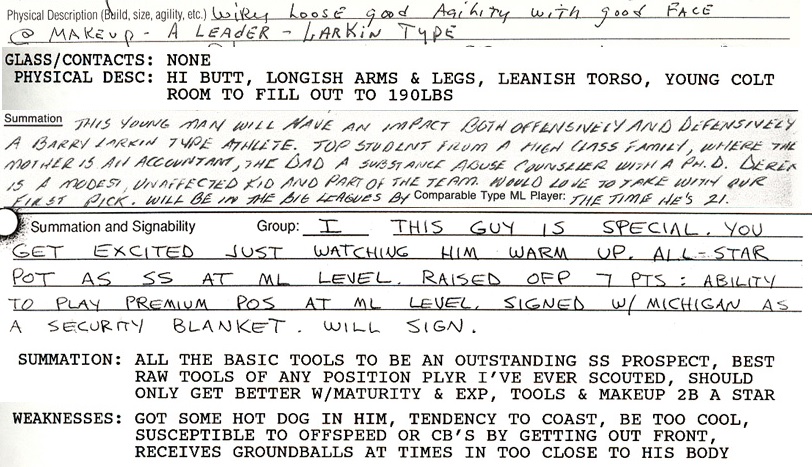 You can click every image in those post for a larger view, and I highly recommend you do just that.
Within those report snippets, future first ballot Hall of Famer Derek Jeter is described as having:
a good face
a hi butt
an impact both offensively and defensively
makeup 2b a star
some hot dog in him
Once upon a time, Jeter was a showoff. Wrap your head around that. All of the reports agreed he was a future star though, and in the end that is what was most important.
After the jump — lots of images and I don't want to cripple anyone's computer — are some opinions on Alex Rodriguez back from 1993, when he was a high school senior: