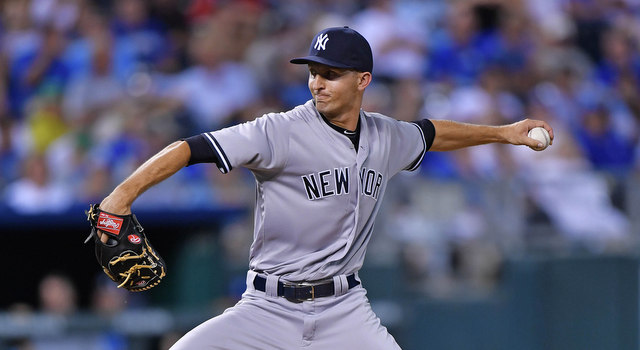 Coming into the 2016 season, the bullpen was an undeniable strength for the Yankees. At least in the late innings, anyway. The trio of Dellin Betances, Andrew Miller, and Aroldis Chapman were basically automatic for the few months they were together. Getting the ball from the starter to those guys was often a challenge, however.
By and large, the middle relief was too often a weakness for the Yankees this past season. It wasn't just getting the ball from the starter to the end-game guys either. It was getting the job done when those guys weren't available, or holding the other team down when the Yankees were trailing and the offense was trying to get back into the game. Joe Girardi wound up with a revolving door of trusted "fourth" relievers this year.
The Still Broken Shreve
Man, Spring Training was such a tease. Chasen Shreve had such a horrible finish to last season, a horrible finish everyone hoped was nothing more than fatigue, that when he showed up to Spring Training and dominated, it was easy to think he was back on track. The 26-year-old southpaw allowed one hit and one walk in ten scoreless Grapefruit League innings. He struck out eight. Woo! Too bad it didn't carry over into the regular season.
Shreve made the Opening Day roster and he was Girardi's go-to reliever behind the big three. (Big two, really, since Chapman was suspended.) He started his season with six straight scoreless outings, then the runs came. Two in an inning against the Athletics on April 21st. One more against the Rangers five days later. Another two runs four days after that. From April 21st through May 25th, Shreve allowed eleven runs and seven homers (!) in 13.2 innings.
Following a three-run meltdown against the Blue Jays on May 25th, Shreve was placed on the 15-day DL with relatively minor shoulder sprain. He did his rehab, and two and a half weeks later, he was activated off the DL and optioned to Triple-A Scranton. Shreve spent the rest of the season as an up-and-down arm. He was called up and sent down three different times from June 12th through September 1st, when rosters expanded.
Shreve's best moment of the season came in Kansas City on August 30th. He inherited a one-run lead in the tenth inning, though the contact happy Royals had the bases loaded with one out. Shreve escaped the jam by striking out Kendrys Morales and getting Salvador Perez to fly out harmlessly to center. It was his first career save and two of the biggest outs of the season.
All told, Shreve had a 5.18 ERA (5.75 FIP) in 37 games and 33 innings. His strikeout rate (23.2%) was fine, but there were too many walks (9.2%), too few grounders (44.9%), and way too many homers (2.18 HR/9). The long ball was a problem last year too, remember. Shreve has allowed 15 homers in his last 50.67 innings with the Yankees. That's one dinger every 3.1 innings or so. Egads.
Shreve was so good the first four months last season that it was worth giving him another shot this year, to see if fatigue really was the root cause of his second half issues. Obviously it wasn't. He struggled again this season. Basically all summer. Shreve tried different things too. At midseason he shelved his trademark splitter and went with a slider.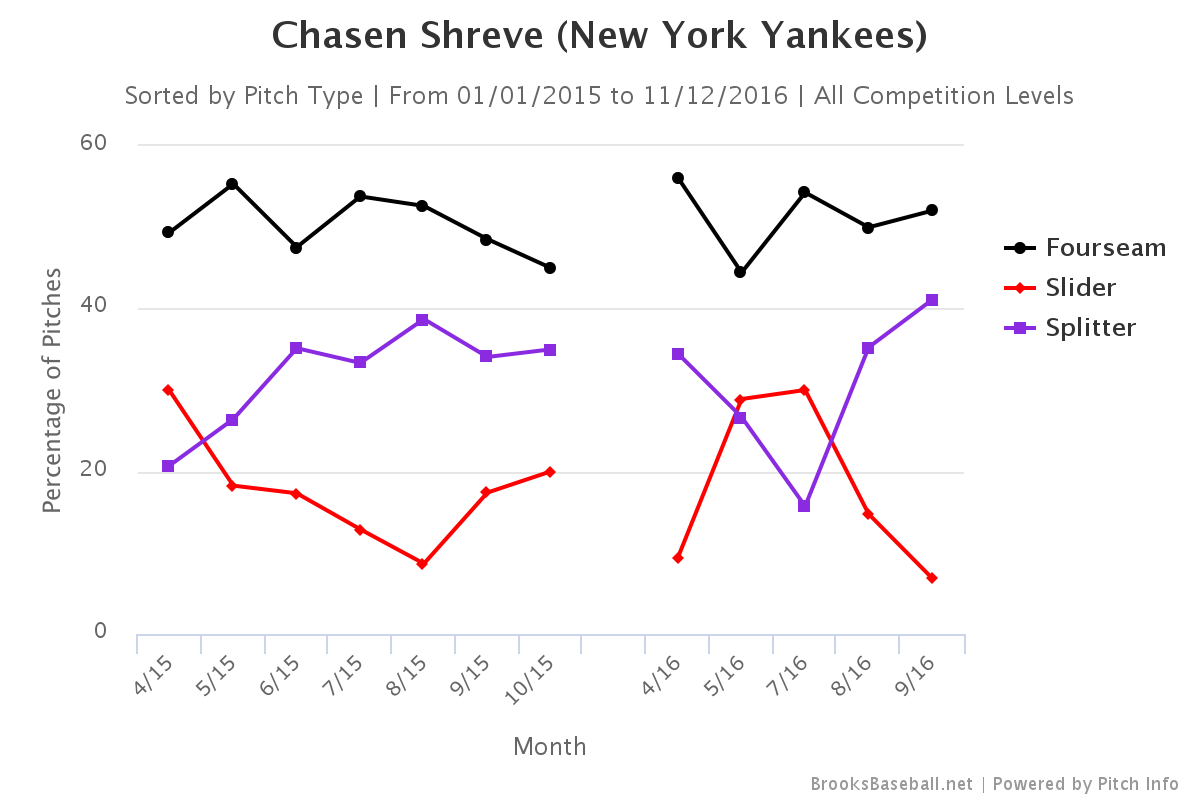 By the end of the season Shreve was so far down the depth chart that he barely pitched. He appeared in two of the team's final 19 games. The Yankees were down three runs and seven runs in the two appearances. Girardi didn't even give Shreve any token "let's see if we can get him back on track" outings late in September after the Yankees fell out of the race. He was unusable.
The Yankees currently have five healthy lefty relievers on the 40-man roster, and while none are lockdown Andrew Miller types, that depth could make Shreve expendable. Either way, it's hard to see him carving out a consistent role with the Yankees at this point. Given the entirety of his career, Shreve's great four months last season are the outlier, not all the problems he's had since.
A Few Good Weeks From Yates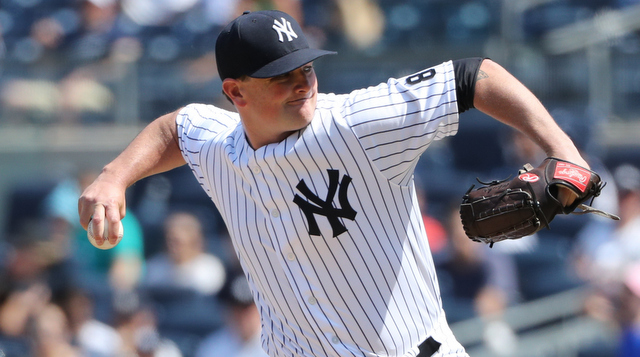 I'm mad at myself for not seeing it coming. In recent years the Yankees have developed a habit of picking up a scrap heap reliever in the winter who was very easily to overlook, then, before you knew it, he found himself on the Opening Day roster. Turns out the Yankees liked him more than we realized. Guys like Chris Martin and Cody Eppley are perfect examples.
This year that guy was Kirby Yates, who came over from the Indians in a cash deal in January. Yates shoved in camp — he allowed two hits and one walk in eight scoreless innings while striking out eleven — and bam, he was on the Opening Day roster. Incredible. Kirby had a tough start to the season, allowing three runs in his first six outings, before settling into a nice little groove. From April 24th through May 31st, Yates allowed two runs in 14.2 innings.
That stretch combined with Shreve's meltdown earned Yates a spot as Girardi's most trusted non-big three reliever. And for a while, he was great. Then June happened. The Blue Jays tagged Kirby for four runs in one-third of an inning on June 1st. Two weeks later the Rockies tagged him for three runs in one-third of an inning. At one point he allowed at least one run in five of six outings. Ouch.
The final straw came on June 27th, when a long rain delay — long as in three hours and 35 minutes (!) — forced Chapman from the game in the ninth inning. The Yankees had a one-run lead but the Rangers had a man on first with no outs. Yates replaced Chapman after the rain delay and allowed four runs before getting three outs. The inning went strikeout, hit batter, hit batter, single, hit batter, fly ball, single, strikeout. Sigh.
The Yankees sent Yates to Triple-A Scranton the next day, and he didn't return until mid-August. He spent the rest of the season as a low-leverage mop-up guy, and like Shreve, he was very rarely used down the stretch. Kirby appeared in only five of the team's 30 games in September. He had a 5.23 ERA (3.97 FIP) with a good strikeout rate (27.2%) but a not good everything else (10.3% walks, 43.6% grounders, 1.09 HR/9) in 41 games and 41.1 innings in pinstripes.
Yates was one of the first to go when time came to unclog the 40-man roster after the season. The Yankees dropped him from the roster a few days after the end of the regular season and the Angels claimed him off waivers, so he's with Anaheim now. His time in pinstripes is over. Like most middle relievers, Yates had his moments with the Yankees, mostly in May, but for the most part his tenure was forgettable. C'est la vie.
The First Late-Season Addition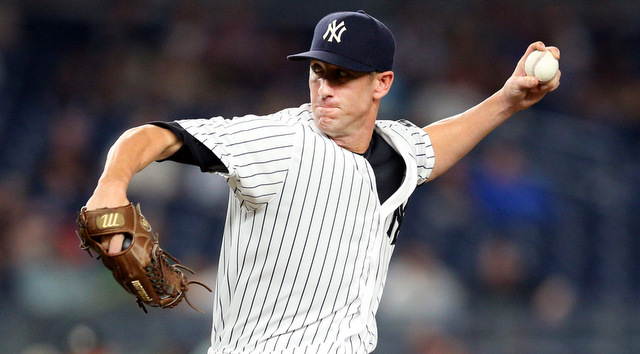 The Yankees remade their middle relief unit with two small moves on August 9th. The first of those two moves was a signing. The Yankees inked veteran southpaw Tommy Layne to a Major League contract not long after he was released by the Red Sox. Boston added Fernando Abad at the trade deadline and deemed Layne expendable, so they cut him loose. Not the best series of moves for them.
At the time Shreve was the only lefty in the bullpen — Miller and Chapman were gone by this point — and he was far from reliable, so the Yankees gave Layne a chance. And you know what? He pitched pretty darn well, all things considered. He had a 3.38 ERA (4.83 FIP) in 16 innings overall, but, more importantly, Layne held left-handed hitters to a .147/.237/.147 batting line in his limited time in pinstripes.
Oddly enough, Layne's biggest outing with the Yankees came against a bunch of righties. It was September 26th in Toronto, and although New York was up four runs in the ninth, the Blue Jays loaded the bases with no outs on two walks and an error by Dellin Betances. Layne walked in a run and allowed another on a single, but ultimately he escaped the jam thanks in part to his own great play at the plate.
The three batters Layne retired that inning, all with the bases loaded: Josh Donaldson on a fly out to right, Russell Martin on the tapper back out in front of the plate, and Troy Tulowitzki on a fly ball to foul territory. That inning took some gumption, I'd say. Layne earned his pinstripes that inning.
Although he's already 32 years old, Layne is arbitration-eligible for the first time as a Super Two this offseason. The Yankees control him through 2020, though let's not think that far ahead yet. Let's get through 2017 first. MLBTR projects a $1.2M salary for Layne next year, which isn't nothing, but it's not enough for the Yankees to consider walking away at the non-tender deadline.
Right now Layne is the team's best lefty reliever, and he figures to come to Spring Training with an inside track on an Opening Day bullpen spot. I wouldn't call him a lock for the roster, guys like this can go poof in a hurry, but he's penciled into a spot for sure.
The Second Late-Season Addition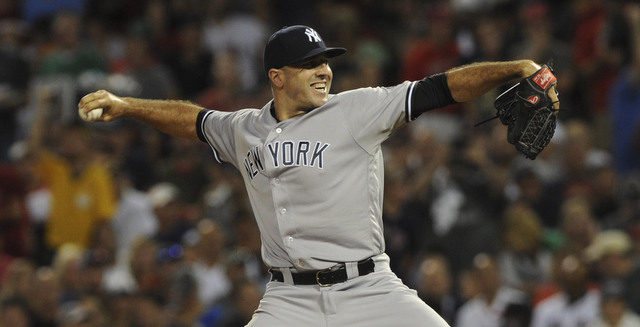 A few hours after signing Layne, the Yankees claimed righty Blake Parker off waivers from the Mariners. Parker's one of those guys who reminds you to basically ignore minor league reliever stats. He had a 2.72 ERA (3.12 FIP) with a 37.3% strikeout rate in 39.2 Triple-A innings for Seattle. With the Yankees, he had a 4.96 ERA (3.94 FIP) in 16.1 innings.
To be fair, Parker had two disaster outings with New York that skewed his overall numbers. He allowed nine runs with the Yankees and seven came in two appearances. Parker allowed three runs in one-third of an inning against the Royals on August 29th, and four runs in one-third of an inning against the Blue Jays on September 23rd. In his other 15.2 innings, he allowed two runs.
Like Layne, Parker's biggest moment in pinstripes came when he bailed out Betances during a messy ninth inning against the Blue Jays. It was September 6th and the Yankees took a three-run lead into the ninth. Three walks, a wild pitch, and two singles put two runs on the board and loaded the bases with one out. Yikes. Parker took over with the sacks full and got the final two outs. It was … eventful.
I've seen the end of that game roughly five thousands times and I still get antsy whenever I see Brett Gardner racing back to the wall because it looks like he has no chance to catch up to the ball. Geez. What a game. That was Parker's second career save. He got his first with the Cubs back in 2013, in an extra innings game when he was the last guy in the bullpen. That sort of thing. I'm guessing this save was a wee bit more memorable for Blake.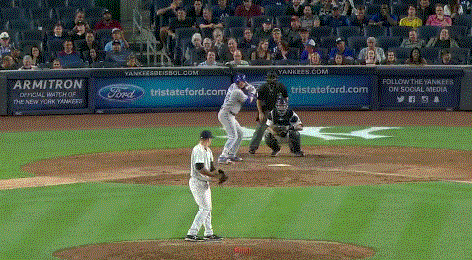 Good times, good times. Parker, like Yates, is no longer with the Yankees. I mean exactly like Yates too. Parker was claimed off waivers by the Angels a few days after the end of the regular season. The Yankees were clearing their 40-man roster and the Halos deemed Parker and Yates better than what they had in their bullpen. The two lefties stayed and the two righties are gone. The bullpen circle of life.