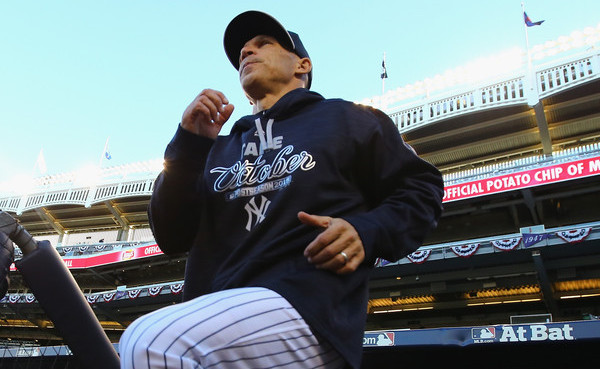 Any time a Yankees season ends without a World Series title, the coaching staff and management will have their job security called into question. It happens every year. The Yankees didn't win so changes need to be made, and it's easier to get rid of coaches than players. That's the general line of thinking.
Don't expect to see a new manager in 2016, however. Brian Cashman all but confirmed Joe Girardi, who just completed his eighth (!) season as manager, will return next season. Here's what he told George King:
"It's a fact, nobody should be looking for anybody different," general manager Brian Cashman said when asked if Girardi, who has two years and $8 million remaining on his contract, was in trouble. "He is signed for two more years and managed the team to the playoffs. It's not his fault we didn't hit. He managed a perfect playoff game."
September was not Girardi's best month as manager, but almost every move he made backfired, even the ones that made perfect sense. The decision to bench Jacoby Ellsbury in favor of Brett Gardner in the wildcard game will be second guessed until the end of the time — or at least until people have something new to complain about — but it was the right move.
Personally, I think Girardi is an average-ish manager in terms of on-field moves. He assigns his relievers specific innings and he weighs platoon matchups heavily, which makes him like most other guys out there. Girardi seems to go his best work in the clubhouse. The Yankees are largely distraction free — even something as serious as CC Sabathia checking in to rehab more or less blew over — and they play hard for him. You can't quantify it, but there is absolutely value in that.
As for the coaching staff, Cashman stopped short of saying everyone will be back next season, though he says that pretty much every year. Here's what he told King:
"I will go through that with our ownership and Joe. Since you live through it for six months you have a pretty good feel about everything," Cashman said when asked about the coaches' status. "Now is the time to have these conversations. You live and you know it and you have a feel for what you might want to do with it as you move forward. Those conversations take place with your manager, take place with your coaches and take place with ownership."
Pitching coach Larry Rothschild has one year left on his contract and bullpen coach Gary Tuck can pick up an option in his contract for next season. Bench coach Rob Thomson, first base coach Tony Pena, hitting coach Jeff Pentland, and assistant hitting coach Alan Cockrell all have contracts that expire this month. I'm not sure what third base coach Joe Espada's contraction situation is.
The Yankees did not hit at all from mid-August through the end of the regular season, though they jumped from 20th in runs last year to second this year. Firing the hitting coaches after that would be weird but it's not impossible. Marcus Thames served as Triple-A Scranton's hitting coach last year and it seems like he is being groomed for the big league job. Pentland and Cockrell took over after Kevin Long was fired last season.
Pena has been with the Yankees since 2005 and Thomson has been with the organization since 1990. He's worn many different hats over the years — minor league coach, director of player development, big league coach, the works. Perhaps the Yankees are considering bumping Thomson back up into the front office now that assistant GM Billy Eppler is leaving for the Angels.
The one coaching staff change that wouldn't surprise me is Espada at third base. The Yankees had 14 runners thrown out at home this season, which is actually the fifth fewest in MLB, but there were some really egregious ones in there, sometimes due to apparent communication issues. Remember the incident with Mark Teixeira in Texas? That was pretty bad. Espada worked in the front office the last few years and maybe he's the one moving back with Eppler leaving. We'll see.
Anyway, I'm not at all surprised Girardi's job is safe and I don't think it should be in danger anyway. The offense disappeared, none of the Triple-A relievers impressed, no starting pitcher threw 170+ innings, and the problem was Girardi? Please. Maybe the coaching staff will be shuffled around a little bit, but I would be surprised if there were any major changes in the dugout this offseason.