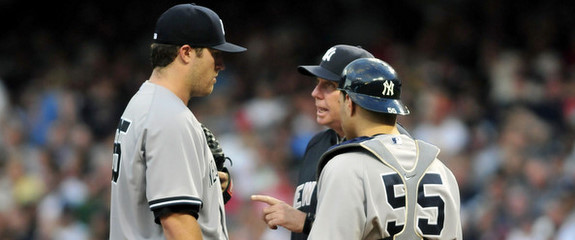 When the Yankees somewhat surprisingly* hired pitching coach Larry Rothschild last offseason, we heard that he had a reputation for helping his pitchers increase their strikeout rates and decrease their unintentional walk rates. Guys like Ryan Dempster, Rich Harden, and Tom Gorzelanny saw improvement in both categories after joining the Cubs, and those are only three of the most notable examples. The Yankees brought Rothschild aboard hoping he'd coax a few more whiffs out of their pitching staff while reducing the number of free passes.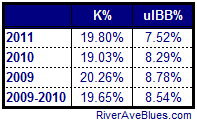 During the 2009 and 2010 seasons (under Dave Eiland), Yankees' pitchers struck out 19.65% of the batters they faced and unintentionally walked 8.54%. Those numbers improved to 19.80% and 7.52% under Rothschild in 2011, respectively. The strikeout improvement from just 2010 to 2011 was a bit more substantial, as you can see in the table to the right. That shouldn't be a huge surprise; the Javy Vazquez and Chad Gaudin and Dustin Moseley types were placed with Freddy Garcia, Bartolo Colon, and Rafael Soriano. Offense around the league continued to drop as well.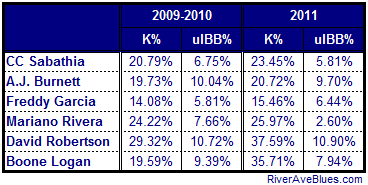 On an individual level, a number of Yankees' pitchers improved their underlying performance under Rothschild this past season. You can see those players in the table to the right, though I left out guys who dealt with significant injury problems (Joba Chamberlain, Phil Hughes, Cory Wade, Colon, Soriano) and those that bounced between the rotation and bullpen (Joba and Hughes) since the start of 2009. With the exception of relatively small increases in Garcia's and David Robertson's walk rates, all of these guys showed improvement in their strikeout and unintentional walk rates. Some of them, like CC Sabathia (+2.66% strikeouts and -0.94% walks) and A.J. Burnett (+0.99% strikeouts), showed significant improvement. Those two aren't young kids coming into their own, their veteran guys with long track records.
So that's great, they're striking out more batters while walking fewer, but how are they doing it? In an effort to explain, let's look at the individual pitch breakdown for those fellas…

The fastballs in the table references all kinds of fastballs, so two-seamers, four-seamers, cutters, sinkers, etc. Breaking balls are both curveballs and sliders. I didn't want to get too nuts with the breakdown of individual pitches because all I wanted to see was the usage of hard stuff compared to the usage of soft stuff. I also left Mariano Rivera out of this because he takes pity on the rest of the league and does not throw any kind of breaking ball.
With the exception of Robertson, all of those guys threw significantly more breaking balls in 2011 than they did from 2009-2010 according to PitchFX (via Texas Leaguers). We're talking an increase of around four percentage points, in some cases more. Data from Baseball Info Solutions (via FanGraphs) says the Yankees went from 69.2% fastballs and 22.6% breaking balls as a team from 2009-2010 to 66.1% and 26.2% in 2011, respectively. Two different tracking systems, but we're seeing a similar increase in breaking ball usage, roughly four percentage points.
You can play connects the dots here and say that the increase in breaking balls contributed to the increase in strikeouts, it definitely passes the sniff test. I'm not sure how throwing more breaking balls would decrease unintentional walks though, since many breaking balls are intentionally thrown out of the strike zone. We'd have to look at when the extra breaking balls are being thrown, which sadly is well beyond my PitchFX capabilities. I suspect many of those extra sliders and curveballs are being thrown early in the count rather than later, which has allowed the Yankees' pitchers to get ahead in the count more often. Sure enough, the Yankees had the highest first pitch strike percentage (61.8%) in MLB this season, up from 58.1% from 2009-2010. That will certainly help explain more strikeouts and fewer walks.
Now obviously correlation does not equal causation. One year of data doesn't tell us much of anything, whereas the studies linked in the first paragraph cover years of data and thousands of batters faced. The Yankees' pitching staff showed traits consistent with Rothschild's track record during his first year at the helm, possibly because they threw more offspeed stuff earlier in the count. We'll never really know what improvement (or decline) the pitching coach is responsible for and what he isn't from where we sit, but Rothschild has been doing this for quite some time, and the improved strikeout and walks rates seem to have followed him from team to team.
* Surprising only because we hadn't heard his name mentioned as a candidate. It really was out of left field.