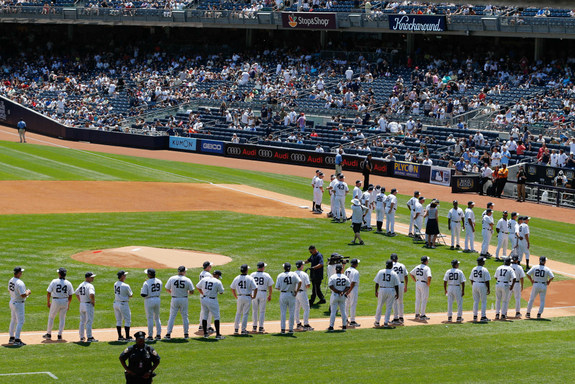 The Yankees and Rays will continue their three-game series a little later this afternoon. Until then, here are some links to help you pass the time.
Old Timers' Day roster announced
Earlier this week the Yankees announced the roster of attendees for the 70th annual Old Timers' Day this summer. Old Timers' Day is Sunday, June 12th this year. That's two weeks from tomorrow. Among the first time Old Timers this year are John Wetteland, Mariano Duncan, Bubba Crosby (!), and Eddie Robinson. Robinson, 95, is the oldest living Yankee. Pretty cool that he'll be there. Here's the full Old Timers' Day roster. Still no Core Four members. /shrugs
Mateo among Law's top 25 midseason prospects
Keith Law updated his list of the top 25 prospects in baseball (subs. req'd) a few days ago. Both Dodgers SS Corey Seager and Twins OF Byron Buxton have since graduated to the big leagues, so Nationals RHP Lucas Giolito now sits in the top spot. SS Jorge Mateo just barely makes the list at No. 25. Here's a piece of Law's write-up:
Mateo's line this year is a little fluky — .388 BABIP and more home runs (5) than he had in all of 2015 (2) — but he certainly can hit and run, which, as long as he's at shortstop, makes him a future above-average regular with a chance to develop into a star.
I respectfully disagree about the .388 BABIP being fluky. It is not uncommon for a top prospect to run a high BABIP in the minors, especially speedy guys like Mateo. A .380-ish BABIP across the full season wouldn't be completely nuts. Anyway, Mateo ranked 55th on Law's preseason list, so he made a real big jump in the span of two months. OF Aaron Judge ranked 35th before the season and is not in the updated top 25.
Pettitte, Thurman to represent Yankees at 2016 draft
Andy Pettitte and scout Mike Thurman will represent the Yankees during the 2016 draft broadcast on MLB Network this year, MLB announced. Here is the full list of team representatives. It reads like an MVP Baseball 2005 roster. Thurman is the team's Pacific Northwest scout and Pettitte is Pettitte. Commissioner Rob Manfred announces all first round picks during the broadcast before the team representatives take over, so Pettitte figures to announce New York's second round selection (No. 62 overall). David Cone, Jeff Nelson, Tino Martinez, and Willie Randolph are among those who have represented the Yankees in previous drafts.
Yankee Stadium security guard fired for stealing memorabilia
According to Nathaniel Vinton, a Yankee Stadium security guard — and former NYPD detective — named Joe Flannino was fired for stealing memorabilia. Flannino was on the Yankee Stadium security staff from 1997-2013 before being reassigned to the archive room, which is where he was caught lifting documents. As far as I can tell there was no arrest made. Flannino was terminated and apologized to team officials. I wonder what else is in that archive room. Probably some pretty cool (and valuable) stuff, huh?