The time for bad Spring Training photos is almost upon us, but 16 teams have not yet signed a free agent. Of those that have, 23 have not signed a player to a contract longer than two years—only 10 out of 77 players who have inked a deal this offseason are guaranteed a job after the 2020 season. One common rationale for this phenomenon is that teams are wising up after decades of handing out long-term deals. That those deals are onerous for teams has become conventional in many baseball circles, but there's only one small problem with that line of thinking: it's completely wrong.
The Yankees are a useful case study here: They're the richest franchise in the sport and have been at the center of some of the game's richest contracts. It's worth going through the 7 largest contracts in Yankee history (all of which come after 2001) and examining how each of those contracts actually worked out for the Bombers. Doing so puts to rest the idea that the Yankees have somehow suffered as a result of big spending.
7. Jason Giambi (7 years, $120 million)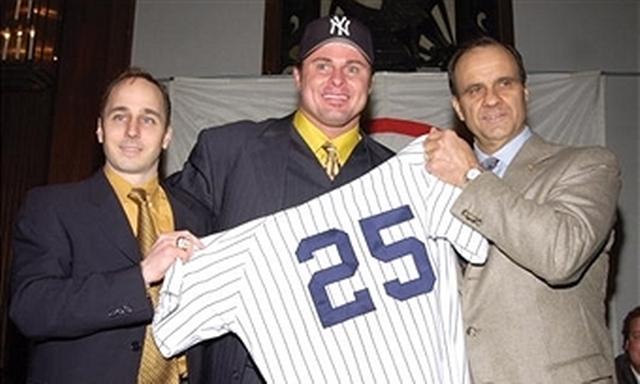 The Yankees signed Jason Giambi after their 2001 World Series defeat—having bested Giambi's Oakland A's in consecutive ALDS—to replace the beloved Tino Martinez at first base. Giambi's 7-year, $120 million contract is the 55th largest of all-time and he more than lived up to his end of the bargain.
Across his seven years in pinstripes, the Giambino slugged .260/.404/521 (143 OPS+) with 209 home runs and 619 walks in 3,693 plate appearances. That he missed roughly half of the year with injury in both 2004 and 2008 limits his overall WAR total (22.1 by Baseball-Reference), but he was a 4 win player per 650 AB with the Yankees. Giambi was a lot more productive than he gets remembered for.
His early-season walk-off grand slam in the bottom of the 14th inning with the Yankees down 3 against the Minnesota Twins and two home runs off Pedro Martinez in Game 7 of the 2003 ALCS are two of his more memorable moments. The Yankees never won a World Series while he was in town, so he is often forgotten among recent Yankee greats, but Giambi was a middle-of-the-order force on a team that went 680-455 (.599 winning percentage) during his tenure in the Bronx.
It's safe to say that Giambi was worth every penny.
6. Jacoby Ellsbury (7 years, $153 million)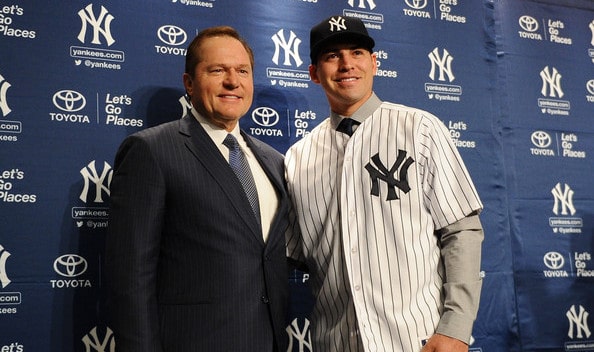 Jacoby Ellsbury penned a 7-year, $153 million deal with the Yanks fresh off a World Series victory with the rival Red Sox in 2013. He was only the 18th player in MLB history to receive a contract worth over $150 million, and he was supposed to inject life into a dormant Yanks offense. But this one, as we all know, has not gone according to plan.
Ellsbury has missed considerable time due to injury and has been mostly bad when healthy. His .264/.330/.386 (95 OPS+) line with the New York is well-below what the Yankees hoped for, and he has only been worth 9 wins in pinstripes.
But it's important to remember that Ellsbury was often injured and only infrequently an above-average hitter for Boston. Although the argument at the time was that speedy outfielders tended to have softer declines than many of their peers, it's clear that he was never the player the Yanks expected. His 8-win MVP-runner-up 2011 season with Boston was clearly an outlier at the time and looks even more so now—this particular contract speaks more to an organizational failure by the Yankees than it does Ellsbury.
5. Masahiro Tanaka (7 years, $155 million + $20 million posting fee)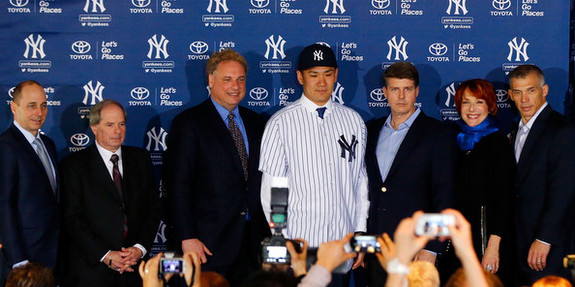 The Yankees gave Masahiro Tanaka a 7-year, $155 million contract just weeks after locking up Ellsbury in a series of moves that was meant to revitalize an aging, stale Yanks group. Tanaka, though, has clearly done his part at the top of the rotation.
Despite a dance with Tommy John, Tanaka has been a reliably above-average arm for the Yanks. He owns a 64-34 (.653) record, posting a 3.59 ERA (118 ERA+) with 9 K/9 and 1.7 BB/9 in 824.1 innings pitched (15.6 bWAR) since the start of 2014. He may seemingly always give up a home run, but that should not detract from the fact that the Yankees are lucky to have him take the mound every five days.
A fierce competitor, Tanaka has been lockdown in October, with a 1.50 ERA in 30 innings pitched. His 7 shutout innings against the Cleveland Indians in Game 3 of the 2017 ALDS quite literally saved the season, he was lockdown in both his ALCS starts against the Houston Astros, and he was the only Yankee to win a postseason game this year against Boston. If it's a big game, you feel comfortable with Tanaka on the mound—and it's clear that the Yankees shouldn't regret his deal.
4. CC Sabathia (7 years, $160 million)
The Yankees gave Sabathia a 7-year, $160 million contract following their disappointing 2008 campaign and Sabathia's legendary one, and he would eventually leveraged an opt-out into what amounted to a 2-year extension following 2011. CC was expected to be the type of ace to carry the Yanks back to the promised land. He did just that in his first try, and he has become one of the most beloved Yankees of the current generation in the process.
CC owns a 129-80 (.617) record with the Yanks, powered by a 3.74 ERA (115 ERA+) in 1,810.2 innings pitched. He's been worth 30 bWAR, and only 9 pitchers in Yankee history will have won more games in pinstripes than CC when all is said and done.
I wrote all about CC Sabathia last week, so I've said about all I can say about him, but one thing is clear: the Yankees absolutely do not regret allowing him to call the Bronx home for final 11 seasons of his Hall of Fame career.
3. Mark Teixeira (8 years, $180 million)
Teixeira's shocking 8-year, $180 million contract came on a day when most of us expected him to sign with the Red Sox. Instead, the Yanks swooped in and found Jason Giambi's replacement. Teixeira was a 3-win player per 650 ABs across his 8 years in pinstripes but saw his final few years plagued by frequent injury.
Still, Teixeira hit .248/.343/.479 (118 OPS+) with 206 home runs across 3,522 plate appearances with New York, averaging 35 home runs every 162 games. Teixeira was also a sterling defender at first base, thrice winning the Gold Glove in pinstripes.
His huge 2009 campaign, in which he slugged .292/.383/.565 (141 OPS+) with 39 home runs, netted him 2nd place in the AL MVP voting, and his 11th inning walk-off home run against the Twins in Game 2 of the 2009 ALDS was a key moment in the Yanks' World Series run. Teixeira made the Yankees better for the better part of 8 years, and he was an instrumental player on a 103-win championship team. Big free agent signings are supposed to help you win World Series, and Teixeira did just that. The Yankees should not regret this one either.
2. Derek Jeter (10 years, $189 million)
Derek Jeter inked his first major deal following the 2001 campaign, receiving almost $200 million across 10 years. This one's easy: a first ballot Hall of Famer and all-time great Yankee, there is no doubt that the Jeter deal made the Yankees a better team.
Across the terms of this contract, Jeter hit .308/.378/.436 (115 OPS+) with 304 doubles and 141 home runs, overall totaling 37.5 bWAR. Jeter was a part of too many big Yankee moments to name, but his 3,000 hit off David Price and July 1, 2004 catch against Boston in which he flew into the stands stick out as two of his top moments over this deal. Jeter is one of the best players in baseball history, in the conversation for the best shortstop ever, and the Yankees certainly don't regret this deal in the slightest.
1. Alex Rodriguez (Two 10-year contracts)
Alex Rodriguez, were it not for Barry Bonds, might just be the most controversial baseball player in league history. Under constant media scrutiny over his love life, relationship with the Yankee captain and former friend Derek Jeter, steroid usage and at-times contentious relationship with the league and organization, A-Rod divided baseball (and Yankee fans) as nobody else could. But amid the noise, one thing is clear: Rodriguez was worth the money.
A-Rod signed two major deals in his career, and the Yankees were at the center of both. For the purposes of this exercise, let's analyze the two separately.
10-year, $252 million contract (Offered by the Texas Rangers, Yankee from 2004-07)
By far the largest contract ever handed out at the time, the first A-Rod deal is often pointed to as an example of big contracts gone awry. That is absurd. I repeat: that is absurd.
A-Rod was simply nothing less than one of the most productive baseball players in baseball history across his first 10-year deal, slugging .304/.400/.591 (154 OPS+) with 329 home runs, 3 MVPs, 7 ASGs and 56.4 bWAR. (For perspective, Bernie Williams was worth 49 bWAR in his entire career.) If anything, this deal was a bargain for both Texas and New York.
For the Yankees, his three-home run, 10 RBI performance against the Los Angeles Angels of Anaheim and towering walk-off grand slam against the Indians as the Yanks scored 6 runs in the bottom of the 9th (all with two outs) stand out as signature moments during this stretch.
Although the Yankees only rostered Rodriguez on this deal for the 2004-7 campaigns, he managed to win 2 MVPs and smash 173 home runs in four years. He was blamed for the Yanks' failure to win the World Series and often caught the ire of fans, but it's clear that expecting more (on-the-field, anyway) from Alex Rodriguez was unrealistic. He was as good as you can be.
10-year, $275 million contract (Offered by Yankees following A-Rod's 2007 opt-out)
The second A-Rod deal, on the other hand, is much more complicated. It was the last time we saw Hank Steinbrenner, and this mega-deal came even as Brian Cashman publicly said the organization would let Rodriguez walk if he opted out. Instead, A-Rod opted out during the final game of the 2007 World Series to much outcry, and the Yankees re-signed him anyway. While A-Rod wasn't the same player at the end of this deal, he was comfortably above-average the whole time. Not to mention, the Yanks wouldn't have won the 2009 World Series without him, and they'd never have been able to replace him.
The Yankees were scuffling a bit amid huge expectations in April of 2009, and the Yanks were without their injured (and recently scandalized) All-Star third baseman. When he returned in early May, he slugged a three-run home run in Camden Yards in his first at-bat and the Yankees never looked back. A-Rod hit 30 home runs and drove in 100 runs despite missing over a month, and was absolutely an essential component of the Yankees postseason run.
His 2-run, game-tying home run off Joe Nathan in the bottom of the 9th of Game 2 of the 2009 ALDS is one of the defining moments of that era, but he also hit the go-ahead home run in Game 3, hit another game-tying home run in extra innings in the Game 2 of the ALDS and had the go-ahead hit in the top of the 9th inning of Game 4 of the World Series to give the Yanks a 3-1 lead. Without A-Rod, there's no 2009 title. It's that simple.
Despite the fact that the second contract was scandalized by more steroid allegations, a lawsuit against the Yankees, and a full-season suspension, A-Rod actually hit .269/.359/.486 (123 OPS+) with 178 home runs over those final years, and had one final great campaign in 2015. Even during his down years, A-Rod was better than most other players in the league. Given his repaired relationship with the Yankees, it's fair to say that the team and player have both moved on from any hostility—and fans should too.
Alex Rodriguez is the recipient of two of the most misunderstood contracts of all-time from a baseball perspective, and it's time we all acknowledge a simple fact: he was well worth the money.
Special Mention: Giancarlo Stanton (13 years, $325 million)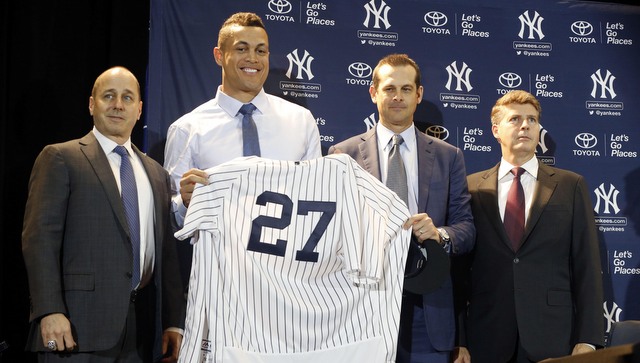 Giancarlo Stanton received a 13-year, $325 million contract from the Miami Marlins in 2014, with the Yankees acquiring him following the 2017 campaign. It's too early to say whether or not this deal will work out for New York, but the early indications are a resounding yes.
Across the first four years of the deal, Stanton has hit .265/.350/.557 (143 OPS+) and has hit 151 home runs. Even his relatively down year last year with the Yanks was extremely productive, and he figures to be a major force in the middle of the Yankee lineup for at least two more years, depending on whether or not he exercises his opt-out following the 2020 season (if I were him, I would not). More to come on this one, but if the recent history of large NYY contracts is any indication, they won't regret this at all.
Conclusions
What this shows us is that the big, onerous contract that we hear so much about is largely a strawman: it barely exists. Of the 7 largest contracts in Yankee history, only one of them (Ellsbury) is a true albatross, and again, that speaks more to a failure by the Yankees than it reflects poorly on Ellsbury. He's the same player he always was. In other words, 6 out of 7 (85%) have significantly improved the Yankees and made them a better team.
But there's another key point buried in here. Most of these deals came in relatively close proximity to one another. The Yankees signed Giambi one year after giving Jeter his 10-year deal; they added Teixeira and Sabathia in the same offseason; they signed Tanaka and Ellsbury in the same offseason; they added Stanton despite having Ellsbury's and Tanaka's deals on the books, underscoring how the deal isn't prohibitive at all. This tells us that fears that the Yankees cannot offer another long-term mega deal (or two!) if they want to re-sign their own developed core are unfounded. (Granted, the data has always shown that it was unfounded.)
Despite what we often year about large contracts and long-term financial obligations, the reality is that the Yankees simply haven't suffered, financially or on-the-field, as a result of any of their major deals in the last 20 years. If anything, those deals are a major reason why the Yankees have not had a losing season since 1992—and the Yankees, and their fans, would be wise to remember that.