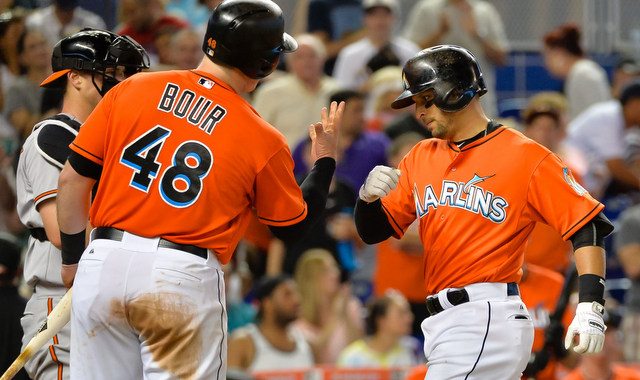 We've officially reached trade rumor season, folks. According to Bob Nightengale, the Yankees recently reached out to the Marlins to let them know they have interest in third baseman Martin Prado and first baseman Justin Bour. The Red Sox are after Prado as well. The Marlins shipped Adeiny Hechavarria to the Rays earlier this week, which is a pretty good indication they are open for business and ready to move veterans.
A nagging hamstring injury has limited Prado, 33, to 22 games this season, during which he's hit .276/.297/.391 (79 wRC+). He returned to the lineup last Friday. Prado spent the second half of the 2014 season with the Yankees before being sent to Miami for Nathan Eovaldi, as I'm sure you know. The 29-year-old Bour is hitting .289/.364/.564 (140 wRC+) with 18 homers in 66 games this year. Who knew? Anyway, this is our first real trade rumor of the season, so let's talk it out.
1. Does this rumor pass the sniff test? The always important first question. There are so many rumors out there these days that it's important to keep things in perspective. In this case, yeah, I think the rumor makes sense. We know the Yankees have been looking for a third baseman. They also need a first baseman given Greg Bird's ongoing injury issues. The headline was a weak attempt at humor. The Yankees need bullpen help more than anything right now. That's no reason not to pursue upgrades elsewhere on the roster though.
2. Prado is pretty darn expensive. Generally speaking, Prado is a solid hitter. Not a great hitter and not a terrible hitter. He was very good during his half-season with the Yankees and that seems to have left a lasting impression on many folks. It happens. That's not who he is all the time though. Prado is more or less an average offensive producer at this point of his career:

Source: FanGraphs — Martin Prado
I don't dispute that Prado is a better player than Chase Headley, and apparently the Yankees don't dispute it either, which is why they've shown interest in him. The potential hang-up here is Prado's contract. The Marlins signed him to an extension last September and he's owed $11.5M this year, $13.5M next year, and $15M the year after that. Paying 35-year-old Martin Prado a $15M salary in 2019 doesn't sound fun.
The Yankees are trying to get under the luxury tax in the near future (i.e. 2018) and acquiring Prado would make that more difficult. I suppose the Marlins could eat some money to facilitate a trade, though that seems unlikely, not with the Red Sox after him as well. Besides, Jeffrey Loria is trying to sell the team, so the less money he has on the books, the better. They'll want to move Prado's entire contract, the same way they moved Hechavarria's entire contract.
Headley is a sunk cost at this point. The Yankees owe him his $13M salary this year and $13M salary next year no matter what. Perhaps they could unload part of it in a salary dump after acquiring Prado, though they almost certainly won't be able to get out of all of it. Between taking on Prado's salary and Headley's existing contract, the Yankees would end up paying something like $25M total for two okay-ish third basemen next year. Eh.
3. Bour is a really great fit. Bour, on the other, would really fit the Yankees both now and in the future. He's a left-handed hitter with big pull power, and that always plays well in Yankee Stadium. Bour also draws plenty of walks (10.3%) and won't strike out a ton (22.5%). That's more or less what the Yankee were hoping to get from Bird this season, right? A .289/.364/.564 (140 wRC+) line with 18 homers at the almost halfway point and solid strikeout and walk numbers? I'd say so.
There are, however, two big drawbacks with Bour. For starters, he probably could use a platoon partner. His numbers against lefties this season are pretty good, actually (.340/.421/.740, 198 wRC+), but that's a sample size issue. Bour's career numbers against lefties (.261/.323/.438, 104 wRC+) tell a different story. And two, he's very shiftable. Here is his spray chart, via Baseball Savant: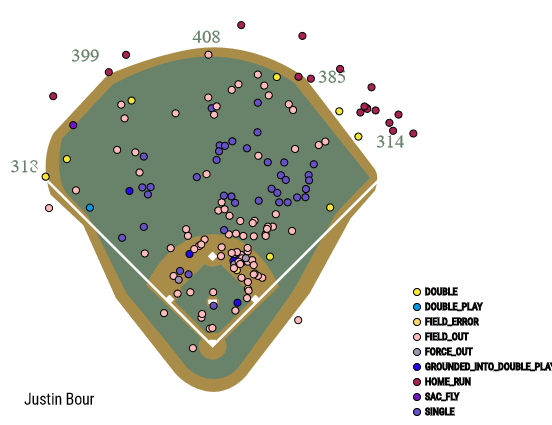 Bour has power to all fields, yeah, but when he doesn't hit the ball over the fence, chances are he's going to hit it to the right side of the field. Opponents will load up their defense on the first base side of second base. Bour is among the most shifted hitters in the big leagues and that spray chart tells you why. He's a dead pull lefty.
The Yankees used to have several players like that in their lineup. It was a problem. Now they have none with Bird on the disabled list. Acquiring Bour and carrying one pull happy lefty is no big deal. It's okay to have one guy like that in the lineup. Putting three or four guys like that in the lineup day after day can be an issue though. The Yankees aren't there.
As I said a few weeks ago, the Yankees should consider acquiring a new first baseman and treating this almost as a rehab year for Bird. Let him rest as much as he needs and then give him a ton of Triple-A at-bats to get his timing back. Picking up a first baseman will eliminate any sense of urgency to get Bird back to the big leagues as quickly as possible. Remember, he's coming off shoulder surgery too. It's not just the ankle.
Bour could step in at first base for Bird this year, provide that left-handed thump, then stick around to serve as the designated hitter (and Bird insurance) going forward. He's under team control as an arbitration-eligible player through 2020. This isn't a rental. The Yankee are pretty short on left-handed power going forward. It's Bird and Didi Gregorius, and that's pretty much it. Most of their top prospects are right-handed hitters. Bour would help balance the lineup.
4. Are we heading for a Yankees-Red Sox bidding war? I suppose it's possible for Prado. The Red Sox are desperate for third base help, and Dave Dombrowski is not one to take half-measures. He's going to go get a third baseman and Prado is as good a candidate as anyone. The Red Sox don't need a first baseman or a designated hitter, so a bidding war for Bour ain't happening.
That all said, I can't help but feel the Marlins may be using the Yankees to jack up the price for the Red Sox. Yeah, Prado would make the Yankee better, so there's a fit, but his contract situation complicates things. The Marlins just need it to seem plausible though. Get the Yankees involved and try to get the Red Sox to pay move. And you know what? I bet Brian Cashman would happily go along with it.
The opposite could be true too, you know. The Marlins could be using the Red Sox to drive up the price for the Yankees. That isn't quite as believable though. Boston is all-in right now. They're a win-now team and it stands to reason they'd more aggressively pursue Prado given their third base hole. The Yankees are still focused on their youth movement and reluctant to trade prospects. Eh, whatever.
* * *
I like the idea of the Yankees picking up Bour given the first base situation, though I don't love adding Prado. The Yankees would be adding another okay veteran third baseman on top of the okay veteran third baseman they already have, except this one is owed more money and under contract an extra year. There's no harm in kicking the tires because hey, the Marlins could always decide to give Prado away, but that doesn't seem likely. Bour's a really good fit in my opinion. I don't consider Prado enough of an upgrade to take on that contract.