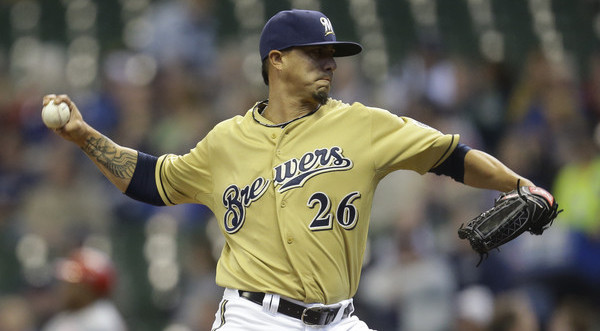 The 2015 season is still very young, but one team has already fallen completely out of the race. The Brewers are 9-19 on the season and are already 11.5 games back in the NL Central, and over the weekend they fired manager Ron Roenicke. The club is also reportedly "ready to listen" to trade offers, according to Buster Olney. The Brew Crew quickly pulled the trigger on a managerial change and now they're ready to start reshaping the roster.
Milwaukee's two best players — catcher Jonathan Lucroy and center fielder Carlos Gomez — do not make sense for the Yankees, realistically. Brian McCann is locked in at catcher and, like it or not, Carlos Beltran isn't going anywhere. Both Lucroy and Gomez would be upgrades for the Yankees, but this is the real world, and those moves seem unlikely to be made. Same with Adam Lind. The Yankees aren't going to give up a prospect and take on about $6.5M in salary to replace Garrett Jones. Ryan Braun? No way. His five-year, $105M extension starts next year.
Those are far from the only guys on the Brewers roster, of course, and despite their terrible start they do have some useful players to market in trades. Some may even be able to help the Yankees. Here are four who jump to mind and could be available for different reasons and different prices.
RHP Matt Garza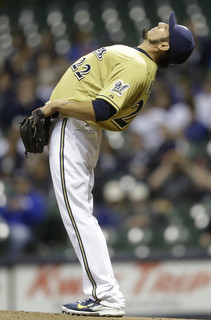 We've done the Garza song and dance multiple times over the years. When he was available in trades, when he was free agent … it seems like every year we're talking about him as a potential target. The 31-year-old is off to a slow start this year, pitching to a 4.58 ERA (5.41 FIP) in six starts and 35.1 innings. He's been really homer prone (1.53 HR/9), but I'm guessing that'll return to normal before long because his 20.0 HR/FB% is way out of line with his career average (9.8%) despite a healthy 48.2% ground ball rate.
Reasons To Pursue: Just last year Garza had a 3.64 ERA (3.54 FIP) and he's consistently been league average or better throughout his career. He knows the AL East from his time with the Rays — to be fair, he last pitched for Tampa in 2010 and the division has changed a lot since then — and wouldn't only be a rental. Garza is owed $12.5M this year, next year, and the year after. That's market value for a league average-ish arm.
Reasons To Back Away: Garza's strikeout rate is in the middle of a four-year decline — 23.5% to 22.6% to 20.6% to 18.5% to 15.2% from 2011-15 — at a time when strikeouts around baseball are at an all-time high. His walk rate has also climbed from 6.4% in 2013 to 7.4% in 2014 to 10.1% in 2015. Those are bad trends! Garza's velocity has held fairly steady over the years (averaging 92.4 mph in 2015) but the swing-and-miss rate on both his heater and slider are trending downward: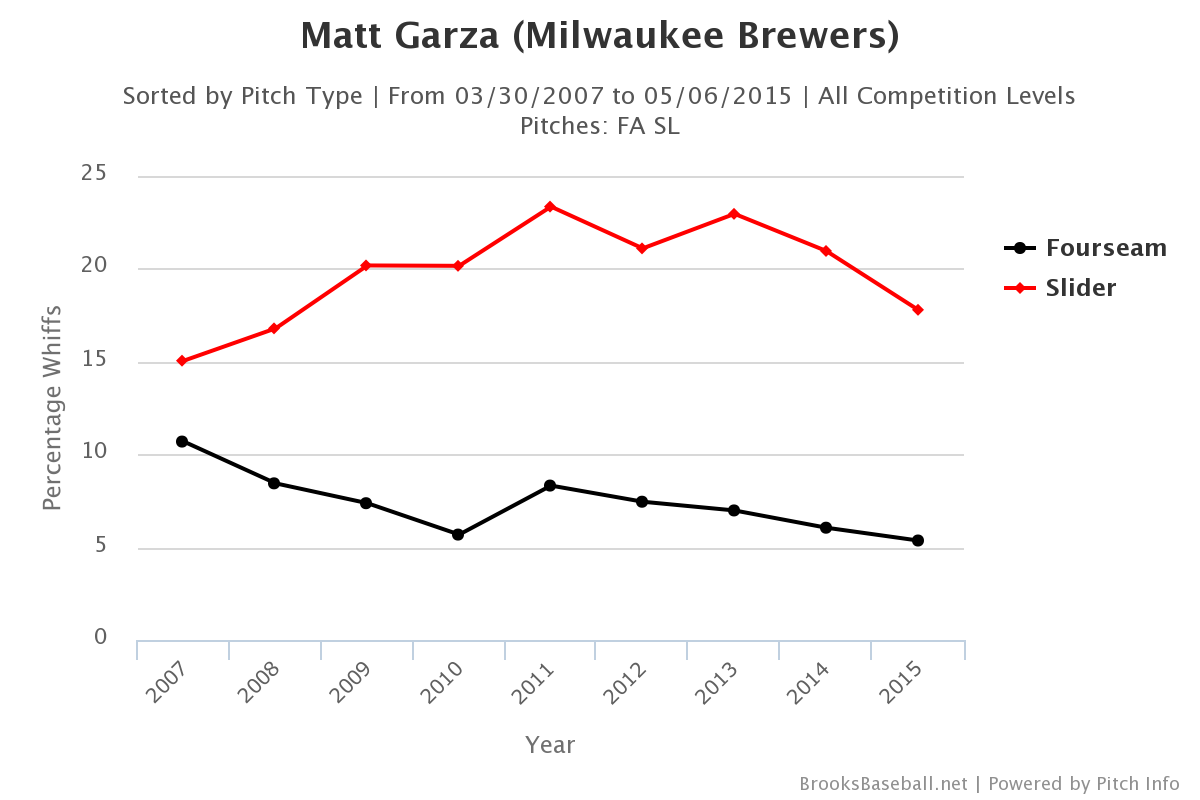 Also not good! Garza's had some kind of arm problem every year since 2012 — stress fracture in elbow in 2012, shoulder strain in 2013, shoulder tightness in 2014 — and there are statistical trends that indicate he is in the decline phase of his career, which is not what you want in a dude signed through 2017. It might not be long before Garza's name value exceeds his on-field value, if it hasn't already.
RHP Kyle Lohse
I'm always wary of guys who go to the Cardinals and revive their careers. They tend to not sustain their performance after leaving St. Louis (Jeff Suppan immediately jumps to mind), but Lohse is the exception. The 36-year-old had a 3.45 ERA (4.02 FIP) in his first two years with the Brewers but has been dreadful in his third, with a 7.01 ERA (6.03 FIP) in 34.2 innings this year.
Reasons To Pursue: Lohse hasn't lost any stuff this year. His sinker, slider, curveball, and changeup are all moving like they have the last few years according to PitchFX — same general velocity, break etc. — and both his strikeout (15.4%) and walk (5.4%) rates are in line with what he's been doing since the Cardinals fixed him. In fact, both his soft contact and hard contact rates this season are the best of his three years in Milwaukee:

Disclaimer: We don't know a whole lot about these new quality of contact stats — when do they stabilize? how well do they correlate to ERA? how predictive are they? etc. — so don't take those numbers to heart just yet. Either way, what Lohse is doing this year isn't much different than what he's done in the past, when he was an effective workhorse who limited walks and pitched well despite not missing many bats. There might be some Brandon McCarthy-esque bounceback potential here. Also, Lohse is owed $11M this season and that's it. He's a pure rental. No long-term risk.
Reasons To Back Away: Lohse has been amazingly, incredibly, outrageously homer prone in 2015. Like nine homers in 34.1 innings home prone. That's a 2.34 HR/9 (!). Lohse is sitting on a 20.0 HR/FB% rate despite a career 9.8% rate like Garza — kinda freaky they have identical 2015 and career HR/FB% rates, no? — but unlike Garza, Lohse's ground ball rate has dropped big time this year. He's at 35.4% grounders in 2015 after sitting north of 40% the last four or five years.
While a 2.34 HR/9 is really extreme and unlikely to stay that high all year, my concern is Lohse is an older guy who didn't have a ton of margin for error to start with. He was never a big strikeout or ground ball pitcher, he succeeded with weak contact, but suddenly if his location is off or his pitches don't have the life they once did, a spike in homer rate is understandable. Again, maybe not that extreme, but enough to take him from above-average NL innings eater to below-average AL five-and-fly guy.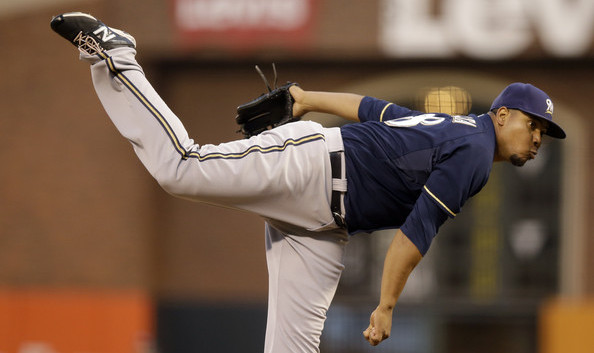 RHP Wily Peralta
Unlike Garza and Lohse, Peralta is young (25), cheap ($525,500 in 2015), and under team control long-term (through 2018). He's a potential building block for the Brewers' rebuild, so his availability isn't guaranteed. Peralta has a 3.92 ERA (4.58 FIP) in 39 innings this year, his third in Milwaukee's rotation. He had a 3.53 ERA (4.11 FIP) in 198.2 innings last year and a 4.37 ERA (4.30 FIP) in 183.1 innings the year before that.
Reasons To Pursue: Peralta has some Nathan Eovaldi in him. He had the third highest average fastball velocity among qualified starters last season at 95.6 mph (Eovaldi was fourth at 95.5 mph) yet his strikeout rate (14.6% in 2015 and 17.2% career) is mediocre. Peralta has also improved his walk rate every year he's been in the show like Eovaldi, going from 9.7% in his 2012 cup of coffee to 9.1% in 2013 to 7.3% in 2014 to 4.9% in 2015. And again, like Eovaldi, Peralta's slider and changeup show promise but are works in progress. The Yankees love guys who throw hard and throw strikes — Eovaldi and Michael Pineda were targeted in trades for that reason! — and Peralta fits the bill.
Reasons To Back Away: There's not many aside from the whole "you have to teach him how to get the most out of his stuff" thing, which is significant and something the Yankees are already attempting to do with Eovaldi. Do they want two guys like that in the rotation? Peralta's ground ball rate has consistently sat around 50% throughout career, which is better than what Eovaldi's done (mostly around 45%), so maybe the learning curve will be less painful. That said, Peralta has lost 1.5 mph off his four-seamer and 2.0 mph off his two-seamer compared to last April and May. He's still throwing mid-90s fairly regularly, but that has to be a concern for a guy whose biggest asset is his arm strength.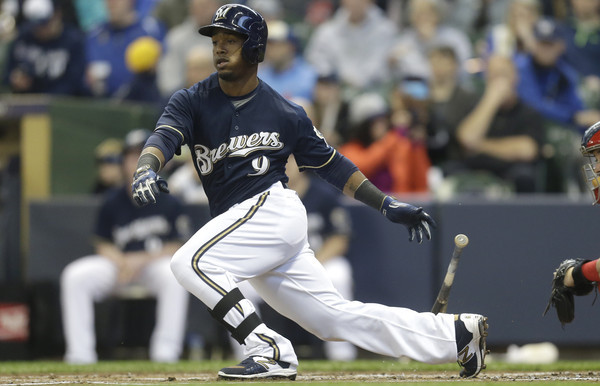 SS Jean Segura
The Brewers have some shortstop depth (Luis Sardinas, specifically) and could look to move Segura for a hefty package right before he gets expensive in arbitration. Young middle infield help is really hard to find. Lots of teams would love to have someone like Segura in the organization. The 25-year-old has hit .282/.321/.369 (92 wRC+) with six steals this year around a concussion suffered when he took a pitch to the helmet.
Reasons To Pursue: Like I said, young middle infielders are hard to find, and the Yankees are looking for long-term solutions at both second base and shortstop. (They hope Didi Gregorius can be the answer at short but the jury is still out on that one.) Segura has one really good season under his belt, hitting .294/.329/.423 (105 wRC+) with 44 steals in 57 attempts (77%) back in 2013. He's flashed the ability to hit at the MLB level.
Depending on your choice of defensive metric, Segura has either been above-average or below-average in the field. There's no consensus. Scouting reports from his prospect days said he projected to be an okay defender for what it's worth, and I tend to stick with the scouts in these situations. Segura is under team control through 2018, though his arbitration salaries figure to be on the high side because of his stolen base totals. Steals pay.
Reasons To Back Away: Segura's big season in 2013 was really just a big first half. He hit .325/.363/.487 (133 wRC+) with a .349 BABIP in the first half that year, .241/.268/.315 (56 wRC+) with a .285 BABIP in the second half, and then hit .246/.289/.326 (67 wRC+) with a .275 BABIP in 2014. So since that big first half two years ago, Segura has hit .249/.288/.328 (67 wRC+) with a .282 BABIP in just shy of 900 plate appearances. That's not very good.
Now, that said, middle infielders who have shown they can hit and defend at the big league level don't hit the trade market often. Their teams hang on to them for dear life, which is why we're instead talking about a flawed player like Segura. It cost Shane Greene to get Gregorius, who didn't have anything close to Segura's 2013 on his resume. The price for Segura should be even higher despite being under team control one fewer year. That's the cost of middle infield help these days.
* * *
The Yankees have leaned towards rental players with their in-season trades the last few years. The two most notable exceptions are Alfonso Soriano and Martin Prado, and the Soriano deal only happened because his salary was heavily subsidized. Part of that is a function of the market — more rental players are available in trades each year than guys with multiple years of control — but I also think the Yankees try to stick to band-aids in-season, not clutter up the long-term picture.
Now, does that mean they would pass on Peralta or Segura if the price is right? Of course not. Young players are an obvious exception. Someone like Garza — a guy over 30 making good money with signs of decline in his game — might not be though. Lohse is a rental who shouldn't require a big trade package — McCarthy cost Vidal Nuno, so does Lohse cost … Chasen Shreve? — and fits the Yankees' trade target mold as a veteran buy low candidate with a track record of success and some reasons to think a rebound is coming.
Either way, the Yankees tend to be patient when it comes to going outside the organization for help in the middle of the season. My guess is they will wait a few weeks before calling the Brewers or any other team with the intention of having serious trade talks. That's just their style these days. Whenever the Yankees are ready to deal, Milwaukee does have some pieces to offer, but none are truly great fits.