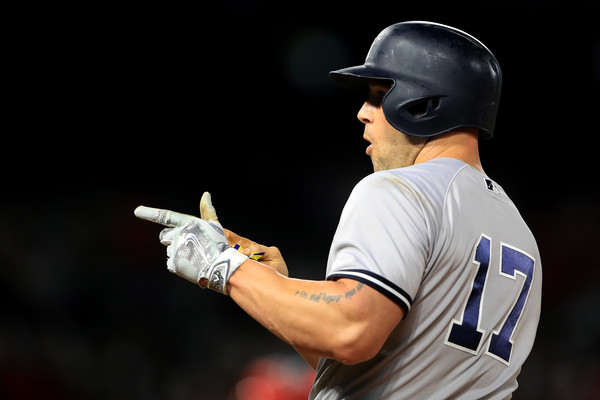 I had mixed feelings about the Yankees signing Matt Holliday so early in the off-season, given the breadth of options on the market and the salary that he would be paid. The signing of Chris Carter left me with something of a bitter taste in my mouth, as Carter came at a much cheaper price, as well as the promise of similar or better production; I even wrote a bit about it. I was never terribly concerned with Holliday's potential to rebound, but it felt like strange roster construction. I was, of course, hilariously wrong about Carter this year. Holliday, however, was brilliant from the outset.
The First Three Months
It didn't take too long for Matt Holliday to demonstrate his aptitude for hitting, as the 37-year-old reached base safely in eight of his first nine games. That stretch included his first home run as a Yankee (which came in game four), and a team record-tying five-walk game on April 9, and he looked dialed-in at the plate. Holliday earned his pinstripes a few weeks later, when he hit a walk-off three-run home run against the Orioles on April 28.
Holliday was batting .262/.402/.492 (141 wRC+) with 4 HR and 14 RBI when April came to an end, and was as big a part of the team's success as any hitter this season aside from Aaron Judge. He was hitting, hitting for power, and drawing walks (19.5% BB), and the term "professional hitter" was thrown around with gusto whenever his name was mentioned.
He cooled off a little bit in May, slashing .260/.321/.521 (119 wRC+). His power was up – he hit 7 HR – but there were signs that he might be selling out for power. Holliday's walk rate dipped to 6.6%, his strikeout rate increased by 7.4 percentage points, and his flyball rate jumped by 10.8 percentage points. It was a strong month, regardless, yet it did lead to a bit of caution.
And then Holliday returned to his all-around raking ways in June, batting .264/.386/.514 (140 wRC+), with 4 HR, 15.9% walks, and just 17.0% strikeouts. It was a fantastic month, and his normalized approach was a thing of beauty. His flyball rate jumped yet again, all the way up to 48.3%, but he was hitting the ball harder and taking more pitches, so nothing seemed to be amiss.
Holliday was placed on the DL with a viral infection on June 28, and would end up sitting out for the remainder of the first half. Despite that, he was among the best designated hitters in the game as of the break: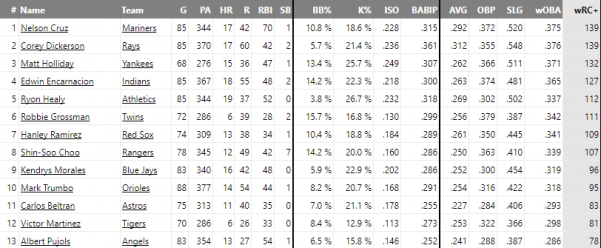 The numbers speak for themselves here, as Holliday was third at the position in wRC+, and just four off the home run lead despite missing two weeks of games in the end of June and early July. Given his age and injury history it made sense for the Yankees to give him as much time as possible to recover, and the hope was that that would allow him to return at full-strength.
Two Months of Injuries and Awfulness
Holliday returned from the disabled list on July 14, and went 0-for-4 against the Red Sox, but nobody read much into that – it was his first game back following a long lay off. And all seemed right in the world the next evening, when he played the hero by hitting a long home run off of Craig Kimbrel to tie the game at 1-1 and send it into extra innings.
And then he stopped hitting.
From July 14 through August 4 (85 PA), Holliday hit .136/.165/.198 (-13 wRC+) with 1 HR, 3.5% walks, and 28.2% strikeouts. His bat was slow, his power was non-existent, and he seemed to have no plan at the plate. Nearly 60% of Holliday's batted balls were grounders, and he wasn't hitting the ball with authority (23.8% hard-hit rate, against a 35.8% mark in the first half). Given all of that, it wasn't shocking when he went back to the DL on August 5 with a back injury.
The End of the Line
Holliday returned to the lineup on September 2, and he came back with a vengeance. He went 2-for-6 with 2 HR, 4 RBI, 2 BB, and 0 strikeouts in his first two games, and he drove the ball with authority. Unfortunately, that was basically it for Holliday as an effective hitter, as he hit .226/.276/.340 (61 wRC+) with a home run in his last 15 regular season games. He had trouble catching up with velocity, and was very aggressive with precious little in the way of positive results. As a result of this, he ended up playing in just one postseason game, going 0-for-3 in Game 1 of the ALCS.
All told, Holliday hit .179/.225/.300 (34 wRC+) with 4 HR, 6.0% walks, and 28.5% strikeouts in the second half – and it wasn't pretty. He hit .231/.316/.432 (98 wRC+) with 19 HR in 427 PA on the season, which was actually good enough to make him a middle of the pack DH overall. That's faint praise – though, I do believe he could've been at least competent in the second half if he had been healthy.
2018 Outlook
Holliday played himself out of a meaningful playoff role and, taken in conjunction with his injury issues these last three years, may well be viewed as a scrap heap player as he hits free agency. It's highly unlikely that he has a return engagement with the Yankees, and I wouldn't be shocked if he spent most of the off-season looking for a job.