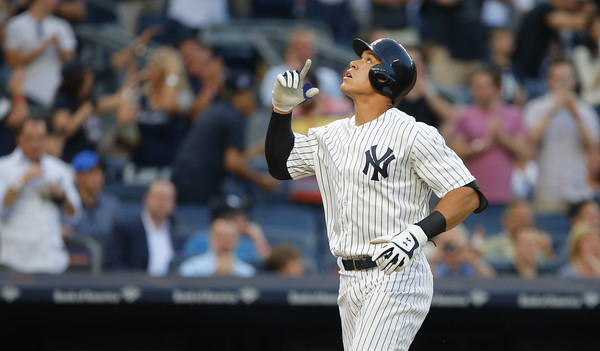 A fun fact: the Yankees have won the first game in each of their last four series. A not-so-fun fact: the Yankees have failed to win each of those four series. Yuck. This weekend's interleague series with the Brewers is the final series before the All-Star break, and given how poorly things have gone these last few weeks, you know the Yankees want to do well this weekend and head into the break feeling good about things. That's what I'm hoping.
The first place Brewers (!) are visiting the Bronx for the first time since May 2011. Milwaukee is 0-10 in their last ten games at Yankee Stadium and 1-14 in their last 15 games. Their last win in the Bronx came back in July 1997. Ken Rogers started that game for the Yankees. It's been a while. Of course, that means nothing. What happened in 2011 and 1997 or any other year as no bearing on what happens tonight, in 2017. Just win, please. Here is the Brewers' lineup and here is the Yankees' lineup:
CF Brett Gardner
3B Chase Headley
RF Aaron Judge
DH Gary Sanchez
SS Didi Gregorius
LF Clint Frazier
1B Ji-Man Choi
C Austin Romine
2B Tyler Wade
LHP Jordan Montgomery
The morning rain has cleared out and it's turned into a nice day here in New York. Blue sky and some clouds. Not a bad night for a ballgame. Tonight's series opener will begin at 7:05pm ET and you can watch on YES locally and MLB Network nationally. Enjoy the game.
Injury Updates: Both Starlin Castro (hamstring) and Matt Holliday (illness) will not rejoin the Yankees this weekend. They're going to play in minor league rehab games before returning, and both could be back in time for the first series after the All-Star break.
All-Star Update: Earlier today MLB announced a series of All-Star replacements and, no, Gregorius is not replacing the injured Castro on the AL roster. Castro's spot is going to … Robbie Cano. Baseball is a flat circle.