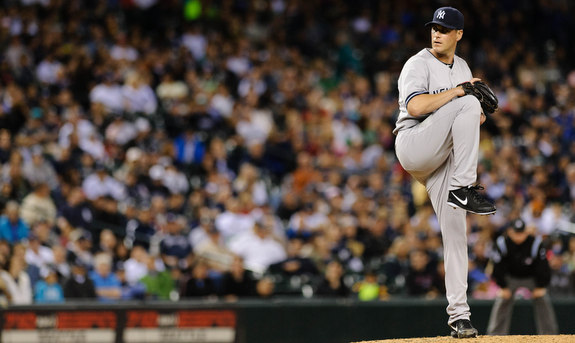 One thing has become very obvious over the last few years: the Yankees value having a left-hander in the bullpen. Two, preferably. Some teams don't worry too much about carrying a southpaw, but not these Yankees. Joe Girardi likes to have a matchup lefty out there and the team has spent a lot of money trying to fill that spot. Remember Damaso Marte and Pedro Feliciano? Of course you do.
The 2014 season were no different, but, believe it or not, they only had 109 appearances by a left-handed reliever this year. That was the fifth fewest on baseball. At the same time, they had 56 lefty appearances of two or fewer batters faced, the fourth most in baseball. Girardi is definitely a fan of matching up for a batter or two if the opportunity presents itself. Let's review the team's surprisingly large collection of left-handed relievers from this past season.
Matt Thornton
The Yankees signed the 38-year-old Thornton to a two-year contract worth $7M last season, figuring he could still be a quality specialist even though his performance against righties had declined big time in recent years. He was one of the top relievers in the game regardless of handedness not too long ago. Maybe there was still some magic in there.
Thornton threw only 24.2 innings across 38 appearances with New York, so Girardi definitely used him as a matchup guy. His overall 2.55 ERA (2.73 FIP) is good but that's not the best way to evaluate a lefty specialist. Thornton held same-side hitters to a .237/.306/.250 (.258 wOBA) batting line with a 17.2% strikeout rate, a 3.1% walk rate, and a 54.3% ground ball rate. Despite still having mid-90s heat, his swing-and-miss rate against lefties was a paltry 8.3%. That's well-below-average. Also, he allowed 14 of 43 inherited runners to score (33%), including five of the last 12.
In early-August, the Yankees simply gave Thornton away for nothing. The Nationals claimed him off revocable trade waivers and New York opted not to pull him back, so they let him to go Washington on the claim. It was … weird. Girardi and Brian Cashman both confirmed the move was made to create roster and payroll flexibility. Thornton had a 0.00 ERA (2.51 FIP) in 11.1 innings for the Nats after the claim and quickly emerged as an important part of their bullpen.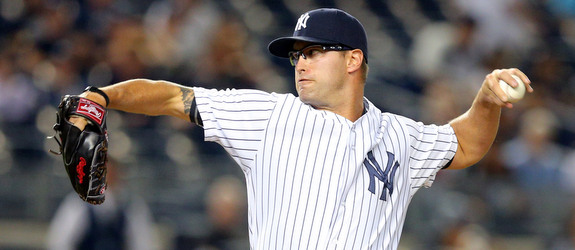 David Huff
The Yankees spent the first ten or so weeks of the season cycling through some amazingly bad long relievers, so, when the Giants decided to cut ties with Huff in mid-June, the Bombers jumped at the chance to re-acquire him. The minor trade cost New York nothing but cash.
Huff, 30, had a 6.30 ERA (4.38 FIP) in 20 innings for San Francisco, but he actually pitched pretty well in pinstripes. He chucked 39 innings across 30 appearances — so he was multi-inning guy, not a specialist — and posted a 1.85 ERA (4.00 FIP), holding lefties to a .250/.301/.279 (.266 wOBA) batting line with a 19.2% strikeouts rate and a 6.2% walk rate. Huff also stranded 16 of 17 inherited runners. What more do you want from a low-leverage lefty?
Rich Hill
After letting Thornton walk, the Yankees grabbed Hill off the scrap heap and he actually had two stints with the team. He came up in early-August, made six appearances, was designated for assignment, then was called back up when rosters expanded in September to make eight more appearances. All told, Hill faced 19 lefties with New York, striking out seven, walking two, hitting one, and allowing four hits. That's a .250/.368/.250 (.298 wOBA) batting line. At one point in September he struck out six in a span of eight batters faced.
Josh Outman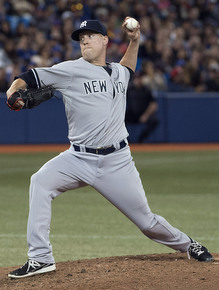 Hill was designated for assignment in late-August to make room for Outman, who the Yankees picked up from the Indians because he was a so very slight upgrade. He faced ten left-handed batters in pinstripes and held them to one hit. He also struck out one. That works out to a .100/.111/.111 (.099 wOBA). If you extrapolate that out over 60 innings, Outman was, like, the best lefty reliever ever, man.
Cesar Cabral
Two years ago, Cabral almost made the Opening Day roster as a Rule 5 Draft pick before suffering a fractured elbow late in camp. He made four appearances with the Yankees this season and faced five lefties. One made contract (a hit), one drew a walk, one was hit by a pitch, and two struck out. As you may recall, Cabral allowed three runs on three hits and three hit batsmen in one ugly April outing against the Rays. He was designated for assignment after the game, eventually landed back in Double-A, and that was that.
Jeff Francis
Confession: I totally forgot Jeff Francis was a Yankee. They acquired him in a very minor trade with the Athletics when they were desperate for pitching depth at midseason, and he somehow made not one, but two appearances in pinstripes. He threw a scoreless 14th inning in a late-July game against the Rangers — when Chase Headley hit the walk-off single in his first game with the team — and allowed a run in two-thirds of an inning against the Blue Jays a week later. They dropped Francis from the roster soon thereafter.
Wade LeBlanc
I did remember that LeBlanc was a Yankee this year! He made one appearance with the team. It went single, single, grounder to first, intentional walk, hit batsmen to force in a run, sac fly, ground out. The Yankees designated him for assignment to make room for Huff a few days later. I hope Wade LeBlanc goes into the Hall of Fame as a Yankee.