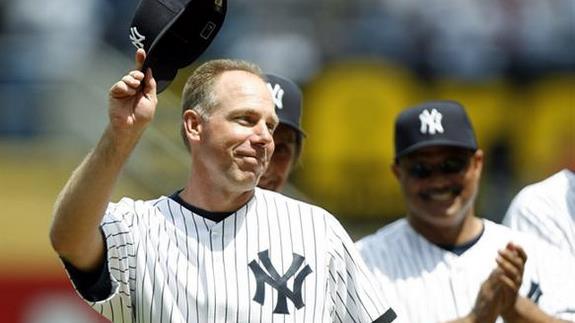 Oh how I hated Kenny Rogers. I was still pretty young and didn't really understand the ins and outs of baseball back then, so when the Yankees signed him after the 1995 season the extent of my thinking was "this is the guy that threw the perfect game last year, right? he's awesome!" Rogers was most certainly not awesome, he was coming off his first All-Star Game berth in 1995 but had struggled to keep his K/BB ratio above 2.00 for most of his career. He was hittable, he walked a decent number of batters and he was a fly ball guy prone to the long ball, but hey, he was left-handed and threw a perfect game, which was good enough for 14-year-old Mike.
Rogers, then 31, was awful in his first year in New York. He walked 83 batters and struck out just 92 in 179 IP, posting a 4.68 ERA and an even uglier 4.83 FIP in 30 starts. Scheduled to start the fourth game in the playoffs, Rogers was instead called upon out of the bullpen in the 12th inning of Game Two to face the lefty Will Clark with runners on second and third with two outs. He promptly walked him on four pitches. Brian Boehringer came in and got out of the inning, then did the same three days later when Rogers couldn't get out of the third inning in Game Four. Rogers gave up four runs in three innings in Game Four of the ALCS before he gave up five runs in two innings in his World Series Game Four starter. In four playoff appearances he'd allowed 21 baserunners and 11 runs in seven innings, and the Yankees won all four games. That still blows my mind. Boehringer, David Weathers, and Graeme Lloyd had picked up the slack.
The next year actually went worse for Rogers, who posted a 5.65 ERA with a 5.07 FIP in 22 starts and nine relief appearances, giving the Yankees 145 barely above replacement level innings. Joe Torre didn't dare go near him in the ALDS against the Indians, in fact I can't remember (and can't find anything to confirm) if he was even on the playoff roster. I'm guessing it was a no. The Yankees had had enough, so they traded Rogers and some cash to the Athletics for a player to be named later on November 7th, 1997. Eleven days later, that player had a name, and it was Scott Brosius.
The Yankees were in need of a third baseman after letting 39-year-old Wade Boggs walk as a free agent, and Brosius seemed like nothing more than a stopgap. He had hit just .203/.259/.317 with 11 homers in 526 PA in 1997, though he did post a huge 1996 season: .304/.393/.516 with 22 jacks. Maybe the Yankees could catch lightning in a bottle with the 31-year-old. All it would cost them was a starter they didn't want and $2.65M worth of salary.
Brosius came out of the gate hitless on Opening Day, but before you knew it he had six multi-hit games in the team's first 18 contests, driving in a dozen runs from the eighth and ninth spots in the order. And he just kept hitting. A .396/.466/.593 effort in May pushed his season line to .333/.401/.462, and from June 1st on he produced a .284/.357/.476 batting line. Brosius was an RBI machine, hitting .373/.444/.588 with runners in scoring position and driving in 98 runs from the bottom third of the order. He was an All-Star and a force in the postseason, hitting .383/.400/.660 in 13 October games. He hit two homeruns in Game Three of the World Series, the second with one out in the eighth inning against Trevor Hoffman that turned a 3-2 deficit into a 5-3 lead.
The Yankees rewarded Brosius with a three-year contract worth over $15M after the season. The problem is that he never performed up to his 1998 level again. Brosius hit .247/.307/.414 in 1999, losing more than 120 OPS points off his previous year. His trademark clutchiness evaporated (.282/.326/.462 with RISP), and although the Yankees again won the World Series, it was no thanks to Brosius. He hit .250/.267/.477 in a dozen postseason games. Things got even worse in 2000, when Brosius hit .230/.299/.374 in the regular season, .237/.315/.427 with RISP, and .229/.304/.313 in 16 playoff games.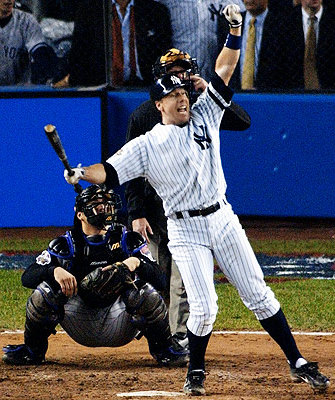 The 2001 season was the last on Brosius' contract and ultimately the final one of his career. He had a nice little dead cat bounce during the regular season, hitting .287/.343/.446 even though he was limited to just 120 games. His playoff performance was awful, hilariously awful when you look back at it (.140/.155/.263 in 17 games), but the moment that pretty much defines Scott Brosius' Yankee career came in Game Five of the World Series. The series was tied at two but the Yankees were down 2-0 in the ninth inning after getting manhandled by Miguel Batista of all people. Jorge Posada led off the ninth with a double, but Shane Spencer grounded out and Chuck Knoblauch struck out to bring Brosius to the plate with two outs. Byung-Hyung Kim's slider hung, Brosius' left arm went up. His two-run homer tied the game, the second straight night the Yankees rallied from down two in the ninth against Kim.
I'm sure Brosius and many others will say they remember him for the homer off Hoffman since the Yankees actually won that World Series, but it's 2001 for me. The city was still reeling from the September 11th attacks, emotions were high, it seemed like an impossible situation … I'm never ever ever going to forget that. All told, the Yankees won four pennants and three World Titles with Brosius as their starting third baseman, during which time he hit .267/.331/.428 with 76 homers, the two most memorable of which came on baseball's biggest stage.
As for Rogers, the Athletics got a 3.17 ERA and 3.95 FIP out of him in 1998, then kept him around for half of 1999 before flipping him to the Mets for Terrence Long and a minor leaguer. In terms of bWAR, Oakland acquired 8.6 wins worth of Rogers from the Yankees for what turned out to be 5.7 bWAR worth of Brosius. Since the Yankees re-signed him as a free agent after 1998, we can't really count that 1999-2001 production as part of the trade, but who cares? The Yankees won this trade in every way imaginable but bWAR, and they'd do it again a million times out of a million.