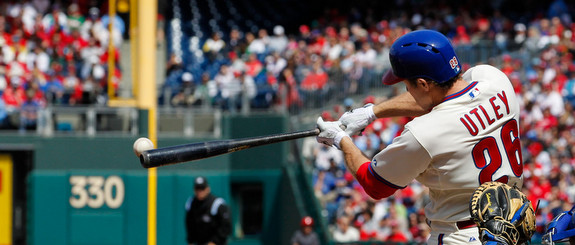 The Yankees are in a very dangerous place right now. Their glut of injured players are due to start returning in 2-3 weeks, but the current roster simply isn't good and the team is fading fast. They've lost five straight and 21 of 33, falling to 6.5 games back of the Red Sox for first place on the AL East. They're four back of a wildcard spot. It's a deficit they can still erase with 81 games to play.
The re-injuries to Mark Teixeira and Kevin Youkilis (and Curtis Granderson to a lesser extent) should keep the Yankees from relying on the injured players too much. Even when guys start coming off the DL, there's no guarantee they'll help the offense. Heck, there's no guarantee the team will even be close enough to the race for the lineup additions to matter. The season is half over and the Yankees need to start improving the offense — the time for patience has come and gone. They need help and they need it right now.
Over the last few days, we've heard them connected to both infielder Michael Young and catcher Carlos Ruiz. Those two aren't the only Phillies who fit with New York though. In fact, the Fightin's are a great trade match for the Yankees, and I'm not talking about Brian Cashman's white whale (Cliff Lee) either. Here are a few more fits.
IF Chase Utley
Once one of the very best players in all the land, age and injuries have reduced Utley to a merely above-average player. He's hitting .284/.348/.517 (138 wRC+) on the year, and that is broken down into a 144 wRC+ against righties and a 123 wRC+ against lefties. The rebound against southpaws is nice to see after a few years of below-average production. Utley is a left-handed power hitter who draws walks (8.5%) and doesn't strike out much (14.7%), and it's worth noting that he's also one of the very best base-runners in the game. I'm not necessarily talking about bulk stolen base totals, but being a high-percentage base-stealer and going first-to-third on singles, stuff like that.
Utley is owed approximately $7.5M through the end of the year and is due to become a free agent after the season, so he isn't exactly easy on the wallet. He is cheap relative to his production, however. The Yankees are being reimbursed for a big portion of Mark Teixeira's salary by … someone. Either the World Baseball Classic or insurance, depending on who you believe. At the end of the day, it doesn't really matter who pays them back. It's a big amount of saved salary that will more than cover the last few months of Utley's contract. The money really isn't the problem.
The Yankees have no need for a second baseman and Utley tried and failed to transition to third before the season, but first base is a viable alternative. He played a handful of games at the position earlier in his career, so it wouldn't be completely foreign to him. Lyle Overbay turned into a pumpkin sometime in mid-May and Utley would be a fantastic replacement. Playing first would require an adjustment though, an adjustment and his willingness. Utley has ten-and-five rights and can veto any trade, so he'd have to be okay with leaving from the only team he's ever known for the Yankees at a time when more legitimate contenders like the Orioles, Athletics, and hometown Dodgers figure to show some interest as well.
For what it's worth, GM Ruben Amaro Jr. told Ryan Lawrence he would be open to moving Utley if the circumstances dictate a trade. "Even though he might be the most popular player, if there are things we have to do with some of these popular players that are going to make our club better, then we have to keep our minds open," he said.

IF Kevin Frandsen
With all due respect to certified baseball player Jayson Nix, the 31-year-old Frandsen is a way better utility infielder. He's a career .269/.328/.372 (88 wRC+) hitter in the big leagues but has found a home in Philadelphia, hitting .320/.382/.448 (129 wRC+) since joining the Phillies last year. The right-handed hitter does most of his damage against lefties (169 wRC+), which fits well with New York's needs. Frandsen won't steal bases or draw walks (5.5%), but he won't strike out either (9.0%). Even if he has been playing over his head these last two years, he'd still be an upgrade over Nix if he reverts back to his career averages.
Frandsen plays first, second, and third bases regularly, but he hasn't seen time at shortstop since 2009 and has only played there sparingly as a big leaguer. He has played short in the minors over the years — 25 games there as recently as 2011 — so it's not something that is completely off the table. In fact, he's played short about as often as Nix did prior to coming to the Yankees. Frandsen is a flat-out better player than Nix and would be an upgrade to the bench even if all the healthy guys return perfectly fine. As an added bonus, he is under team control as an arbitration-eligible player through 2015.
OF/1B John Mayberry Jr.
Mayberry, 29, became a platoon darling after cracking Philadelphia's roster full-time three years ago. He's a righty bat who's hit .278/.302/.490 (116 wRC+) against lefties this year with a 130 wRC+ against them the last three years, basically since breaking into the league for good. His numbers against right-handers — 102 wRC+ this year and 91 wRC+ since 2011 — aren't great, but they aren't disastrous. Mayberry will draw some walks (7.7%) and he will strike out a bit (21.6%), which isn't surprising.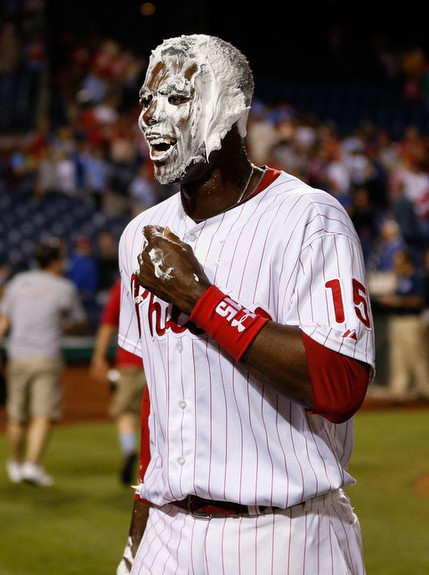 Despite his size — he's listed at 6-foot-6 and 225 lbs. on the team's official site — Mayberry is a really good athlete who can legitimately play center field as well as the corners. He's not a great defender in the center, but he can do it. Mayberry has also spent a bunch of time at first base, making him an ideal platoon candidate. He could partner with Overbay (or Utley!) or the outfielders on any given day depending on who else is in the lineup. Mayberry will be arbitration-eligible for the first time next year and remains under team control through 2016.
* * *
It's hard not to dream about a blockbuster trade that sends Young, Ruiz, Utley, Frandsen, and Mayberry to the Yankees. That would shore up the corner infield spots, the catcher position, and bench in one fell swoop. Trades that big are complicated though, plus the Phillies have yet to decide to sell. They seem very tentative at the moment, but remember, they took the plunge and traded away Shane Victorino and Hunter Pence at the deadline last year. They made be tentative, but they have shown they will do it.
As for the asking prices … who really knows. They traded Victorino and Pence for prospects and okay young-ish big leaguers, but that doesn't mean the same will be true this year. One thing I do know is that they won't want rental players like Phil Hughes and Joba Chamberlain. That defeats the purpose of selling. Adam Warren? Ivan Nova? Zoilo Almonte? The Phillies always target toolsy up-the-middle athletes in the draft, so would Mason Williams or Angelo Gumbs pique their interest? We have no way of knowing. All we do know is that the Yankees have a ton of position player needs and Philadelphia has several players who would fill those holes.