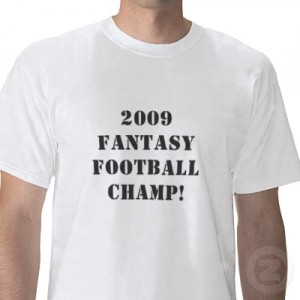 Just as the NFL regular season came to an end last night, the 2009 edition of the RAB Fantasy Football League wrapped up as well. This year's champ was sadly not me, but instead Greg Fertel of the great Pending Pinstripes. Greg beat out Right Field Porches (I'm sorry, I have no idea who you are, so identify yourself in the comments if you want credit) 110.14-94.62 in the finals. RAB regular Jamal G. finished in third place, and last year's champ, the aptly named Tommie's Champions, finished in sixth.
Greg had Chris Johnson, Ray Rice, and Tony Romo on his roster, all three of whom were among the league's ten highest scoring players. Johnson had almost a 25 point advantage over Aaron Rodgers as the league's most productive player, and nearly a 70 point edge over third place Adrian Peterson. I guess 2,006 rushing yards and an NFL record 2,509 yards from scrimmage will do that.
As for me, well I finished in 14th place out of 16 teams. That's what happens when you have Chad Pennington as you're starting QB in Week One, Terrell Owens as your number two WR, and Willie Parker on your roster period. By the time Jerome Harrison starting going nuts, it was too late. Only the presence of Maurice Jones-Drew made my team tolerable.
So congrats to Greg. His prize for winning: a pair of bleacher tickets to the Yankee game of his choosing during the upcoming season. Maybe next year I'll win myself a pair of tickets from myself. If you're curious, the final standings are after the jump.
Anyway, here's your open thread for the night. There's no MNF (boo), but the Rangers are taking on the Bruins at home (yay, but I'm sure it'll eventually turn to boos). The Tostitos Fiesta Bowl (Boise St. vs. TCU) is also on tonight. I guess they'll get around to playing the National Championship Game when the weather warms up in the Northeast. Anything goes, so have fun.