It's Retro Week here at RAB and the gist is we are looking back at the 1996 season. In this post, we are going to look at how the Yankees did in that year's MLB Draft.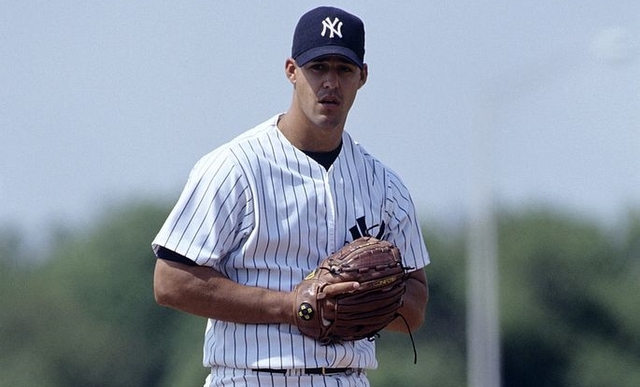 The 1996 MLB Draft was held from June 4-5, 1996. The first overall pick? RHP Kris Benson out of Clemson University to the Pirates. There were notable ex-Yankees picked throughout the draft (Eric Chavez, Shawn Chacon, Ted Lilly, Chris Capuano, Travis Hafner, for instance) but in this post, we are going to look at the specially notable ones (because it's only seven players out of literally a hundred) that the Yankees picked. If you would like to see the complete list of picks, here it is.
First Round, 20th overall pick: LHP Eric Milton out of University of Maryland (College Park, Maryland)
The Yankees originally held the 24th overall pick, which they lost to Texas by signing Kenny Rogers. However, they had garnered the 20th pick earlier by losing Randy Velarde to the California Angels. By the way, Texas used the 24th to select RHP Sam Marsonek, who only pitched 1.1 IP in his ML career (with the Yankees, nonetheless).
There's not a lot of info on Milton from back then but John Sickels of Minor League Ball wrote up his career path. On Milton's value as an amateur, Sickels wrote "He was considered a completely legitimate mid-first-round pick, on the basis of above average stuff for a lefty, solid command, and some remaining projection." This January 1998 New York Times article by Buster Olney has some more interesting tidbits. According to Milton's college coach, the lefty threw about 82-83 mph when he first enrolled and took that up into the 92-93 mph range within two years after using a weightlifting program used by the Terrapins football players.
Not only was Milton a lefty who could sit in low-90's, but he also had good feel for strike zone. According to Olney, Milton "once pitched 27 1/3 straight innings without a walk." His junior year stats also highlight it (118 K's and 17 walks in 90.0 IP). Because he is a lefty with good pitchability and low-90's heat, Milton was frequently compared to a familiar face.
"The reports we have is he's another Andy Pettitte," said George Steinbrenner, the Yankee owner. "I've even heard one of the pitching coaches we listen to say that he's ahead of Andy Pettitte at this stage in his career."

One National League executive rated Milton's skills based on his team's scouting reports: very good fastball, good changeup, a curveball that needs refining, very good control. "He has a deceptive pick-off move," the executive said. "Like Pettitte."
After missing pro ball action in 1996 (due to signing late), Milton had a pretty solid 1997 in which he coasted through High-A and AA: 14-6, 3.11 ERA, 28 GS, 171.0 IP with 3.24 SO/W ratio combined in both levels. Before the 1998 season began, he was traded to the Minnesota Twins as the crown jewel piece of the Chuck Knoblauch trade. The Twins apparently decided that the lefty was ML-ready and skipped him over the AAA level.
All in all, Milton enjoyed a nice ML career. He tossed a no-hitter against the Anaheim Angels on September 11, 1999, made the 2001 AL All Star team, and landed a big free agent deal with the Reds (three-year, $25 million signed after the 2004 season). I think a lot of draft prospects would take that outcome. He retired after the 2009 season, leaving behind a 89-85, 4.99 ERA record in his 11 ML season career.
In some ways, the Yankees' 2015 1st round pick James Kaprielian reminds me of Milton a bit – both college pitchers that aren't the sexiest but projected to move through the system quickly.
Second Round, 59th overall pick: LHP Jason Coble out of Lincoln County HS (Fayetteville, Tennessee)
Not exactly a household name, it seems. In ESPN's 2001 article reviewing the 1996 draft, Sickels only had one sentence to say on Coble: "… didn't develop."
I wish I could find more info on Coble but it seems pretty sparse throughout the internet. He had a nice pro debut as an 18-year old with the GCL Yankees: 1-1, 2.48 ERA in 32.2 IP with 40 strikeouts. The next season at Low-A Greensboro, however, he completely lost his command, walking 96 batters in 120.1 IP. And, for whatever reason, he never pitched in pros again. (Nope, no record of him playing in the indy ball either.)
Third Round, 89th overall pick: 1B Nick Johnson out of McClatchy HS (Sacramento, California)
Now here's a pick that turned out much better. Not only did Johnson make it to the majors, he also made one of the biggest lasting impacts in minors on the way. Even if he had a solid ML career, his MiLB numbers are so big that some consider him a flop.
Johnson pretty much rode a bulldozer through Eastern League pitching in 1999. Let's start with the fact that he hit for a phenomenal .345/.525/.548 line. As a 20-year old, he was four years younger than the average age of the league competition. He also walked considerably more (21.0 BB%) than striking out (15.0 K%). He reached the base 52.5% of the time – think about how insane that figure that is.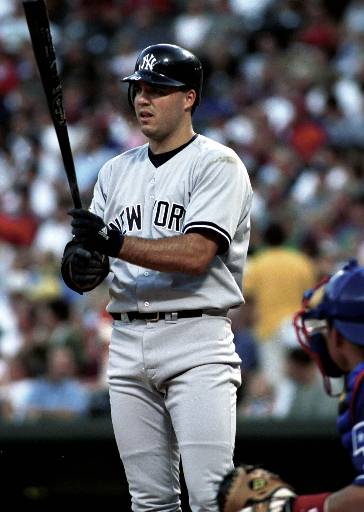 Johnson's excellence in minors got the experts raving as well. John Sickels, in a 1999 interview, said that he would choose Nick Johnson as a prospect to build a team around. After the torrid 1999 season, Johnson was named no. 5 prospect in all of baseball by Baseball America, behind Rick Ankiel, Pat Burrell, Corey Patterson and Vernon Wells. His 2000 BA scouting report is just rave after rave. Good approach, quick hands, keen eyes, good defense, etc. – he just seemed like a power boost or two away from being a perennial 1B All Star.
"Tino Martinez' contract runs out after 2000," wrote David Rawnsley of BA, "…with Martinez noticeably slipping the past three years, there's a perfect opportunity to prepare for the transition to Johnson."
Unfortunately, not everything goes accordingly to the best laid-out plans. Before the 2000 season started, Johnson hurt his wrist and sat out for the year. That was a troubling sign to come for rest of his career. When he was healthy, he was a very productive hitter that any team would love to have. But in ten ML seasons, Johnson only had five with more than 40o plate appearances.
As you may know, Johnson was traded to the Montreal Expos as a part of the Javier Vazquez trade. He pretty much spent his best years with the Expos/Nationals organization, hitting for overall .868 OPS in five seasons. He did sign with the Yankees for a one-year, $5.5 mil contract after the 2009 season. I think the consensus at the time was that if Johnson were to be able to stay healthy, he'd be a substantial help. Unfortunately, he only managed a .693 OPS in 24 games before going down with a season-ending wrist injury. That was pretty much the beginning of the end for Johnson. He got another big league trial with the Orioles in 2012 but went down with another injury after 38 games and never played in MLB again.
Fourth Round, 119th overall pick: C Tito Candelaria out of Fernando Callejo HS (Manati, Puerto Rico)
Ho-hum, another pick that didn't pan out well. Candelaria did last longer than Coble in minors though, disappearing off the record after hitting for an overall .048/.067/.048 line in 11 games in 2000.
Actually, as a catcher drafted out of high school, it seemed like he wasn't having a horrible time in minors up to the 1998 season, when he hit for a .306/.475/.361 line in Short-Season A league. Sure, it's a limited amount of action but I'd say it's got some promise to it. However, he missed the entire 1999 season (pretty easy to presume that he suffered a substantial injury that impacted his skill set moving forward) and could not get it going in 2000.
Fifth Round, 149th overall pick: RHP Zach Day out of LaSalle HS (Cincinnati, Ohio)
Here's a guy who had himself an okay ML career. I remember seeing Zach Day's name on MVP Baseball 2004 once in awhile and … I guess there's not much else to it. But anyways, like Milton, Day found himself being traded out of Yankee organization before making it to the majors. Day was traded to the Indians along with RHP Jake Westbrook and OF Ricky Ledee for David Justice.
Before the trade, Day was doing quite well in the 2000 season. Starting the season with the Low-A Greensboro, Day flashed a 1.90 ERA in 13 starts (101 K's in 85.1 IP) before earning a promotion to High-A Tampa, where he had a 4.19 ERA in seven starts before the trade. Indians sent him straight to Double-A Akron after the trade, where he finished the season.
Day ended up getting traded in 2001 to the Montreal Expos for Milton Bradley straight up. He made his ML debut with the Expos in 2002 and stayed in the organization until being traded to Colorado in 2005. He was claimed back on waivers by the Nationals in 2006 but suffered shoulder tendinitis to end the season and, eventually, his ML career.
In his ML career, Day had a 21-27 record with 4.66 ERA in 373 IP. Not really flashy or anything but for a fifth rounder, he could have done a lot worse.
Sixth round, 179th overall pick:  RHP Brian Reith out of Concordian Lutheran HS (Fort Wayne, Indiana)
Like Milton and Day, Reith is another pick that later ended up being traded as a chip to acquire a big league player. During the 2000 season, Reith was a part of the package (along with Drew Henson, Ed Yarnell and Jackson Melian) sent to Cincinnati Reds that got Denny Neagle to the Yankees. Of all the four minor leaguers, Reith ended up becoming the only one to make it to the majors with Cincinnati. In three ML seasons with the Reds, Reith compiled -1.4 career fWAR, so take that for what you will. His best season was in 2003, when he pitched for a 4.11 ERA in 61.1 IP as a reliever. Given that his ERA+ was 101, not too shabby.
Well, let's take it back to before he was traded. He was a starting pitching prospect who flashed potential with solid numbers. In the 2000 season, before getting traded, Reith pitched for a 2.18 ERA in 119.2 IP with the High-A Tampa Yankees. According to a 2000 Newsday article, a scout rated Reith's "fastball, slider, changeup as major-league ready." I don't think he was ever touted to be a top prospect but it seemed like he was worthy of taking a flier.
Anyways, after his 2004 stint with the Reds, he bounced around the minors, indy ball, Mexican League, Taiwanese league, etc. Another pick that you can say that reached the Majors.
30th round, 899th overall pick: OF Marcus Thames out of Texas State University (San Marcos, Texas)
From the seventh round and on, there weren't many players worth writing up. Yankees did draft RHP Matt Ginter in the 17th round but he opted to attend Mississippi State and later was drafted by the White Sox in the first round of 1999 draft. There also was RHP Nick Stocks, who was their 15th rounder. He decided to attend Florida State University and was later drafted by the Cardinals in the first round of the 1999 draft.
Thames not only made it to the bigs but also actually had a worthwhile ten-season ML career. After showing flashes of power for first few pro seasons, Thames broke out with the Double-A Norwich in 2001, hitting for a .321/410/.598 line in 139 games. In 2002, he struggled pretty mightily in Triple-A, hitting for only .207/.297/.378 in 107 games. He did, however, make his ML debut that season with the Yankees (thanks to an injury to Juan Rivera) and hit a home run off of Randy Johnson on the first pitch he saw.
I really don't think you could have asked for a better way to introduce yourself in the majors. Big Unit was still more than just downright scary that season and you hit a three-run homer that breaks a 0-0 tie? Awesome. Thames only played seven ML games until he was sent down to Triple-A again. The homer was one of the only three hits he had in 13 plate appearances.
Thames stayed in Triple-A Columbus to begin the 2003 season and was traded to the Rangers for Ruben Sierra. After that season, he was granted free agency and signed with the Detroit Tigers, where he turned into a decent offensive tool for few seasons. For six seasons in Detroit, Thames hit for a .245/.307/.501 line, good for a 108 OPS+. Not so shabby for a former 30th round pick huh? His best season came in 2006, when he hit for a career-best .882 OPS with 26 home runs for the AL Champions Tigers.
After the 2009 season, Thames signed a one-year deal with the Yankees and had a pretty good season as a bench bat. He hit for a .288/.350/.491 line in 237 plate appearances with 12 home runs. Thames spent one more ML season as a Dodger in 2011 (.576 in 70 PA's) and retired.
Thames was recently in Yankees-related headlines for being promoted as the team's assistant hitting coach, teaming up with Alan Cockrell. Good for him.
88th round, 1,718th overall pick: 3B Scott Seabol out of West Virginia University (Morgantown, West Virginia)
You read that correctly. Yankees did have an 88th round pick that later made it to the bigs. Scott Seabol, a West Virginia Mountaineer, had slim odds to make it to the big leagues. For a college guy out of the 88th round to have a chance to get to the majors, he'd have to hit darn well to at least get a consideration. In 1999 as a 24-year old in Low-A Greensboro, he hit a .315/.370/.521. Okay, not bad. But then again, he was a 24-year old in Low-A ball, 2.4 years older than average competition. A year after, with the Double-A Greenwich, Seabol hit for a .296/.355/.517 line.
In April 8, 2001, Scott Seabol finally made his ML debut, making himself, at the time, as the lowest draft pick ever to make an ML appearance. He was on the roster very temporarily because of LF Henry Rodriguez's strained lower back. That day, the Yankees were blowing out the Blue Jays to the tune of 13-5 in the bottom of sixth inning when Seabol came up to bat with two outs and two runners on base. Pinch-hitting for DH David Justice, Seabol lined out softly to second base after battling Dan Plesac to a seven-pitch full-count at-bat. Because he was stepping in as a DH, he didn't get to field. That was pretty much it for Seabol. He was sent down to the minors on April 20 to make room for relief pitcher Adrian Hernandez. Seabol spent rest of the season in the minors.
After being cut by the Yankees in the 2002-03 offseason, Seabol signed with the Brewers and was cut again only after 25 games. The Cardinals then took a flyer on him and Seabol played in their Triple-A Memphis team for the rest of 2003 and the entirety of 2004. In 2005 however, an injury to Scott Rolen bought Seabol another ML shot. That season, Seabol did have his big moment as a big leaguer, which happened to take place against the Yankees. In the bottom of the seventh on June 12, Seabol took Tanyon Sturtze deep for a go-ahead two-run homer to give St. Louis a 3-2 lead. The Cardinals scored two more later that inning and beat New York 5-3.
It seemed like to have that big moment come against the Yankees was pretty significant to Seabol himself.
Seabol said, "To come when it did makes it 10 times better.

"I've only been here a month. To have it come against the Yankees may have made it a little nicer, but I just want to help the team win."
Seabol would stay on the Cardinals ML roster for rest of the season, hitting for a .219/.272/.295 line. After that season, he bounced around minors, Korea and Japan until calling it quits after hitting for only .628 OPS for the Hiroshima Carps of NPB in the 2009 season. Sure, he had a very brief and unspectacular ML career, but for a very unlauded 88th draft pick to accomplish all that is quite amazing to me. Bravo to him.