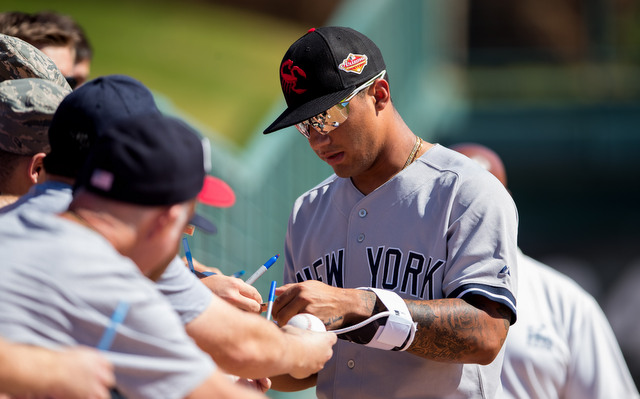 The Yankees and Astros will continue their three-game weekend series later today, though not until 7pm ET. Blargh. I really hate Saturday night games, you guys. Anyway, here are some links to check out in the meantime.
Padres have asked about Torres
According to Jon Heyman, the Padres have asked the Yankees about top prospect Gleyber Torres. I'm not sure whether this was before or after Gleyber hurt his elbow and needed Tommy John surgery. San Diego is in the middle of a deep rebuild and needs, well, everything. But especially a shortstop. Before the injury, few prospects could match Gleyber's combination of near-MLB-readiness and long-term potential.
I imagine Torres is atop New York's untouchables list, and I don't think there's any chance the Yankees would sell low on him while hurt. Also, who in the world could the Padres offer for Torres? Brad Hand? Nope. Not happening. Wil Myers? Meh. He's good and by far their best player, but I'm not giving up Torres to get him. I don't blame the Padres for trying. You can't get Scott Kazmir for Victor Zambrano without asking. There doesn't seem to be a fit here at all. The Yankees could use Hand, but not at the price of Gleyber.
Yankees looking for bullpen help
From the no duh department: the Yankees are in the market for bullpen help right now, reports Heyman. I don't know about you, but I get the feeling a trade for bullpen help is inevitable at this point. That doesn't necessarily mean the Yankees are going to trade top prospects for a high-end reliever. It could be a smaller deal similar to last season's Tyler Clippard trade. A change of scenery guy. I trust Brian Cashman to make a good value trade. I can't even remember the last time the Yankees made a trade that made me say "wow, they overpaid." The Yankees want bullpen help. News at 11.
Latest 2017 draft signings
The signing deadline for 2017 draft picks is Friday, July 7th, though the Yankees have already handled most of their major business. They've signed all of their picks in the top 17 rounds plus several others. Here are my Day One, Day Two, and Day Three draft recaps, and here are all of the Yankees' picks. Now here are the latest signings (and non-signings):
The Yankees have signed Puerto Rico HS C Hemmanuel Rosario as an undrafted free agent, reports Jonathan Mayo. He received a $247,500 bonus, of which $122,500 counts against the bonus pool. Rosario is still only 16, but he already graduated high school, which is why the Yankees were able to sign him. Here's his Perfect Game scouting report. Nice little find.
The Yankees have also signed Carl Albert State C/OF Pedro Diaz as an undrafted free agent, according to his coach on Twitter. No word on his bonus, though I don't believe this is another over-slot signing. Diaz hit .282/.407/.380 as a freshman in 2016. Seems like an organizational depth pickup.
Arizona HS RHP Colby Davis (23rd round) will not sign and instead go to Arizona State, reports Richard Obert. Davis was always expected to go to school. He can locate three pitches right now, though none are an out pitch. He could come out as a top ten rounds guy in three years.
As our Draft Pool Tracker shows, the Yankees still have roughly $317,000 in bonus space remaining. I imagine that money is going to spent somewhere. The Yankees have spent right up to the max each year since the bonus pools were put in place. It's worth noting Duke OF Jimmy Herron (31st round) is currently 18-for-45 (.400) with six doubles and a home run through 13 Cape Cod League games. He's got some interesting leadoff hitter skills and the Yankees could offer him as much as $442,000 at this point. Either way, I'd bet on that pool money getting spent on someone.