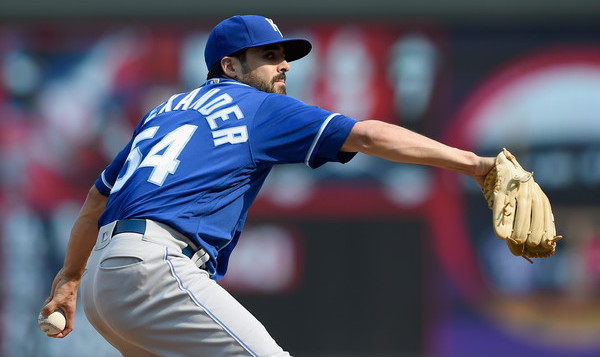 Now that the Yankees are out of the Shohei Ohtani race, they can move forward with the rest of their offseason plans. The question now is what the heck are they going to do next? They need another starting pitcher, that's fore sure, and re-signing CC Sabathia seems like the logical outcome there. Otherwise there are no glaring needs. The Yankees are in "improve on what we have" mode. That's a good place to be.
The Yankees have been looking for a reliable left-handed reliever since last offseason (much longer than that, really), and while it doesn't seem to be a top priority, it is something they could try to acquire this winter. Any worthwhile free agent will probably cost upwards of $6M a year, if not more, and that may not jive with the plan to get under the luxury tax threshold. The Yankees could try to trade for a more luxury tax friendly southpaw instead.
One such potential trade target is Royals lefty Scott Alexander, who Ken Rosenthal hears Kansas City "might consider moving" given the fact they have to rebuild now that nearly their entire core (Eric Hosmer, Mike Moustakas, Lorenzo Cain, etc.) became free agents this winter. When you're rebuilding, the last thing you should hold on to is relievers. They're too volatile. Cash 'em in as trade chips quick. Let's see whether Alexander makes sense for the Yankees.
Who is Scott Alexander?
Might as well start here, since I suspect more than a few of you reading this have never heard of the guy. Alexander, 28, was a sixth round pick out of Sonoma State in 2010, and he gradually climbed the minor league ladder as a full-time reliever before making his MLB debut as a September call-up in 2015. He went up and down in 2016 before sticking for good this season. His 2017 numbers:
| | IP | ERA | FIP | K% | BB% | GB% | HR/9 | Opp. wOBA |
| --- | --- | --- | --- | --- | --- | --- | --- | --- |
| vs. RHB | 50 | — | 3.26 | 19.3% | 9.4% | 76.2% | 0.36 | .281 |
| vs. LHB | 19 | — | 3.16 | 24.7% | 11.1% | 67.3% | 0.47 | .303 |
| Total | 69 | 2.48 | 3.23 | 20.9% | 9.9% | 73.8% | 0.39 | .293 |
There have been 5,225 individual pitcher seasons with 50+ innings since batted ball data started being recorded in 2002, and only four of those 5,225 posted a higher ground ball rate than Alexander this year: Zach Britton in 2016 (80.0%), Zach Britton in 2015 (79.1%), Zach Britton in 2014 (73.8%), and Brad Ziegler in 2012 (75.5%). Only ten of those 5,225 pitchers generated a grounder on seven out of every ten balls in play. That's all.
Clearly, Alexander is an elite ground ball pitcher, or at least he was in his only full MLB season to date. He does walks a few too many and he was better against righties than lefties this year, so he's not your typical left-on-left matchup guy. He's a quality reliever who just so happens to throw left-handed. Those guys are great. Carrying a Clay Rapada type, a true matchup lefty who might throw 35 innings in 60 appearances in a season, is tough to do these days with starters throwing fewer and fewer innings. (Alexander threw two full innings 15 times this year, so he's definitely more than a matchup guy.)
Current Stuff
Given the ground ball rate, it should not surprise you Alexander throws a sinker. In fact, he throws almost nothing but sinkers. Here is his pitch selection in his limited time as a big leaguer: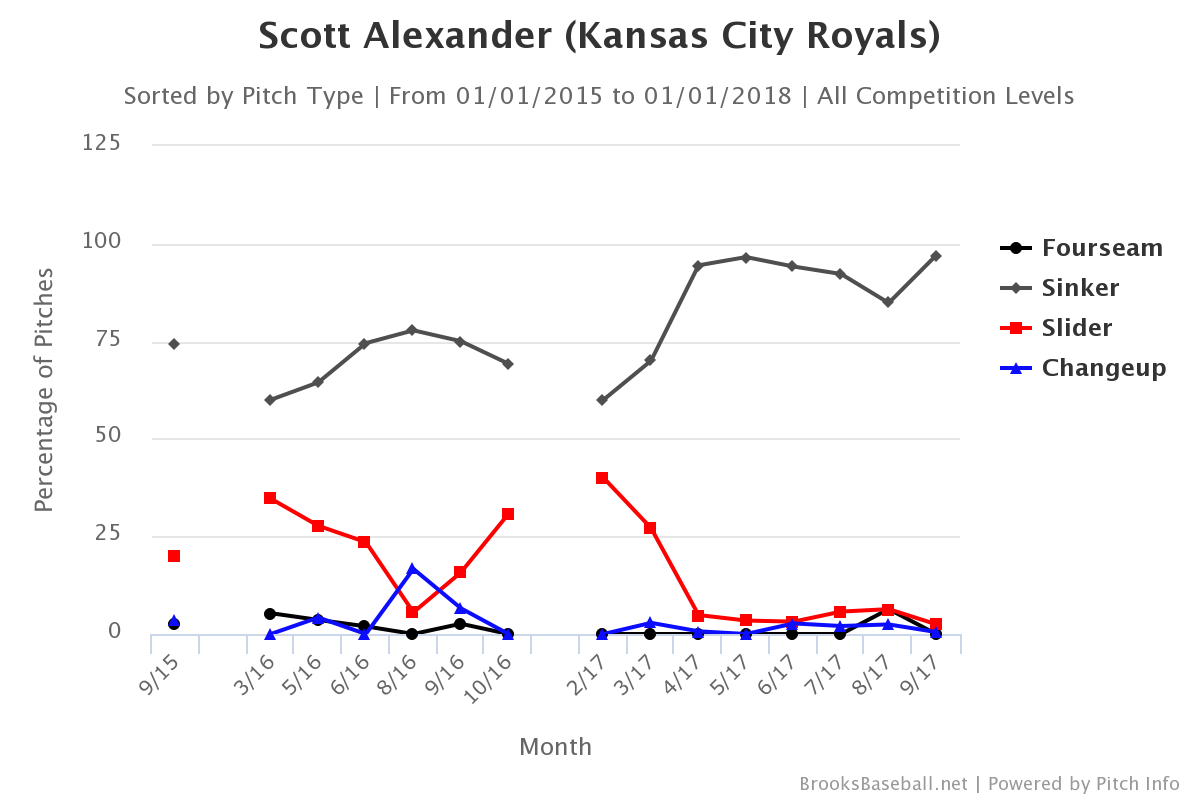 Alexander threw his sinker, a 93.5 mph bowling ball that topped out at 96.8 mph, a whopping 91.0% of the time this year. The other 9% was mostly sliders (6.1%) with a few straight four-seamers (1.1%) and changeups (1.8%) mixed in. Basically, Alexander would pound away with the sinker, and if the hitter was giving him trouble, he'd break out the slider or maybe the changeup to try to put him away. And if he needed to throw a strike in a 3-0 count or whatever, he'd chuck a four-seamer down the middle.
There are no extended videos of Alexander available (can't believe no one made a highlight video of a random middle reliever), so instead I give you this thoroughly unexciting clip of Alexander using that sinker to get an inning-ending double play, just so you can see what the guy looks like:
It's an unconventional approach, throwing basically nothing but sinkers, but it can work. I mean, if you're going throw only one pitch, the sinker is a good one to throw. Alexander's control isn't perfect, hence the 9.9% walk rate, but he mitigates the walks by getting so many ground balls, which allows him to avoid homers and generate double plays. (The Royals turned 13 double plays behind Alexander this year, the second most for any reliever behind the 18 the Indians turned behind Bryan Shaw.)
Injury History
Alexander missed a month with a hamstring strain this season, and back in the day he missed the entire 2011 season with a shoulder injury that was bad enough to require surgery. That stinks, but the good news is Alexander's shoulder hasn't given him any trouble since. And the hamstring injury this year is whatever. Those happen and it's not like Alexander has a history of them.
It is also worth noting Alexander is a Type 1 diabetic. He was diagnosed in June 2016, so he's had to adjust his lifestyle and learn how to manage the disease these last 18 months. "I take insulin and watch what I eat. I limit my sugar intake and carbs. It's been different. Still learning. I'll see how it goes. Right now, I feel good," said Alexander to Jeff Flanagan back in Spring Training. This isn't really an injury, but it is a physical condition that has to be managed.
Contract Status
Alexander has one year and 97 days of service time, so he still has two pre-arbitration years and three arbitration years to go before qualifying for free agency. He won't even qualify as a Super Two. It is important to keep in mind Alexander was essentially a 27-year-old rookie this year, so he's a late bloomer. This is his peak right now, and given the inherent volatility of relievers, it may end up he's not worth keeping for all five of those years of control. That's the reliever circle of life.
Also, Alexander has two minor league options remaining, so he can be sent to Triple-A, if necessary. Then again, if you trade for him and have to send him to the minors, something's gone wrong.
What Will It Take To Get Him?
This is difficult to answer because there are so few trade trade benchmarks out there. Relievers with one good season under their belt and five years of team control don't get traded all that often. I've found two recent trades we can reference:
Ken Giles: Traded with a low level prospect (Jonathan Arauz) for Vince Velasquez, Brett Oberholtzer, two mid-range prospects (Mark Appel, Thomas Eshelman), and a low level prospect (Harold Arauz).
Enny Romero: Traded for a non-top 30 organizational prospect (Jeffrey Rosa).
That's pretty much all we've got. I'd say Alexander slots in somewhere between Giles, who had a year and a half of excellence under his belt at the time of the trade, and Romero, who was pretty terrible with the Rays before ending up with the Nationals. He shouldn't cost as much as Giles nor as little as Romero, which doesn't help us at all.
Last year the Royals traded Wade Davis for Jorge Soler and Jarrod Dyson for Nate Karns, both straight up deals, which could mean they want MLB ready pieces in return to try to speed up the rebuild. Then again, their goal last year was to strengthen the big league roster in an effort to win one last time before their core players became free agents. The goal now might be getting the best and most talent possible regardless of proximity to the big leagues.
The good news is the Yankees are pretty loaded in the farm system, so if the Royals want MLB pieces, they can offer that. If they want higher upside players who are further away, they can offer that too. I'd prefer to see the Yankees dip into all those pitching prospects to make a trade. They're loaded with arms and inevitably a few of those guys will get hurt or otherwise flame out. Cashing some in as trade chips now seems wise. That's just me.
Does He Make Sense For The Yankees?
Yes for multiple reasons. One, Alexander is left-handed and pretty good! The Yankees have been looking for someone like that for an eternity. An extreme ground-baller would fit well in Yankee Stadium. Two, he's still in his pre-arbitration years, so he's cheap and under control for a while, which fits the luxury tax plan well. These days even middle of the road relievers are getting $4M a year, and that's $4M the Yankees wouldn't be able to spend elsewhere.
And three, I don't think Alexander will cost a ton to acquire. It won't be a reverse Andrew Miller trade or something like that, with multiple top prospects going to Kansas City. Are the Royals really in position to demand more than two good, but not great, prospects? Maybe they are, a bidding war could jack up the price, but Alexander's track record is short and he's already 28. Is his trade value as high as, say, Justin Wilson's two years ago? I'm not sure.
The Yankees may want to save their one open bullpen spot for younger pitchers, though given the way they've operated over the last however many seasons, I don't think they'd let that stand in the way of adding another good big league reliever. Alexander comes with risks (limited track record, shoulder surgery, only throws one pitch) but at the right price, he'd be a worthwhile add to the bullpen. The Royals figure to make him available, so it's up to the Yankees to decide what that right price is.