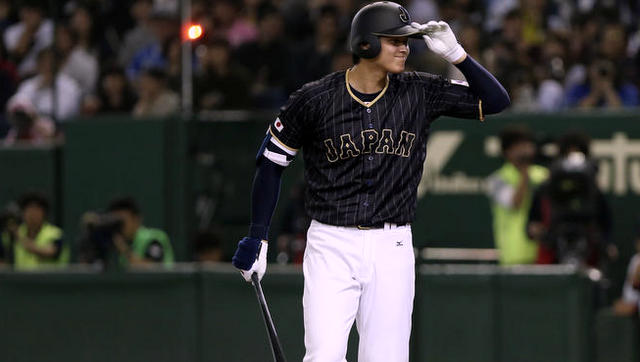 The first round of Shohei Ohtani cuts were announced last night. The Yankees were among them. Brian Cashman confirmed Ohtani's camp told him he will not sign with the Yankees. Sucks. Ohtani was reportedly impressed by New York's sales pitch, but is said to be prefer a West Coast team. Jon Heyman says Ohtani's agents implored him to give the Yankees a longer look, but no dice. What can you do? Anyway, some thoughts.
1. Of course I'm disappointed the Yankees missed out on Ohtani, but I'm not crushed, weirdly. I thought I would be. On a scale of zero to wow the Yankees are about to trade for Cliff Lee, I'm at about 0.25 Cliff Lees right now. That's my disappointment level. Maybe that's because I've mellowed out with age. Or maybe because I wasn't planning the offseason around Ohtani, and because I always knew the level financial playing field meant Ohtani's personal preferences would drive his decision, and I had no idea what those preferences are. He's not the first Japanese-born player who wants to play on the West Coast and he won't be the last. It stinks. Ohtani is fun as hell and I was hoping the Yankees would add him to their very fun team. It's a bummer, and yet I don't feel like this is the end of the world. I wish Ohtani well, but if he wants to sign with the Mariners, then get outpitched by Masahiro Tanaka and lose to the Yankees in Game Seven of the ALCS one of these years, I'll allow it.
2. What are the Yankees missing out on in Ohtani? A potential impact player, in the simplest terms. There's a natural tendency to say "he sucks anyway" whenever your favorite team misses out on a player, but Ohtani's potential is significant. I'm skeptical he'll be an impact hitter — in last week's chat I said I think Ohtani will be a full-time pitcher no later than 2020 — but his upside on the mound is considerable. Upper-90s heat with two swing-and-miss secondary pitches (slider, splitter) is no joke. This was a 23-year-old potential ace-caliber pitcher available for nothing more than a $3.5M bonus and a minor league contract. How often do you get a chance to acquire this type of player on those terms? Basically never. This was a big missed opportunity. The Yankees didn't do anything wrong! We can't blame them. It just sucks to miss out on such a young and potentially great player.
3. The Yankees are definitely going to spend that $3.5M in international bonus money elsewhere now. They didn't trade Matt Wotherspoon and Yefry Ramirez for nothing! In all seriousness, that money is going somewhere. The current scouting reports are hardly glowing, but Kevin Maitan is the big name out there now that he's no longer with the Braves. All those other Braves prospects are out there waiting to be signed too. The Yankees can spend that $3.5M on them. Also, keep in mind the Yankees have been connected to outfielder Raimfer Salinas and catcher Antonio Cabello for weeks now, so they're probably going to wrap up deals with them soon. Salinas and Cabello are two of the best international prospects still on the market now. I wouldn't be surprised to see the Yankees sign Salinas, Cabello, and Maitan now that they're out on Ohtani. Point is, that international bonus money is going somewhere. I wish it were Ohtani, but better the other guys than nowhere.
4. So what do the Yankees do now? Well, if you're hoping they turn around and make a big move like signing Yu Darvish or trading for Giancarlo Stanton, I would advise you not to hold your breath. For starters, the Yankees don't operate like that anymore. They don't make knee jerk reactionary moves. Secondly, the financial terms of these moves are not even in the same state, let alone the same ballpark. We're talking about a player at the league minimum and players on large contracts, whether it's Stanton or some free agent. The plan to get under the luxury tax threshold is still in effect — that's what made Ohtani so appealing, he could have so much impact at so little cost — and the Yankees won't jeopardize that. They'll look for pitching depth because they always do that, and, if anything, they might now look for a lower cost bat to take some DH at-bats after losing out on Ohtani. That's something they can wait to do later in the offseason though, when players who are still unsigned start to get desperate, a la Chris Carter last year. There are always bargains to be had in January and February. Is a big move possible? Of course, these are still the Yankees. I just don't see them making a big move in response to losing out on Ohtani. It is entirely possible their biggest move this winter will be re-signing CC Sabathia.
5. On the bright side, at least Ohtani was nice enough to let teams know they are out of the running early in the process rather than string them along. He could've easily summoned the Yankees to Los Angeles to make an in-person sales pitch just to hear them out, but no, he let them know not to bother. Ohtani did that for selfish reasons — he only has a 21-day window to pick a team, so why waste time on a team you know you're not signing with? — but it helps the Yankees. They can put the Ohtani pursuit behind them and move on with the rest of their offseason. No need to wait around for him to make a decision. Now that we know Aaron Boone will be the next manager and Ohtani will sign elsewhere, I think we can say the biggest offseason stories for the Yankees are complete. Onward.