Thanks to several factors, most notably Derek Jeter's retirement, the Yankees had to rebuild almost their entire infield this past offseason. It was a clean slate! And also a huge project for Brian Cashman and the rest of the front office. One trade and two free agent signings (re-signings, really) later, the Yankees had their shiny new 2015 infield. Let's go around the horn to review the first half.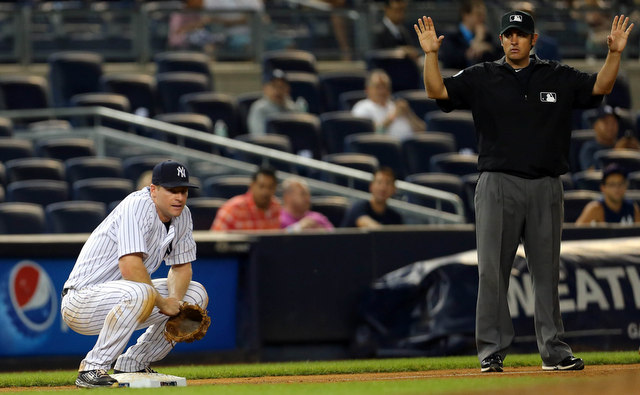 Falling Short On Both Sides Of The Ball
The new third baseman was the old third baseman — the Yankees re-signed Chase Headley to a four-year, $52M contract in December after he played so solidly on both sides of the ball following the trade that brought him over from San Diego last year. Headley was a good but not great switch-hitter and a top notch defender at the hot corner. We saw it firsthand last year. Infield defense was the priority this winter and Headley was the cornerstone.
Instead, Headley has fallen short of expectations on both sides of the ball. He is hitting .255/.310/.373 (89 wRC+) overall with a career-low walk rate (6.8%) and his lowest ISO since 2011. That only tells part of the story too — Headley is hitting .271/.336/.372 (98 wRC+) against right-handed pitchers this summer and a feeble .218/.248/.376 (67 wRC+) against left-handed pitchers. He's a switch-hitter, yeah, but he's been a platoon bat. Headley has been terrible against southpaws.
The defensive struggles are much more shocking. Headley has already committed a career-high 16 errors, the most among big league third baseman (by four) and the third most among all players regardless of position (behind Marcus Semien and Ian Desmond). He's actually been quite good at making non-routine plays, so it's not all bad, but the routine play has been an issue for Headley. Throwing, scooping, the hole nine. Headley has been better of late — two errors in his last 24 games — but overall his glove has been a disappointment.
Offensively, the Yankees can take solace in the fact Headley has been a much better second half hitter throughout his career. He is a career .255/.331/.381 (102 wRC+)  hitter before the All-Star break and a .278/.363/.442 (126 wRC+) hitter after. After his subpar first half, the Bronx Bombers are clearly hoping for another big second half (not guaranteed to happen though!). Defensively … I don't know. Headley's been too good of a defender in his career to suddenly lose it overnight. That doesn't mean it can't happen! I just think his issues with routine plays are a defensive slump. Those happen. I'm banking on the track record going forward.
Either way, Headley did not give the Yankees what the expected in the first half, not at the plate or in the field. He was a disappointment on both sides of the ball. That he's been a better second half hitter in his career and has a very long track record as a high-end defender are only slightly reassuring that Headley's post-All-Star Game performance will be better than his pre-All-Star Game showing. Headley was not good in the first half and it needs to change for the Yankees to get to where they want to go.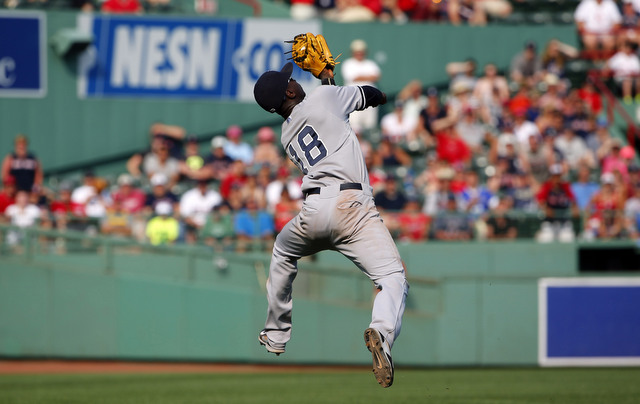 Replacing A Legend
I don't even know how to recap Didi Gregorius' first 88 games as a Yankees. The first few weeks of the season were awful. Just awful. Gregorius was making boneheaded plays in the field and on the bases, and he wasn't hitting a lick. In hindsight, he looked completely overwhelmed by the responsibility of replacing Jeter. Maybe I was too quick to dismiss that pressure in April.
Now though, at the All-Star break, Didi looks like a completely different player. He looks much more comfortable offensively, defensively, and in his own skin. The overthinking has stopped and the game is coming more naturally. Gregorius plays a beautiful shortstop when he doesn't think, he's so smooth and his movements are effortless in the field, yet in April he looked like a blindfolded Eduardo Nunez. Now? Totally different player.
Make no mistake, Gregorius is still not tearing the cover off the ball. He is hitting .238/.293/.326 (71 wRC+) overall with four Yankee Stadium homers and no walks (5.7%), but at least that's better than what he was doing earlier in the year. His offense continues to trend in the right direction: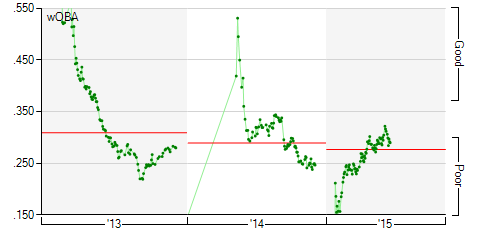 I don't think anyone was expecting Gregorius to have an impact right away. At least not offensively. That part of his game has always been in question. He was expected to excel in the field though, and after some hideously ugly glovework early on, Didi has played a damn near flawless shortstop for two months now. The physical tools are obvious, especially his no effort rocket arm, and that's what the Yankees were buying when they traded Shane Greene to get Gregorius.
Unlike literally every other starting position player on the roster, Didi's best years are ahead of him, at least in theory. He had the unenviable task of being the shortstop after Jeter on top of all the pressure that come with being a young player on a new team. It was a tough situation and for a while it didn't look like Gregorius couldn't handle it. He has really turned his season around though. All we want to see in the second half is more progress. Keep catching everything and putting up a fight at the plate. Didi's along for the ride. He's not driving his team.
Okay So Maybe 2014 Wasn't A Fluke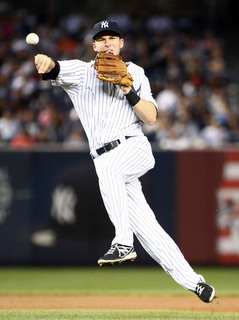 After re-signing Headley and acquiring Gregorius, the infield was set. That is until Martin Prado was used to acquire Nathan Eovaldi. That created an opening at second base, an opening the Yankees filled by re-signing Stephen Drew to a little one-year contract worth $5M. The idea was simple: Drew couldn't possibly be as bad as he was in 2014 again, right? Right??? Wrong.
So far this season Drew is hitting an unfathomably terrible .182/.257/.372 (71 wRC+) with 12 homers — that's actually the fourth most homers on the team — in 278 plate appearances. And the crazy thing is his platoon split: Drew is hitting .170/.250/.374 (69 wRC+) against righties and .215/.278/.369 (76 wRC+) against lefties. It's not even like he's a platoon candidate at this point. He hasn't hit anyone.
Drew's one redeeming quality is his defense, which is quite good at second base, especially for a guy who didn't start playing the position until eleven and a half months ago. He's sure-handed, he's filled in at short multiple times, and even gave third a try. Drew's done whatever the team has asked him to do with no complaints. He just hasn't hit. We're talking about a .172/.247/.334 (57 wRC+) hitter in 578 plate appearances since the start of last season. Yeesh.
The Yankees took a low-cost flier on Drew and gave him the regular Spring Training he wanted, yet he hasn't performed and there's no indication it will improve going forward. The Yankees (finally) called up Rob Refsnyder this past weekend, a sign they are ready to move on from Drew. Either way, Drew is not part of the answer. That much is clear. Whether it's Refsnyder or a trade pickup, someone else has to man second in the second half.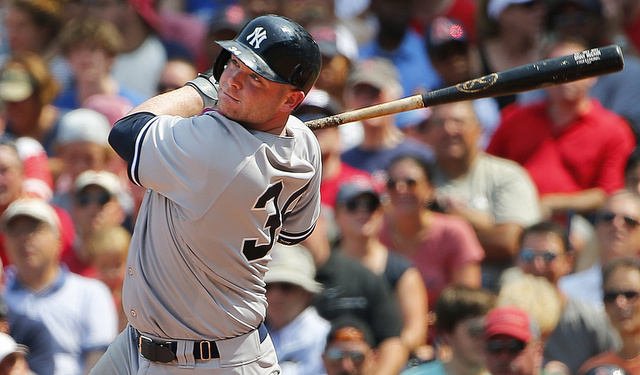 Welcome To New York, Brian
The catcher is technically an infielder (right?), so we're going to lump Brian McCann in here since I'm not sure where else to put him. Anyway, how about Brian McCann! His first season in New York was a bummer on many levels, particularly offensively, but the 2015 season has been much different. McCann came into the break hitting .259/.331/.471 (120 wRC+) with 14 homers and an 8.3% walk rate that is much better than last year's 5.9% mark.
McCann's numbers at the plate tell a bit of a story. He's not a new hitter this year, he's simply gone back to being the hitter he used to be. Check it out:
2013 with the Braves: .256/.336/.461 (121 wRC+)
2014 with the Yankees: .232/.286/.406 (92 wRC+)
2015 with the Yankees: .259/.331/.471 (120 wRC+)
McCann's production has returned to where it was the year before he signed with the Yankees, plus with a little Yankee Stadium short porch bonus. Two years ago McCann pulled 49.0% of the balls he put in play. Last year it was 44.5%. This year it is 50.2%. McCann's gone back to yanking the ball to right field because that's his strength. Last summer he appeared to be focusing on beating the shift — he had more opposite field hits last year than he had in 2012 or 2013 — and that turned him into something he wasn't.
This year it looks like McCann is much comfortable at the plate because he stopped trying to be something he's not. He's a dead pull left-handed hitter. That's who he is. And yes, it means he will lose some hits to the shift. That comes with the territory. But it also means McCann is far from productive overall — he's hitting for a higher average and hitting for more power. I like this version of McCann better. Take the good (120 wRC+!) with the bad (shifts).
McCann's bat has rebounded this year, but his defense is another matter. Both StatCorner and Baseball Prospectus says he's gone from being an elite pitch-framer in past years to a below-average one this year. I don't know if that matches the eye test or how reliable those numbers are at the halfway point. McCann's throwing has been outstanding (40% caught stealing rate), but he's had trouble blocking balls in the dirt. He's allowed 35 passed pitches (passed balls plus wild pitches), the third most in baseball, and that definitely matches the eye test. McCann has let a lot of balls get by him or bounce away this year.
I don't think it's unreasonable to suggest a 31-year-old catcher with a ton of innings on his legs — McCann has been a big league starter since age 21 — might be losing mobility behind the plate, hence the issues with blocking balls in the dirt. The pitch-framing stuff? I can't explain that. Overall though, I think McCann has been much more valuable to the Yankees this season than last because he's producing so much more at the plate. It feels more like a big step forward offensively and a slight step back defensively than a slight step forward offensively a big step back defensively. I'm sure being more comfortable in his second season in pinstripes is part of the reason for improvement.
* * *
Aside from first base, the traditional infield positions have been mostly bad this season. Headley has played below expectations, Drew has been a disaster, and Gregorius has experienced a bumpy learning curve. Drew is on the verge of being replaced but Headley and Gregorius aren't going anywhere. You can't really expect Didi to be an impact player going forward, so Headley is the key. Chase has to pick it up both at the plate and in the field in the second half.