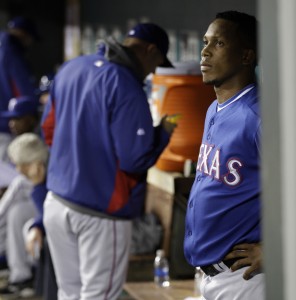 Thankfully out of Detroit, the Yankees are heading to place of recent heartbreak: Arlington, Texas. They won just one of five games played there last season, and that doesn't include two losses in three ALCS games. The Bombers' 2010 season ended in this stadium, as you surely remember. The Yankees already beat the Rangers in a three-game series at Yankee Stadium a few weeks ago, and they could really use another series win right now.
What Have The Rangers Done Lately?
Remember when Texas started the season with nine wins in their first ten games and looked like the best team in baseball? They're 8-15 since then, and have lost eight of their last eleven games. The Rangers have lost five or their last six series as well, so yeah, they're struggling.

Rangers On Offense
No Josh Hamilton and guess what? No Nelson Cruz either. The outfielder has a tight quad and hasn't played since Tuesday, and he definitely won't play tonight. The Rangers are hopeful that he can go tomorrow, but that's not a given. Considering that he's hitting just .219/.303/.438, I'm not sure if his absence is a good or bad thing for New York.
Michael Young killed the Yankees earlier in the season in Yankee Stadium, and he comes into the series with a modest six game hitting streak and a .327/.351/.500 line in his last 13 games. Ian Kinsler has been warm of late, with seven hits (four doubles) in his last 25 at-bats. Julio Borbon has five hits in his last ten at-bats following a 12-for-55 start. I'm guessing the last few games are the outlier. Elvis Andrus keeps singling opponents to death; he's got 13 hits in his last 38 at-bats, but just one extra base hit (a double). Those four make up Texas' hottest hitters at the moment.
Adrian Beltre has just 13 hits and five unintentional walks in his last 62 plate appearances (.241 AVG, .306 OBP) and David Murphy has hit an empty .235 over the last two weeks or so (.316 OBP, .030 ISO). Certified pain in the ass Mitch Moreland is roaming right field in Cruz's stead, and he's cooled down considerably of late: .212/.333/.391 in his last 39 plate appearances. Mike Napoli (two for his last 22) and Yorvit Torrealba (four for his last 22) aren't doing much of anything, and personal fave (but Grade-A hacker) Chris Davis has five hits in seven games (playing part-time) since being recalled, though two are doubles and one went over the fence. The top of the lineup – Kinsler, Andrus, Young – is the minefield that must be navigated, though the cleanup hitting Beltre is always tough as well. At least against the Yankees.
Rangers On The Mound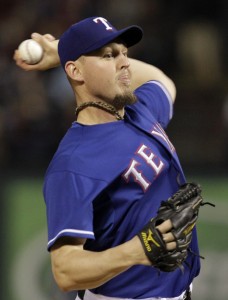 Friday, LHP Matt Harrison: Same three pitchers that we saw three weeks ago, when the Yankees took two of three in the Bronx. Harrison's scorching hot start (1.23 ERA in his first three starts, including that double play fest against the Yanks) has been followed by disaster: he's got an 11.12 ERA in three starts since. Last time out against the A's, he allowed four runs in just 1.2 innings. The start before that featured seven runs in three innings. The Yankees have to be patient, Harrison's walked five batters and struck out just two in those last two starts. He's still throwing gas, and backs it up almost exclusively with a changeup.
Saturday, LHP Derek Holland: Two earned runs in seven innings against Oakland followed three starts with exactly five earned runs allowed, including one against the Yankees. I liked Holland as a breakout candidate coming into the year, and his 3.71 FIP with a 50.4% ground ball rate looks a whole lot better than his 4.66 ERA. Another fastball-changeup heavy lefty (with the occasional slider), Holland held the Yankees in check until the late innings a few weeks ago, not getting hurt until his pitch count was well over 100. Will Ron Washington make the same mistake twice? History says yes.
Sunday, RHP Alexi Ogando: Aside from that five run, 6.1 IP effort against the Yankees a few weeks ago, Ogando has yet to allow more than two earned runs or throw fewer than six innings in any start. I don't get it either. He's almost exclusively a fastball-slider pitcher, and the Yankees' lefty bats predictably did damage after seeing his shtick the second and third times through the order. Hopefully they'll be able to jump on Ogando a little earlier since they'll be seeing him again in a relatively short amount of time.

Bullpen: Just the Yankees' luck, Neftali Feliz is expected to be activated off the disabled list in time for tonight's game. That pushes Darren Oliver out of the closer's role and back into middle relief, which he shares with Arthur Rhodes. Righty specialist Darren O'Day is out for a while with a torn labrum in his hip, but he's been replaced with another sidearming righty: Cody Eppley. He's appeared in four games so far, walked two and striking out three in 5.2 innings of work. Like most guys with that arm slot, Eppley is fastball-slider heavy, with an occasional changeup.
The rest of the bullpen is patchwork at the moment. Mark Lowe is the best of the bunch but he's nothing special, and Dave Bush handles long relief duties. They also have old buddy Brett Tomko on the roster, which is good news for the Yankees. Hard throwing former top prospect Ryan Tucker is also in the mix, but these aren't exactly Washington's go-to relievers in big spots. The more we see of these guys this weekend, the better.
Recommended Rangers Reading: Baseball Time In Arlington and Lone Star Ball.