We are now less than three weeks away from pitchers and catchers reporting for duty in Tampa, meaning it's looking less and less likely that Brian Cashman & Co. will pull a major move out of their sleeve this offseason. The Yankees still need a starting catcher (not happening), a DH (will probably happen), bench help (almost certainly will happen), and various depth pieces (will happen) before the start of the season, so the shopping list isn't small. Since it's unlikely each of those holes will be filled before the season, let's look ahead at some players who might be available at the trade deadline.
Now, looking ahead seven months and trying to figure which teams will be in it and who be available is very, very tricky business. At this time last year I was touting Andre Ethier as a potential deadline DH target, yet by time late-July rolled around he had signed a new extension and the Dodgers were suddenly owned by free-spending billionaires. There are surprise contenders and surprise extensions every summer, which throws a wrench into the trade market. Since we like talking about possible trades though, here are a few players in their walk years — I'm assuming the Yankees won't want to take on any multi-year contracts given the 2014 payroll plan — on projected non/maybe-contenders who might be available at midseason.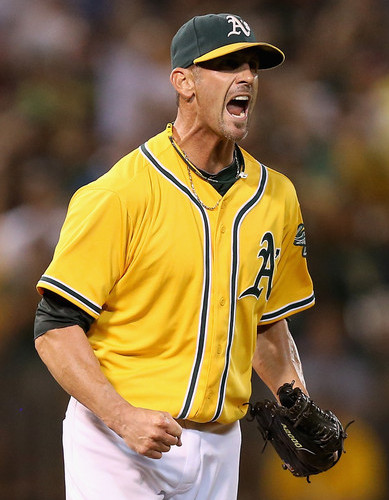 Grant Balfour
The Athletics surprised everyone last season with their late surge to the AL West crown, but you don't have to try real hard to envision a scenario in which they're out of the race and far behind the Angels and Rangers come the deadline. Oakland had a ton of walk-off wins and nearly all of their rookie arms worked out last year, neither of which I would count on happening again. The Yankees have had some interest in Balfour before, and the 35-year-old right-hander would be an obvious target if things go wrong in the bullpen and another late-game arm is needed.
Matt Garza & Ricky Nolasco
The Yankees have plenty of pitching depth at the moment, but we know how this stuff goes. It has a way of disappearing quickly. CC Sabathia is coming off elbow surgery, Hiroki Kuroda and Andy Pettitte are up their in age, Phil Hughes seems to perpetually walk the tightrope, and no one really knows what to expect out of Ivan Nova and David Phelps. Since Adam Warren and Brett Marshall are the next-in-line guys in Triple-A, a veteran starter could easily be on the trade deadline agenda. The Cubs and Marlins aren't going anywhere and they've already been shopping Garza and Nolasco, respectively, so it's a safe bet both guys will be moved at some point before the end of July. Garza, 29, has AL East experience while the 30-year-old Nolasco is more of a break glass in case of emergency option. The Yankees have had interest in both in the not-too-distant past.
Corey Hart
Hart, 30, was supposed to have knee surgery yesterday, but he pushed the procedure back so he could get a second opinion. He was expected to miss three or four months once he had the operation. Hart is basically another Mike Morse, except he hits for a slightly lower average and makes up the on-base numbers with walks. He hits for power from the right side and can play either corner outfield spot in addition to first base. DH is always an option as well. The Brewers overhauled their league-worst bullpen from a year ago but didn't add any starting pitching, so contending in the tough (but winnable!) NL Central will be a chore. For what it's worth, Brewers GM Doug Melvin was non-committal when asked about signing Hart to an extension a few weeks ago.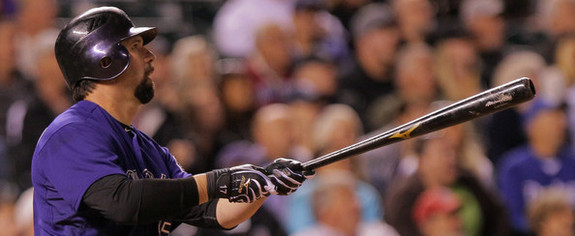 Todd Helton
This one might be coming out of left field, but I think there's potential here. Helton, 39, fits the Ichiro Suzuki/Lance Berkman mold of a former great who has been toiling on a non-contender for years and could request a trade in hopes of one last shot at a World Championship. He's battled knee, hip, and back injuries in recent years but still provides value at the plate because he's very disciplined (13.8 BB% in 2012, 14.4% career) and he doesn't strike out much (15.5 K% in 2012, 12.1% career). Yes, the guy has been in the big leagues since 1997 and he still has more unintentional walks (1,111) than strikeouts (1,088) to his name. His power (.164 ISO last two years) is mostly the product of Coors Field — Yankee Stadium is a pretty good place to hit as well — and he will need a platoon partner. Helton has already hinted at retiring after the season, and if the Yankees need a left-handed hitter for their DH spot come July, and I bet his name pops up in rumors. He fits the good clubhouse presence, veteran change of scenery guy mold perfectly.
Carlos Ruiz
Ruiz, 34, has to serve a 25-game amphetamines-related suspension to open the season, but he'll still have about three months before the deadline to prove last season's 151 wRC+ wasn't a fluke. I don't expect him to ever hit like that again, but he's been an above-average hitter over the last four seasons because he takes walks (career 10.4 BB%) and doesn't strike out (career 11.1 K%). He'll probably go back to hitting single-digit homers again, but that's fine given his batting average and on-base ability. Chooch has consistently ranked in the top-six of the various catcher defense rankings (2010, 2011, 2012) and he's thrown out base-stealers at a league average rate or better throughout his career. If the Phillies skid to the finish and make Ruiz available at the deadline, he'd be the perfect rental for New York even if he doesn't repeat 2012 and reverts back to his 2008-2010 form.