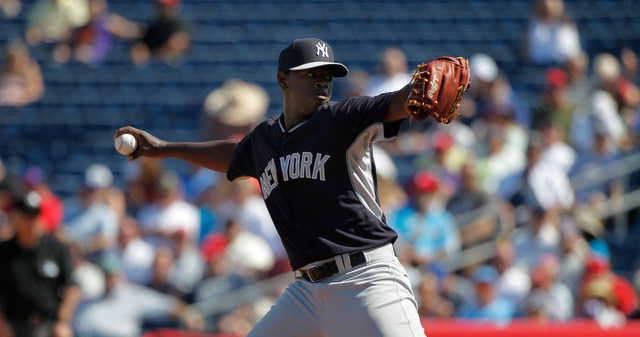 Two years ago, the Yankees had a miserable season down in the farm system, with several top prospects either getting hurt, underperforming, or simply failing to move forward in their development. When big leaguer after big leaguer went down with an injury, the farm system had little to no help to offer. It was bad enough that Hal Steinbrenner and his staff essentially audited the player development system after the season, though they only made procedural changes.
Things were not nearly as bad last year, though they weren't as good as they could have been either. Having three first round picks in the 2013 draft helped infuse high-end talent, and several other young lower level players took quicker than expected steps forward in their development. That didn't stop the team from replacing longtime VP of Baseball Ops Mark Newman and farm director Pat Roessler, both of whom were let go last October. (Newman retired, but his contract was up and all indications are he wasn't going to be brought back anyway.)
Gary Denbo, who has worn many hats with the Yankees over the years, was tabbed as Newman's replacement and he now oversees the player development system. (His official title is vice president of player development.) Eric Schmitt dropped the "assistant" from his old assistant director of minor league operations title and was promoted this offseason. Several other coaching and development staff changes were made as well, including the return of Greg Colbrunn (Low-A hitting coach) and Eric Duncan (Short Season defensive coach).
The Yankees are hoping those changes lead to a more productive farm system and soon. Joe Girardi, Brian Cashman, and Steinbrenner all said his past offseason that young players were going to play a big role in the franchise going forward, which makes sense given Hal's plan to get under the luxury tax threshold in two years or so. The system isn't quite ready to graduate impact talent to the big league level, but there are several of those types of prospects on the horizon for 2016. Time to look ahead to the coming year in the minors.
The Top Prospects: Bird, Clarkin, Judge, Sanchez, Severino
You can rank them in whatever order, but I think most will agree 1B Greg Bird, LHP Ian Clarkin, OF Aaron Judge, C Gary Sanchez, and RHP Luis Severino are the five best prospects in the system. Judge and Severino are a notch above the other three thanks to their sky high upside, though Cashman recently called Bird "by far the best hitter" in the organization and Clarkin might have the highest probability of the bunch. Sanchez has been around seemingly forever and I think people are getting sick of him, yet he just put up a 108 wRC+ at age 21 as an everyday catcher at Double-A. That's pretty impressive.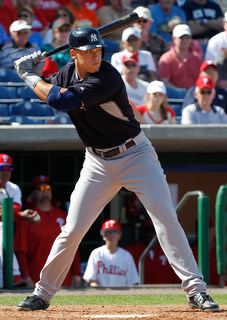 Severino is the sexy flame-throwing starter, but I consider Judge the more exciting and more polished prospect. He's shown much better contact skills and a better approach than even the Yankees realized he had when they draft him 32nd overall in 2013, plus he also has huge raw power and is an asset defensively in right field. Judge needs to learn when to turn it loose so he can best tap into that power, but otherwise he's a very complete prospect. Severino has big upside but still needs to improve his breaking ball and delivery.
With it looking more and more likely Sanchez will return to Double-A Trenton for yet another season, four of the Yankees' top five prospects will be with the Thunder to start the 2015 season. Only Clarkin won't be there — he's slated to open the season with High-A Tampa, and while he could be promoted to Trenton later in the summer, the other four guys could be bumped up to Triple-A Scranton by then. Between Bird, Judge, Sanchez, Severino, and others like 3B Eric Jagielo and OF Jake Cave, Double-A is going to be a very fun affiliate to watch this summer.
Ready To Help Now: Flores, Lindgren, Pirela, Refsnyder
Inevitably, the Yankees will need help from within this year. Someone's going to get hurt, someone's going to underperform, and the team will have to dip into the farm system for help. UTIL Jose Pirela suffered a concussion running into the outfield wall a week ago, but before that he was first in line to be called up whenever infield or outfield help is needed. His defense isn't good anywhere; Pirela's simply hit his way into the MLB picture.
With Pirela hurt, OF Ramon Flores figures to be first in line should outfield reinforcements be needed. I get the feeling Flores is going to spend about ten years in the league as a left-handed platoon outfielder, a Seth Smith type. He's not a flashy prospect but he can hit, especially righties, and won't kill his team in the field. 2B Rob Refsnyder isn't ready for the big leagues defensively, but the Yankees could stick him at second base on an everyday basis this year and no one would think they're crazy. He's done nothing but hit since turning pro. Refsnyder just needs more reps on the infield after playing the outfield in college.
LHP Jacob Lindgren is New York's best bullpen prospect and the most MLB ready, so much so that I think he should be on the Opening Day roster. Yeah, he could probably use a little more minor league time — Lindgren has yet to play at Triple-A, for what's it worth — to work on his command, which is why he was sent to minor league camp yesterday, but Lindgren can get big leaguers out right now if the Yankees need him to. Pirela made his MLB debut last September and I expect Flores, Refsnyder, and Lindgren to make their debuts this year, sooner rather than later.
Ready To Help Soon: Austin, Bird, Judge, Rumbelow, Severino
As I mentioned earlier, much of the Yankees' potential impact talent is likely to arrive in 2016, not 2015, including Bird, Judge, and Severino. I wouldn't be surprised if Severino debuts this summer though. The Yankees have moved him very aggressively. RHP Nick Rumbelow is also likely to debut in 2015 as a strikeout heavy reliever, though he wasn't as much of an Opening Day roster candidate as Lindgren. OF Tyler Austin figures to be a September call-up after spending the summer roaming the outfield with Triple-A Scranton.
Getting a cup of coffee and being ready to contribute are different things, however. Guys like Lindgren, Refsnyder, and Pirela are able to help the Yankees at the MLB level right away, at least in some aspects of the game. Others like Bird, Judge, Austin, and Severino aren't big league ready and the Yankees shouldn't plan on calling them up for help this year. They all need more seasoning in the minors. Next year we'll be talking about them as players ready to help at the MLB level. They're not ready at this very moment though.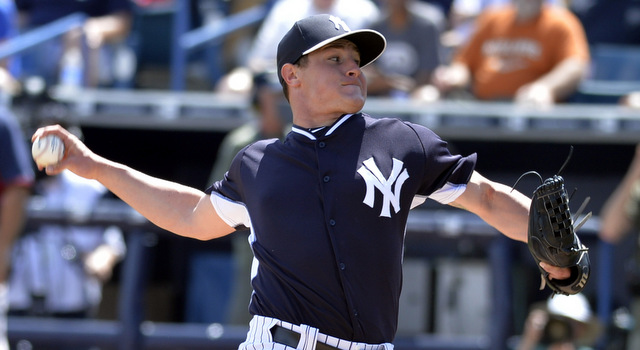 Breakout Candidates: DeCarr, Hensley, Mateo
You could make the case SS Jorge Mateo broke out last year, albeit in only 15 rookie ball games, but I think he has top 100 prospect in the game potential. Mateo, 19, is insanely fast with surprising power and a good approach at the plate to go with strong defensive chops at short. He received a ton of love last year and a full, healthy season in 2015 could have him atop New York's prospect list and ranked among the best shortstop prospects in baseball.
RHP Ty Hensley's career has been slowed considerably by injuries, most notably two hip surgeries and a hernia that caused him to miss the entire 2013 season and the start of 2014 as well. He is healthy now and I get the sense the Yankees are ready to turn him loose with Low-A Charleston. Get him out there and let him pitch as much as possible early in the year just to make sure he gets those innings in, know what I mean? If they have to shut Hensley down in August to control his workload, so be it. He needs to make up for all the lost development time.
RHP Austin DeCarr was the Yankees' third round pick last summer and is surprisingly refined for a kid just a year out of high school, throwing three good pitches (fastball, curveball, changeup) for strikes. It's unclear where the club will send DeCarr to start the season, but I wouldn't be surprised if he opened the year alongside Hensley in Charleston's rotation. Other potential breakout candidates include OF Mark Payton, RHP Gabe Encinas, OF Leonardo Molina, OF Alex Palma, and SS Angel Aguilar.
Sleepers: Acevedo, De La Rosa, Haynes
Over the last few weeks RHP Domingo Acevedo has generated some buzz for his imposing frame (listed at 6-foor-7 and 190 lbs.) and a fastball that has touched triple digits. Perhaps he's more of a breakout candidate than a sleeper? Is there a difference? Who knows. Anyway, Acevedo's size and stuff make him super interesting, though his full season debut is likely a year away. He's a deep sleeper.
RHP Kyle Haynes is a more traditional sleeper. The 24-year-old reliever came over from the Pirates in the Chris Stewart trade and has good stuff, specifically a mid-90s fastball and an average-ish slider. Command holds him back, which along with his age and role is the reason you haven't heard much about him. The Yankees have had some success getting these big stuff, bad command guys to throw strikes in recent years (Shane Greene most notably), and Haynes could be next.
The most intriguing sleeper — even moreso than Acevedo — in my opinion is RHP Simon De La Rosa. The 21-year-old is a late bloomer who didn't sign until age 19 in 2013 — he received a measly $50,000 bonus at that — but he packs mid-90s heat into his 6-foot-3, 185 lb. frame and also throws a curveball and a changeup. Despite his age, I don't think the Yankees will aggressively move De La Rosa up the ladder because he's so raw. The tools are there for a quality pitching prospect though.
The New Batch: DeLeon, Emery, Garcia, Gomez
Last summer the Yankees went on an unprecedented spring spree and signed many of the top available international prospects. I haven't seen a final number anywhere, but estimates have the club shelling out more than $30M between bonuses and penalties. The two best prospects the Yankees signed are OF Juan DeLeon and 3B Dermis Garcia, though 3B Nelson Gomez, OF Bryan Emery, OF Jonathan Amundary, and C Miguel Flames are among the other notables. These guys will all make their pro debuts this season. That's a big talent infusion in such a short amount of time.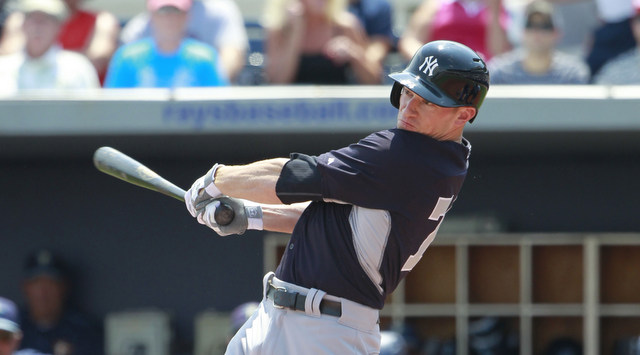 Last Chance?: Campos, Heathcott, Williams
As is the case every year, the Yankees have several former top prospects facing make or break seasons in 2015. RHP Vicente Campos is rehabbing from Tommy John surgery and is only throwing bullpen sessions now, so he's unlikely to return to the mound until midseason. He's thrown just 111.2 innings over the last three years. OF Slade Heathcott played only nine games in 2014 due to a pair of knee surgeries. He's looked healthy in camp and needs to finally have a full season in 2015. Both Campos and Heathcott were non-tendered this offseason and re-signed to minor league contracts.
Some have called this a make or break season for Sanchez but I don't agree with that at all. His defense needs to progress, absolutely, but he's consistently been an above-average hitter throughout his career despite being three-ish years young for the level each step of the way. OF Mason Williams is definitely facing a make or break year, on the other hand. He hasn't hit and has had to be benched for lack of effort on multiple occasions. Williams certainly doesn't lack tools, he just hasn't displayed the makeup and work ethic needed to be a big leaguer. More of the same will end his time as a prospect. Talent is important, but it will only buy you so many chances if you don't put he work in.