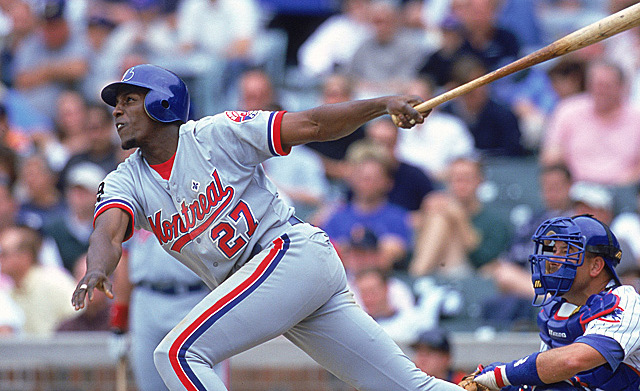 I'm not much of a baseball historian, but the older I get, the more I enjoy thinking back to the game when I was a kid. Don Mattingly and Dave Winfield, the late-1990s dynasty, that sort of stuff. It's fun to remember those years. I'm a sucker for "what ifs" too. What if David Cone didn't walk Doug Strange with the bases loaded? What if Jim Leyritz didn't hit that homer? What if Tony Clark's double was off the wall and not a ground-ruler?
So, needless to say, this super old and fascinating and weird rumor is right in my wheelhouse. From Nick Cafardo:
As the story goes: When Jeffrey Loria owned the Expos, he was obsessed with Derek Jeter. So he ordered his general manager, Jim Beattie, to try to make a deal with the Yankees and to give up whatever he had to. Beattie offered Yankees GM Brian Cashman Vladimir Guerrero and Pedro Martinez. Stunned, Cashman told Beattie, "I can't trade Derek Jeter."
How about that for a rumor? Imagine trading young Jeter for young Vlad and prime Pedro. Loria's a native New Yorker and he has long admired the Yankees — why do you think he hired Mattingly this offseason? — so it makes total sense that he'd want Jeter. Who wouldn't want Jeter back then? He was already a megastar.
That's a great old rumor. Too bad it's completely bogus. First and foremost, Loria did not buy into the Expos until 1999 — even then he didn't have controlling interesting, that came a few months later — and by then Pedro was already with the Red Sox. He was traded to Boston in November 1997. Also, Cashman was promoted to GM in February 1998, two months after Pedro was traded to BoSox.
So no, this Jeter for Vlad/Pedro conversation didn't actually happen. Sorry for being such a buzzkill. I don't doubt Loria wanted Jeter, and hey, maybe Beattie did offer Vlad or Pedro for Jeter at some point. Pedro has said he was almost traded to New York. Time has a way of warping things — the older the story gets, the farther the home run travels, that sort of thing — and I'm sure this rumor had legs somewhere along the line. The Expos probably wanted Jeter. Everything else broke down during the game of telephone.
This is a very interesting what if though. Would Jeter for Vlad and Pedro have made sense for the Yankees? Let's assume this happened during the 1997-98 offseason, when the Expos really got serious about trading Pedro. The Yankees would have traded four years of Jeter for five years of Vlad and one year of Pedro. If you simply add up the WARs — the lazy man's trade analysis — it would have been 25.2 WAR (Jeter) for 32.9 WAR (Vlad) and 7.2 WAR (Pedro), so the Yankees would have come out way ahead.
It's not quite that simple though. Who plays shortstop after Jeter? Andy Fox? Homer Bush? Shortstops like Jeter are harder to find than outfielders like Vlad, and don't mean that as a knock on Vlad. He was awesome. Jeter was a much more valuable commodity as a player. So the Yankees would have no shortstop, and Guerrero would have to play left field because the Yankees had Bernie Williams in center and Paul O'Neill in right. They'd go into the season with a starting lineup that looks something like this:
2B Chuck Knoblauch
DH Tim Raines
RF Paul O'Neill
CF Bernie Williams
1B Tino Martinez
LF Vlad Guerrero
C Jorge Posada
3B Scott Brosius
SS ???
Would the Knoblauch trade have even happened if the Jeter trade went down? Would the Yankees trade their starting shortstop (Jeter) and top shortstop prospect (Cristian Guzman) in one offseason? Maybe! Knoblauch was a star and Vlad looked like a future star. The Yankees still had Bush as a stopgap and D'Angelo Jimenez in the system, after all.
The rotation aspect is pretty straight forward. Pedro, who won the NL Cy Young in 1997, would have joined holdovers Andy Pettitte, David Cone, and David Wells in the 1998 rotation. Ramiro Mendoza was the fifth starter to start that season, and eventually Hideki Irabu and Orlando Hernandez joined the starting five. One of those two would be out of the picture. Probably Irabu since Bush would have had to play short (and therefore not been involved in the Irabu trade with the Padres), but maybe El Duque instead.
This is a pretty wonderful what if scenario. It's impossible to complain about in hindsight. The 1998 Yankees were one of the ten best teams in baseball history and the Yankees won three straight World Series after this hypothetical trade would have gone down. That Jeter guy stuck around for a while too. Things worked out pretty okay.
(Update: Cashman told Bryan Hoch the rumor was bogus. He did say he tried for both Vlad and Pedro over the years, and the Expos did ask about Jeter at one point.)