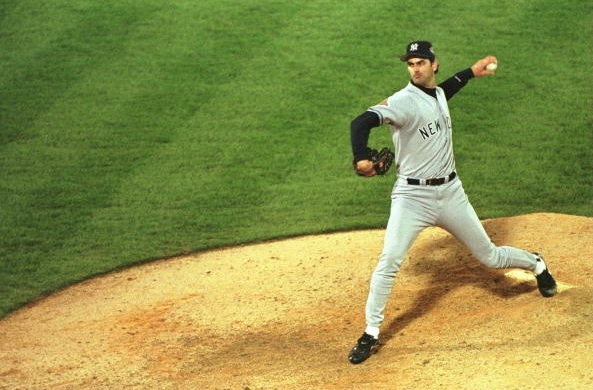 The 1996 World Series was the first Yankees championship of my lifetime, and my lasting memories of that October will be Jeffrey Maier, Jim Leyritz's homer, Andy Pettitte out-dueling John Smoltz, Joe Girardi's triple, and Charlie Hayes squeezing his glove in foul territory. Those were the major "holy crap" moments.
The Yankees got contributions from up and down the roster that postseason, including some from unexpected sources. Every team needs a few unsung heroes to win a title and the 1996 Yankees were no different. Three players in particular came up big throughout the 1996 postseason. In this post, we're going to remember those unsung heroes.
Wade Boggs
It's odd to call a Hall of Famer an unsung hero, especially after Boggs hit .311/.389/.389 (98 OPS+) during the regular season, but the Chicken Man was not at his best in October. The 38-year-old struggled mightily in the ALDS and ALCS: he went 3-for-27 (.111) in the nine games, including a hard to believe 0-for-22 stretch at one point.
The struggles got so bad that Boggs didn't even start Games Three, Four, and Five of the World Series. Joe Torre went with Charlie Hayes at third base. Boggs still came off the bench to make a significant contribution in Game Four, however. After Leyritz tied the game with his home run off Mark Wohlers, Game Four went to extra innings. The Yankees rallied for the win in the tenth.
That tenth inning rally started with two outs. Steve Avery, who was in the Braves bullpen for the postseason, quickly retired Leyritz and Graeme Lloyd on ground outs. (Lloyd batted for himself because John Wetteland was the only reliever left in the bullpen, and Torre was saving him for the save situation. Whatevs.) Tim Raines followed with a walk and Derek Jeter with a ground ball single to put runners at first and second.
With Bernie Williams at the plate and the go-ahead run at second base, Braves skipper Bobby Cox opted to intentionally walk Williams and push the go-ahead run to third. Andy Fox was the cleanup hitter at the time because he had pinch-run for Cecil Fielder earlier in the game. Cox wanted Avery to face Fox in that situation, not Bernie. Which I guess makes sense. Except Torre had an ace in the hole.
Cox is not stupid, he knew Boggs would pinch-hit, but he was more comfortable with Avery facing Boggs with the bases loaded than Avery facing Bernie with runners on first and second. Not sure I agree with giving a pitcher so little margin for error in a huge spot (Boggs' OBP > Bernie's AVG), but it doesn't matter what I think. Boggs pinch-hit for Fox and worked a go-ahead bases loaded walk to give the Yankees the lead. He fell behind in the count one ball and two strikes before battling back for the walk.
"My belief is, you'd better have some big guts in this game. If you can't do that as a manager, you won't go very far. You can't ever be afraid to do those things," said Cox to reporters after the game when asked about the intentional walk to load the bases and put the go-ahead run at third. "I wasn't afraid to walk Bernie Williams. And I wasn't afraid with Avery. I know that Steve — blindfolded — could throw strikes. It just didn't happen."
The Yankees tacked on an insurance run when Ryan Klesko dropped a soft line drive, but by that point the damage had been done. The team had rallied with two outs and Boggs drove in the go-ahead run with a bases loaded pinch-walk. He had an awful postseason overall, but that one at-bat atoned for it all. Boggs came off the bench and came up huge with the game on the line.
Graeme Lloyd
Back in 1996, lefty specialists were not really a thing. A few teams had them but they were not widespread yet. The Yankees had picked up Lloyd from the Brewers in a fairly significant August waiver trade. They sent Bob Wickman and Gerald Williams, who were on the big league roster all season, to Milwaukee for Lloyd, Ricky Bones, and Pat Listach. Listach was sent back to the Brewers because of a pre-existing injury and the Yankees received shortstop prospect Gabby Martinez instead. Lloyd himself had elbow problems at the time of the trade.
Lloyd had been very good for the Brewers that year, pitching to a 2.82 ERA (185 ERA+) in 51 innings. He was not a lefty specialist, but he got hammered with the Yankees during the regular season (eleven runs and 17 base-runners in 5.2 innings), so he was relegated to mostly mop-up duty and left-on-left matchup work during the postseason. And Lloyd dominated. His October numbers: 5.1 IP, 1 H, 0 R, 0 BB, 5 K in eight appearances.
Lloyd faced ten left-handed batters in the postseason and they went 1-for-9 with two strikeouts. Only two hit the ball out of the infield. By the World Series, Torre had developed such trust in Lloyd that he did the unthinkable: he pulled Mariano Rivera from the game in the middle of an inning to get a left-on-left matchup with Lloyd. And he did it twice. In Game Three, Torre pulled Rivera with a runner on first and one out in the eighth inning. The Yankees were up 5-2 and Lloyd got Fred McGriff to fly out and Ryan Klesko to strike out.
Then, in Game Four, Torre pulled Rivera with runners at first and second and one out in the bottom of the ninth. The score was tied 6-6 and the middle of the Atlanta lineup was due up. Mo had thrown 26 pitches in 1.1 innings up to that point and I remember thinking Torre was absolutely insane for pulling him for Lloyd. Then this happened:
"It's been rough for Lloyd," said Torre after the game. "All of a sudden he's being booed, and nobody's saying anything nice about Bob Watson. Just a lot of garbage. He made the trade, and all of a sudden, Graeme Lloyd is one of our most valuable people."
"With Milwaukee I had one of my best years, then I was traded and everything hit the fan," added Lloyd. "It was a tough time for me, and I've gotten through that. I've looked at these playoffs and the World Series like a clean slate."
If the Yankees and Watson — then the GM — had gotten their way, Lloyd wouldn't even have been in the organization for the postseason. The team learned about his elbow woes after the trade and appealed to MLB to rescind the deal. The league refused. The Yankees had traded their fourth outfielder (Williams) and a reliable middle reliever (Wickman) for what amounted to a lefty specialist with a damaged arm. And it worked beautifully.
David Weathers
Rotation depth was a bit of a concern for the Yankees in 1996, especially so after David Cone went down with his aneurysm. At the trade deadline the club made what amounted to a change of scenery swap with the Marlins: 26-year-old righty Mark Hutton was traded to Florida for 26-year-old righty David Weathers. Hutton had 5.04 ERA (100 ERA+) at the time of the trade. Weathers had a 4.54 ERA (90 ERA+). (Park factors, man.)
Weathers made four spot starts and seven relief appearances in pinstripes after the trade, somehow totaling only 17.1 innings. He had a 9.35 ERA (54 ERA+) in those 17.1 innings and walked more batters than he struck out (13 BB and 12 K). Weathers also made three starts with Triple-A Columbus. He actually pitched quite well as a short reliever in September (one run in seven innings) and made the postseason roster. In October, he seemed to specialize in cleaning up after Kenny Rogers.
One run in eleven innings. Rogers started Game Four of the ALDS, ALCS, and World Series, and combined to allow eleven runs and 20 base-runners in seven innings. Weathers came out of the bullpen to replace him and allowed just one run in 6.2 innings. Amazingly, the Yankees won all three games, largely because Weathers came in and didn't allow the other team to break the game open. His work in Game Four of the ALDS and ALCS was particularly awesome.
"(Pitching coach Mel Stottlemyre) is the one who really pushed for us to get David Weathers," said Torre to the New York Times. "Mel liked his stuff from when Mel was Houston's pitching coach the last two years. He felt Weathers could help us out in the bullpen. With my coaches, I trust what they say."
To win the World Series you're going to need some players to contribute unexpectedly, and both Lloyd and Weathers did just that. They weren't even on the team on Opening Day. Boggs had a miserable postseason overall but came through in Game Four of the World Series with his pinch-walk. Without these three doing what they did in October, the Yankees aren't world champs in 1996.