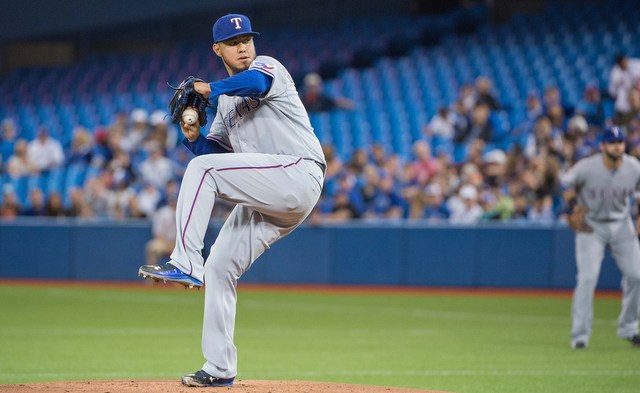 As the trade deadline draws closer and closer, the Rangers are falling further and further back in the race. They won last night but have lost three of five since the All-Star break and 18 of their last 25 games overall. Yikes. That's dropped Texas to nine games back in the AL West and six games back of the wildcard spot. FanGraphs gives them the lowest postseason odds in the AL at 3.0%. (The projection systems hate their roster, I guess.)
The Rangers are in neither buy nor sell mode — Evan Grant writes they are in "opportunist" mode, looking for ways to improve the roster. I'm pretty sure that's a nice way of saying they're selling. Texas has some awful contracts on the books — it's a stars and scrubs roster, though several of the stars are playing like scrubs — and not a ton of trade chips, but they do have some rental arms to peddle. Do any make sense for the Yankees? Maybe! Let's look.
RHP Yovani Gallardo
Gallardo is easily the most marketable rental player on the Rangers, and he's having quite the walk year: 2.91 ERA (3.68 FIP) with career best ground ball (50.8%) and home run (0.61 HR/9) rates. His walk rate (8.7%) is identical to his career average and his strikeout rate (16.2%) is a career worst. As I noted in the mailbag last week, Gallardo has gradually been trading strikeouts for ground balls over the years (graph doesn't include his most recent start over the weekend):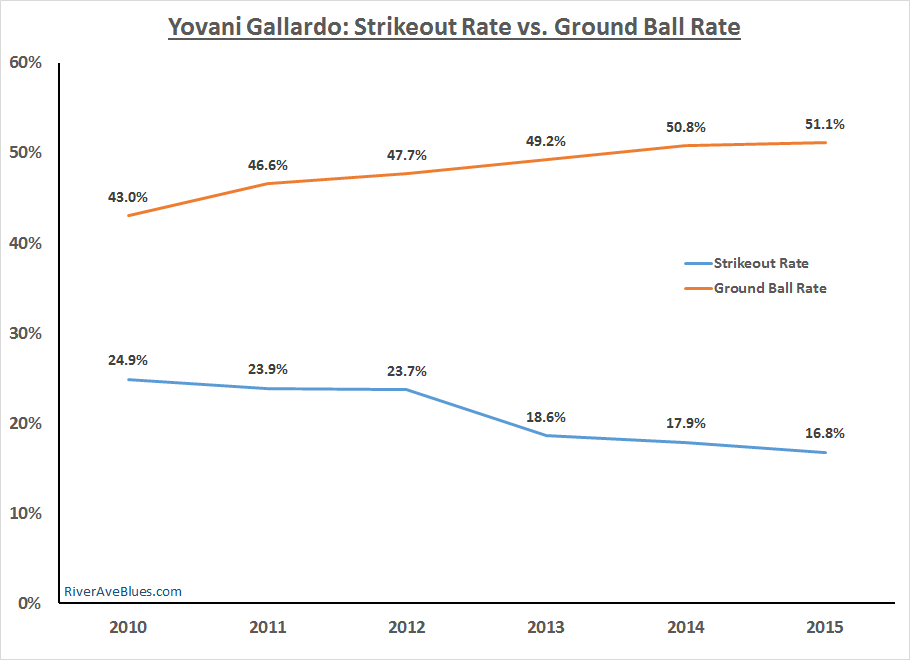 The strikeouts for grounders things is the kind of adjustment you usually see an older pitcher make, not a guy yet to turn 30. It's weird. Usually a decline in strikeouts is a red flag, but this has been going on so long I have to think it is at least somewhat intentional. Don't get me wrong, I'd rather have the strikeouts than ground outs, but Gallardo has found a way to make it work.
Beyond his performance this year, Gallardo has also been very durable the last few seasons, throwing at least 180 innings each year since 2009. He's also had a minimal platoon split because of his five-pitch repertoire. There's a little something for everyone:
| | % Thrown | Avg Velocity | Whiff % | GB% |
| --- | --- | --- | --- | --- |
| Four-Seamer | 31.5% | 91.7 | 5.4% (6.9% MLB AVG) | 42.4% (37.9% MLB AVG) |
| Sinker | 22.2% | 91.7 | 4.6% (5.4%) | 60.2% (49.5%) |
| Slider | 29.0% | 88.6 | 10.3% (15.2%) | 48.2% (43.9%) |
| Curveball | 12.6% | 80.0 | 10.6% (11.1%) | 61.1% (48.7%) |
| Changeup | 3.9% | 86.1 | 6.8% (14.9%) | 54.6% (47.8%) |
The swing-and-miss rates are comfortably below-average across the board while the ground ball rates are well-above-average. That fits into the whole "trading strikeouts for grounders" thing. Gallardo's probably not going to get you a swing-and-miss at key moments — runner on third with less than two outs, etc. — which is an issue and limits him to a mid-rotation guy.
Gallardo played a half-season with CC Sabathia back in 2008, so the Yankees have some access to firsthand knowledge of him as a teammate and a clubhouse guy, though it was a long time ago. People change. At the end of the day, Gallardo is a rental starter pitching well in his walk year because he gets grounders and can neutralize lefties. His durability and affordability ($6.5M through the end of the season) are pluses as well. He's not Johnny Cueto or David Price, but Gallardo belongs in the second tier of rental starters alongside Scott Kazmir and Jeff Samardzija.
What Would It Take?: Ken Rosenthal says the Rangers are currently listening to offers for Gallardo, for what it's worth. Considering recent trades involving similar rental pitchers, it appears it will take a package of three pretty good prospects to land Gallardo, or perhaps two prospects with one being a high-end guy. Matt Garza was traded for four prospects two years ago, including Mike Olt, who Baseball America ranked as the 22nd best prospect in the game before the 2013 season. I do think Gallardo is a qualifying offer candidate, so the Rangers have no reason to take back something worth less than a supplemental first round pick. Gallardo's not going to come as cheap as, say, Mike Leake or Ian Kennedy.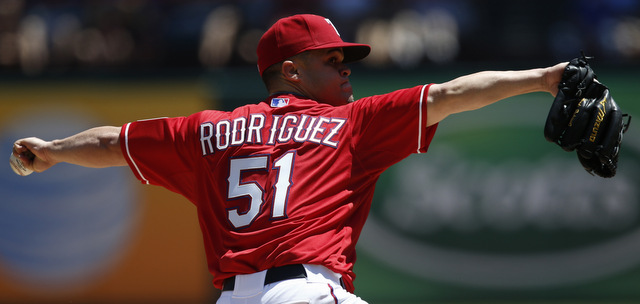 LHP Wandy Rodriguez
The 36-year-old Rodriguez is at the tail end of his career and it's hard to think he has much trade value. He was released at the end of Spring Training, remember. So far Wandy has a 4.07 ERA (4.12 FIP) in 84 innings with Texas, though both his strikeout (18.3%) and ground ball (41.9%) rates are below-average. Not a good combination! Especially when your walk (8.9%) and homer (0.96 HR/9) rates aren't great either.
The Yankees already have a version of Wandy Rodriguez on the roster in Chris Capuano. They're extremely similar as finesse lefties who can soak up some innings and pitch at a slightly below league average rate. Do they really need two guys like that? Nah. Rodriguez doesn't have much appeal beyond being a warm body who can take a rotation spot in case of injury. I'm sure the Rangers are open to trading him. There's just not much of a reason for the Yankees to bring Wandy in.
What Would It Take?: Roberto Hernandez, the pitcher formerly known as Fausto Carmona, was traded for two players to be named later last summer. The two players were ranked by Baseball America as the No. 22 (2B Jesmuel Valentin) and No. 29 (RHP Victor Arano) prospects in the Dodgers' system before the trade, and both were down in rookie ball at the time of the deal. Wandy shouldn't cost more.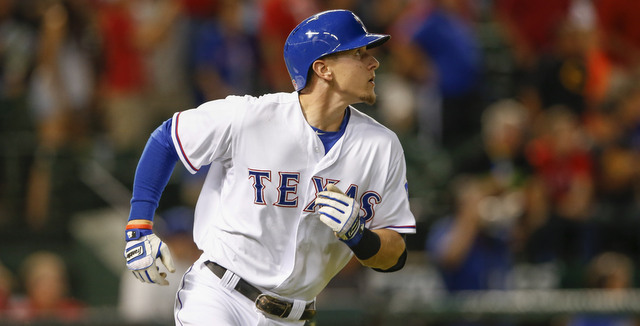 UTIL Ryan Rua
Off the board? Yep. Fill a need? Potentially! Rua, 25, is a right-handed hitting utility guy with experience at the three non-shortstop infield positions as well as left field. (He came up as a third baseman, primarily.) Most of that experience is in the minors — Rua has only 47 games and 172 plate appearances of big league experience, during which he's hit .251/.273/.401 (82 wRC+). That includes a 43 wRC+ in 63 plate appearances this year. (He missed two months with a broken bone in his heel.)
The Rangers came into the season expecting to use Rua as the right-handed half of a left field platoon, but his injury threw a wrench into things, and now he is a seldom-used bench player. In fact, he has only 18 plate appearances this month. Rua is a career .291/.368/.476 (121 wRC+) hitter in Triple-A, including .327/.364/.558 (.374 wOBA) against lefties. Baseball America (subs. req'd) ranked him as the eighth best prospect in Texas' system before the season. Here's a snippet of their scouting report:
Rua is an offensive-oriented prospect who has plus power and can take the ball out of the park to all fields. He starts his swing with a leg kick, keeps his weight back and his head still. Rua can get long to the ball, with some concerns about his ability to hit good offspeed pitches, but his swing is fluid, and he squares up the ball frequently … He's surprisingly athletic for his body type, though he's a below-average runner and adequate-at-best defender wherever he goes, making the routine plays at third base with an average arm.
The Yankees are said to be looking for a right-handed bat, which Rua is, though there's no guarantee he'll actually hit Major League pitching. He has good minor league numbers, the scouting report is decent enough, and he offers some versatility. As an added bonus, Rua has at least two and possibly all three minor league options remaining. He seems like a potentially useful depth player. Not a star, probably not even a starter, but maybe a platoon bat or a guy off the bench.
Thanks to those minor league options, the Yankees would be able to stick Rua in Triple-A until rosters expand on September 1st, then use him as an extra platoon bat in the final month of the season. He still has five years of team control remaining, though that's not a huge deal with players like this. What are the odds Rua hangs around long enough to play all five of those years with one team? I dunno, Rua just seems like a possible fit given the team's positional needs and interest in adding a righty bat.
What Would It Take?: I'm not sure there's a good way to approximate this. Players like Rua are often traded as part of packages for MLB players — they're the guys who go to the team that is selling, not the other way around. Juan Francisco was traded for an MLB ready reliever (J.J. Hoover) a few years ago. That's the best reference trade I can come up with.