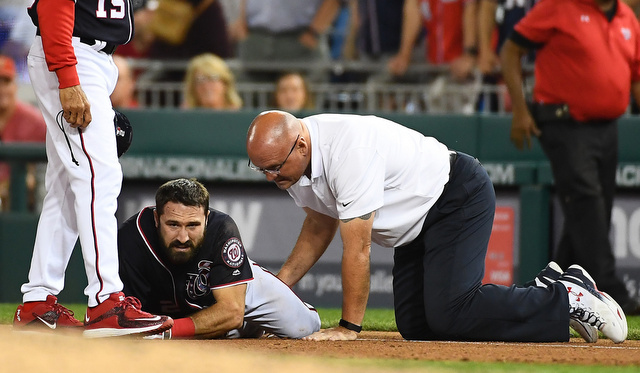 Over the weekend the World Series hopeful Washington Nationals suffered a devastating loss, and I don't mean dropping two of three to the Mets. Prized offseason pickup Adam Eaton suffered a season-ending injury legging out an infield single Friday night. The official diagnosis: a torn ACL, a torn meniscus, and a high-ankle sprain. Yikes. His recovery timetable is 6-9 months.
Here's video of the play, if you haven't seen it:
The Nationals traded basically their three best pitching prospects (Lucas Giolito, Reynaldo Lopez, Dane Dunning) to get the 28-year-old Eaton from the White Sox back in December. He was hitting .297/.393/.462 (128 wRC+) at the time of the injury and was a huge reason why Washington is averaging an MLB best 6.65 runs per game in the early going. (The Yankees are a distant second at 5.60 runs per game.)
As expected, Nationals GM Mike Rizzo said they will stay in house to replace Eaton. They like their organizational depth in center field. Blah blah blah, yadda yadda yadda. That's what every GM says after losing a core player to a long-term injury. They don't want to sound desperate. You can be sure Rizzo will keep an eye on potential trade options, however. He wouldn't be doing his job if he didn't.
Brett Gardner has been on the trade market for well over a year now and the Yankees have fielded offers for him the last two offseasons. Obviously Brian Cashman hasn't received an offer to his liking, which is why Gardner remains in pinstripes. There didn't seem to be many trade partners for Gardner over the winter. The Eaton injury may have just created one. Let's break down the merits of a potential Gardner-Nationals deal, shall we?
1. The Nationals are a win now team. In the two games since Eaton's injury, 26-year-old Michael A. Taylor has stepped into the lineup as the center fielder. This is the same Michael A. Taylor who hit .228/.281/.363 (71 wRC+) with a 31.9% strikeout rate in 791 plate appearances from 2014-16. The same Michael A. Taylor who prompted the Nationals to go out and get Eaton because they were tired of waiting for him to figure things out.
The Nationals have a very clearly defined window of contention with this core: 2017 and 2018. That's basically it. Bryce Harper and Daniel Murphy will both be free agents following next season. Furthermore, Max Scherzer and Stephen Strasburg are in their primes right now and probably won't be by time 2019 rolls around. Rizzo knows he has to do whatever he can to maximize his team's chances of winning before Harper can leave. That's why he traded for Eaton in the first place and also pursued Chris Sale and various free agent relievers.
Gardner fits the two-year window perfectly since the guaranteed portion of his contract runs through 2018. More than anything though, he's a better player than Taylor, and it's not particularly close either. Gardner is not as good as Eaton — he's basically the poor man's version of Eaton — but he's better than Taylor and acquiring him would improve Washington's chances quite a bit from their current situation. Extreme win now teams like the Nationals shouldn't cut corners.
2. Gardner and Eaton have similar skill sets. Like I said, Eaton is a better player than Gardner and by a not small margin either. They do bring similar things to the table, however. Speed, the ability to grind out at-bats and get on base, and quality outfield defense. Gardner hasn't played center field regularly since 2013 but that's due to Jacoby Ellsbury and not his defensive shortcomings. I don't think too many folks believe Gardner can't play center right now. He'd step right in to replace Eaton as the lefty hitting center fielder and leadoff hitter. A seamless transition.
3. The Nationals need a left fielder for 2018. Remember that massive seven-year, $126M contract Jayson Werth signed way back when? That deal expires this year. Werth will be a free agent this offseason. Gardner could step in to replace Eaton in center field this season before sliding over to replace Werth in left next year, once Eaton is healthy. And, if the Nationals decide the injury has sapped Eaton's range, they could put him in a corner and keep Gardner in center. Point is, Washington has an open outfield spot next season, and Gardner would help fill it.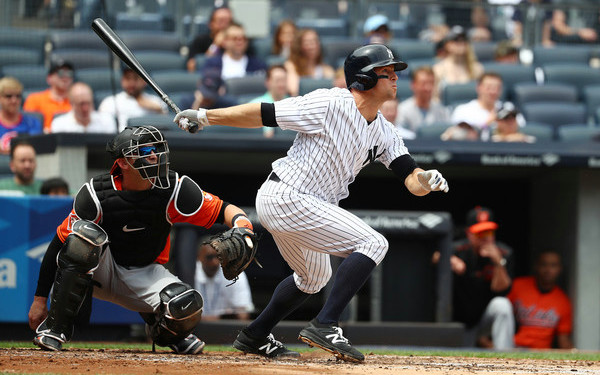 4. So what do the Nationals have to offer? My guess is if the Yankees do decide to trade Gardner, they'll seek the best possible talent in return regardless of position, rather than try to fill specific needs. That's what they did last year at the trade deadline. Just get the best possible talent and sort it out later. Obviously Gardner doesn't have as much trade value as Aroldis Chapman and Andrew Miller, but the thinking remains the same. Acquire as much talent as possible.
Here is MLB.com's top 30 Nationals prospects list. Washington is not trading Victor Robles or Juan Soto or Erick Fedde for Brett Gardner, so stop thinking about that right now. I'd focus on the lower half of the top 30 list. I suppose maybe the Yankees could pry a higher ranked prospect by eating some of Gardner's salary, like they did with Brian McCann, but even then I don't expect a huge return. This isn't one of those "we need two top prospects to trade him" situations like it was with Miller. I'm sure the Nationals have the pieces to get a Gardner deal done if they choose to go in that direction.
5. Other teams are going to be involved too. The Yankees are not the only team with an extra outfielder to trade! The Royals are awful and could make impending free agent Lorenzo Cain available. He'd be a great Eaton replacement, no? The Nationals have interest in Royals closer Kelvin Herrera according to Ken Rosenthal (video link), so how about a Herrera/Cain package deal? Doesn't seem unrealistic.
Washington has also been said to have interest in David Robertson dating back to the offseason, and the White Sox could offer Melky Cabrera as well. Bryce Harper in center, Werth in right, and Melky in lefty? Seems doable. What if the Blue Jays sell and put Jose Bautista on the market? Or the Braves make Nick Markakis available? Heck, the Nationals could always revisit Andrew McCutchen with the Pirates. They also have the option of putting Trea Turner in center field and acquiring a shortstop (Zack Cozart?).
The point is there are other teams with outfielders out there, meaning the Nationals have some options. They might be willing to pay big for Cain since they're all-in right now. Perhaps they go for a cheap alternative. If the Yankees hope to move Gardner to Washington in the wake of the Eaton injury, they're going to have some competition. There doesn't figure to be any shortage of available outfielders in the coming weeks.
6. Are the Yankees still open to selling? The million dollar question. The Yankees are currently tied for first place in the AL East at 16-9, and their +43 run differential is second best in baseball. (The Nationals are at +45 thanks to Sunday's 23-5 bludgeoning of the Mets.) They could very well be in the race come July! And if that is the case, would they still be open to moving Gardner?
Keep in mind Hal Steinbrenner did not want to sell last season. It reportedly took Cashman weeks to convince Hal to okay a trade deadline sell-off, and even then it only happened after Chapman declined a contract extension. If the Yankees are in the race, will Steinbrenner really okay trading away an everyday player? It seems like they might be more inclined to add pieces at that point. I don't think selling is a given at all.
Perhaps being in a race — which would be very awesome, by the way! — means any Gardner trade would have to involve a big league player coming back to the Yankees. Someone who can help them win right away. I have no idea who that player could be with Washington. They're not trading one of their starting pitchers, not even the lefty Michael Pineda Gio Gonzalez, so forget that. I'm not sure I see a fit in this case.
* * *
The Yankees have the outfield depth to trade Gardner — once Ellsbury's elbow is healthy, trading Gardner likely means Aaron Hicks in left field and either Mason Williams or Rob Refsnyder as the fourth outfielder until the Yankees deem Clint Frazier or Dustin Fowler ready — so the only real question is whether they can find a trade partner. Options are limited right now. (I still think the Giants are a best fit.)
Eaton's injury could open the door for the Nationals to get involved, though it's a bit too early in the season for trades involving notable players. Everyone would know Rizzo is desperate and jack up the price if he were to go out on the trade market and ask about center fielders this week. Odds are the Nationals will spend the next few weeks sorting through their internal options before pursuing a trade because that's what teams in their situation almost always do.
On paper though, Gardner does appear to be a fit to the Nationals. He could step in to replace Eaton as their speedy leadoff hitter and center fielder, then slide over to left field once Werth's contract expires. Other teams, like the Royals and White Sox, have outfielders to offer too though, so the Yankees hardly control the market right now, like they did when they controlled the bullpen market with Chapman and Miller last summer.