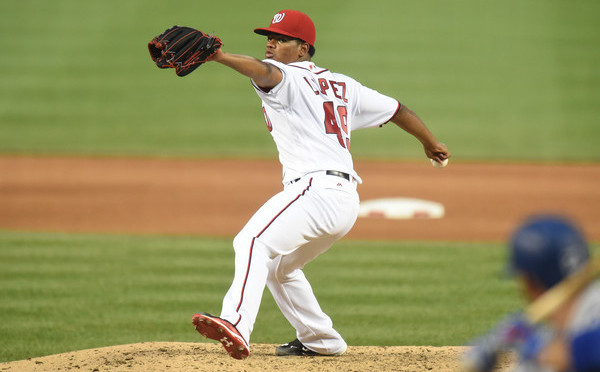 The Yankees have won six of their last nine games, and during that time they've gained exactly zero games in wildcard race. Not one. They're still five games back, though now there's only three teams ahead of them instead of six. Yay? Here's the latest batch of trade deadline rumors.
Yankees scouted Lopez, others Tuesday
Vice president of baseball operations Tim Naehring was at Nationals Park last night to scout rookie right-hander Reynaldo Lopez and other players, reports George King. Lopez got knocked around in his MLB debut, allowing six runs on ten hits and a walk in 4.2 innings, but he did strike out nine. Baseball America ranked him 48th in their midseason top 100 update, and Lopez has long been speculated as a possible center piece for an Aroldis Chapman or Andrew Miller trade.
The only other notable young players to play in last night's Nationals-Dodgers game were Joc Pederson and Trea Turner. I'd be surprised if the Dodgers traded Pederson. Turner though? He could definitely be a trade chip with Washington so committed to Danny Espinosa at short (and prospect Wilmer Difo on the way). Turner went 1-for-4 with a two-run triple and a strikeout last night. Here's video of the triple. For what it's worth, Lopez strikes me as way more available than Turner.
Giants lingering in Chapman, Miller race
The Giants continue to linger in the Chapman/Miller market according to Jerry Crasnick, though they might be outbid by other clubs with more young talent to offer. San Francisco is focusing on other relievers for the time being, including Jeremy Jeffress and Will Smith of the Brewers, and Jeanmar Gomez and David Hernandez of the Phillies.
As I said a few weeks ago, it's hard to find a match between the Yankees and Giants because the Giants don't have a great farm system. Most of their top prospects are either having down years or are far away from MLB. And even if San Francisco was willing to trade off their big league roster, who could they offer? Joe Panik or Matt Duffy? That ain't happening. The Giants want to add to their MLB team, not subtract from it.
Yankees "intrigued" by Gallo, Rangers scouting Yanks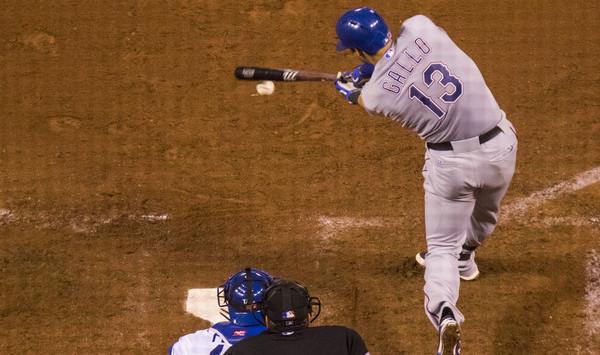 The Rangers have been scouting the Yankees for several weeks now, according to Evan Grant and George King. They've specifically been looking at Miller, Chapman, Dellin Betances, Ivan Nova, Nathan Eovaldi, and even CC Sabathia. Texas had trusted scout Russ Ardolina at Yankee Stadium on Monday to see Nova. The big three relievers pitched that game too. The Rangers need all sorts of pitching help and the Yankees have a bunch to offer.
King says the Yankees are "intrigued" by dinger mashing prospect Joey Gallo, and Grant says that while Gallo isn't untouchable, it's going to take a lot to get him. Texas turned down Gallo for Drew Pomeranz, for example. There are concerns about Gallo's ability to make consistent contact against MLB caliber arms, but he has true 80 power on the 20-80 scouting scale, the kind that will produce 40 bombs in any park even if he hits .230. He's also a good defender at third base, so while he's a flawed player, Gallo has a chance to a middle of the order force long-term.