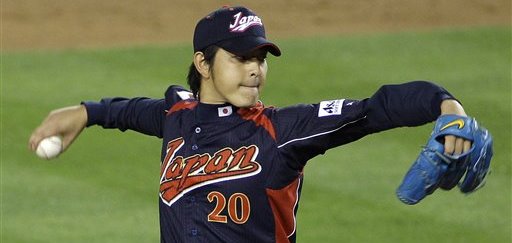 JCK asks: What are your thoughts on the Asian pitching market beyond Yu Darvish? Namely Koreans Suk-Min Yoon and Hyun-Jin Ryu, Wei-Ying Chen from Taiwan, each of whom could reportedly enter the posting system, and Japanese free agent Hisashi Iwakuma?
NOTE: All were recently mentioned in a Jeff Passan piece as potentially posting or being free agents.
Other than Iwakuma, I hadn't heard of any of these guys until a few weeks ago, and we could add Japanese lefty Tsuyoshi Wada and righties Kyuji Fujikawa and Shinobu Fukuhara to that mix as well. The A's won the posting for Iwakuma last winter but couldn't hammer out a contract, so he went back to Japan for another year and is now a true free agent. Unfortunately for him, he suffered a shoulder injury during the season after years of injury problems earlier in his career. Keith Law had the 30-year-old Iwakuma 48th on his list of the top 50 free agents (Insider req'd), saying "he was back up to 87-90 by the end of the season with the hard splitter and plus slider he's shown in the past. If his medicals check out and his fastball is at least fringe average, he could be someone's fifth starter because he throws so many strikes and tends to keep the ball down."
Other than Darvish, Chen is probably the most coveted Asian pitcher this winter. The 26-year-old lefty was born in Taiwan but has pitched for the Chunichi Dragons in Japan for a few years now. He got Tommy John surgery out of the way in 2006. "He had been sitting low-90s and touching 95 in past years but was more 88-92 early in 2011, and his slider didn't have its usual bite," said KLaw, who ranked him 19th on his top 50 list. "By the end of the year, he was back up to 92-94 and the slider was sharper … He has a decent split-change that should make him more than just a lefty specialist, although it's not an out pitch for him. Chen still has plus control." He is a true free agent thanks to some contract shenanigans.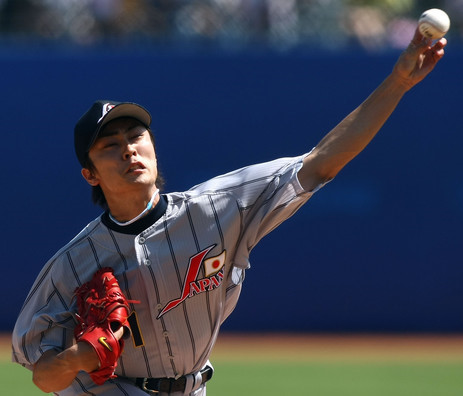 Wada, 30, is a true free agent like Iwakuma. NPB Tracker put together a full-fledged scouting report on him last month, saying "his fastball velocity [lives in] the 87-88 range." They project him as back-of-the-rotation starter or middle reliever in MLB, but note that he takes preparation very seriously, which could ease the transition. The 31-year-old Fujikawa won't be a free agent until next winter, so the Hanshin Tigers would have to put him through the posting process to get him to MLB. Law had him 45th on his top 50 list, said he's "up to 94 mph with his fastball and will sit around 92, but the pitch is pin-straight and he goes to his splitter often to keep changing eye levels. The splitter is an out pitch for him, and he commands it well." Fukuhara, 35 in December, is said to have a low-90's fastball with a slider and a curve according to NPB Tracker (via MLBTR). Wada is a starter, Fujikawa is a reliever, and Fukuhara has done a little of both.
Yoon, 25, was the Korea Baseball Organization's MVP this year, and he'd need the Kia Tigers to post him if he wants to come to MLB. Passan's article says the right-hander has "a fastball that sits at 93 mph, a hard slider and what one scout deemed an above-average changeup." Ryu, a 24-year-old southpaw, has been pitching in the KBO since he was a teenager, winning both the league's MVP and Rookie of the Year awards at age 19. "Ryu has four average to above-average pitches, including a 86-93 mph fastball with late life that he can add and subtract from when needed, a slow curve (75 mph), a tighter slider and a changeup," wrote Baseball America (subs. req'd) after the 2009 World Baseball Classic. "Ryu's biggest asset is his feel for pitching. Scouts have said that he would be a first-round pick if he was in the U.S., and would likely need only a brief period of acclimation before stepping into a big league rotation."
Here are YouTube clips of Iwakuma, Chen, Wada, Fujikawa, Yoon, and Ryu. Can't find anything on Fukuhara, sorry. Based on the tiny little bit I know about these guys, the trio of Chen, Fujikawa, and Ryu seem interesting. Chen is still really young and has shown premium stuff in the past, but there should be a little concern about how his stuff dropped off this year. Japanese relievers tend to transition a little better than starters, I think in part due to their usage and the general lack of exposure, so I could see Fujikawa stepping right into a bullpen next year and helping someone. Baseball America's scouting report makes Ryu sound like a stud, and he doesn't look like a traditional Asian pitcher in the video I linked. He's a big boy and and it's almost an American delivery, with basically no hesitation at all. That makes him stand out from the crowd, if nothing else.
We know the Yankees have scouted Darvish quite a bit over the years, but we haven't heard anything about their interest in any of these other guys. As far as I can tell, they didn't even place a bid for Iwakuma last year. I'm sure the team is at least aware these guys exist though. The three free agents (Iwakuma, Wada, and Fukuhara) aside from Chen are all back-end types, but the guys that need to be posted (Yoon and Ryu) are interesting because they're still in their mid-20's and theoretically offer some upside. We'll see how this plays out this winter, but I would be surprised if the Yankees got involved with anyone other than Darvish.