The 2013 season is over and now it's time to review all aspects of the year that was, continuing today with the team's nominal ace for two years running.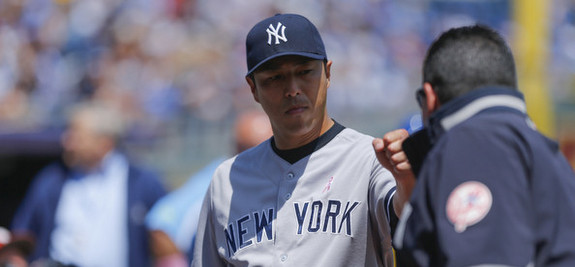 It's hard to believe that once upon a time, there was legitimate concern about how Hiroki Kuroda would handle a small Yankee Stadium and the AL East after opening his big league career in spacious Dodger Stadium and the generally pitcher-friendly NL West. Those are two extremely different run environments, nevermind the general concern associated with a pitcher on the wrong side of 35.
Kuroda showed last season that those concerns were unwarranted by pitching to a 3.32 ERA and 3.86 FIP in a career-high 219.2 innings. He fit in so well that the Yankees gave him a nice big raise and brought him back for 2013, and pretty much no one had a problem with it. Why would they? Kuroda's awesome. He was getting up there in age but it was a one-year contract. The risk was small, the reward potentially high.
It's easy to forget that the start of Kuroda's season was only a fraction of an inch away from being disastrous. In the second inning of his first start, he reached for a Shane Victorino line drive with his barehand and took the ball right off his fingertips. Joe Girardi and the trainer came out to look at him, but Kuroda ultimately stayed in the game after a few test pitches. It was obvious he wasn't right though, he plunked two of the next four batters and walked another on four pitches. He was removed from the game after that.
Tests showed no break thankfully, just a contusion that needed a few days to heal. Kuroda made his next start five days later and still seemed to be showing some lingering effects from the liner as he walked four in 5.1 innings against the Indians. The Yankees took advantage of an off-day to give the right-hander and his bruised finger some extra rest, and the results were immediate. In his third start of the year, Kuroda held the Orioles to five singles and zero walks while striking out five in a complete-game shutout.
That game was the beginning of a nine-start stretch in which Kuroda allowed only 13 runs (1.92 ERA and 3.28 FIP) in 61 innings, holding batters to a .204/.234/.321 batting line. He completed seven full innings of work in seven of those nine starts. Believe it or not, his worst outing of the season — five runs on eight hits in only two innings against the Orioles — is included in this nine-start stretch.
Kuroda had an effective but ultimately average month of June (3.92 ERA and 4.43 FIP in 39 innings across six starts) before putting together an utterly dominant month of July. He made five starts — one apiece against the Orioles, Twins, Red Sox, Rangers, and Dodgers, so not exactly the easiest competition — and allowed two runs total, pitching to a 0.55 ERA and 2.33 FIP in 33 innings. Kuroda went at least seven full innings in four of the five starts and the only reason he didn't work deep into the other game was a lengthy rain delay that cut his outing short.
In 19 first half starts, Kuroda pitched to a 2.65 ERA (3.60 FIP) in 118.2 innings. Only Felix Hernandez (2.53 ERA) had been better at preventing runs among AL hurlers, and obviously he enjoys a much more pitcher-friendly atmosphere in Seattle. Kuroda did not make the All-Star team mostly because his teammates never scored runs and his win-loss record sat at a forgettable 8-6. Chris Tillman, he of the 11-3 record (3.95 ERA and 4.94 FIP) got the final pitching spot on the AL squad.
As neat as an All-Star Game berth would have been, Kuroda probably needed the rest more than anything. He was able to take a full week off between starts thanks to the break and he continued to dominate early in the second half — 1.25 ERA and 2.02 FIP in 36 innings across his first five starts. Following eight shutout innings against the Angels on August 12th, Kuroda owned a league-leading 2.33 ERA (3.20 FIP) and was a legitimate Cy Young candidate. Not an "he's good and a Yankee so he should be a Cy Young candidate," a real live Cy Young candidate.
Unfortunately, Kuroda hit a wall in mid-August, the same wall he hit in mid-August last year. I assume it is due to his age and his workload — he stopped throwing his regular between-starts bullpen session in an effort to stay fresh late in the season — and a million other things. Regardless, his Cy Young hopes crashed and burned with eight dreadful starts to close out the year. Here is the carnage in table form:
| | Starts | Innings/Start | ERA | FIP | WHIP | K/BB | HR/9 | Opp. Batters |
| --- | --- | --- | --- | --- | --- | --- | --- | --- |
| 4/1 to 8/12 | 24 | 6.4 | 2.33 | 3.20 | 1.02 | 3.79 | 0.70 | .226/.265/.338 |
| 8/13 to 9/29 | 8 | 5.8 | 6.56 | 4.46 | 1.62 | 2.86 | 1.54 | .316/.364/.551 |
I wasn't exaggerating, that's really awful! Kuroda was an absolute disaster in his final eight starts. That batting line against is in the neighborhood of what Robinson Cano hit this summer (.314/.383/.516). Kuroda turned every batter he faced in his final eight starts into Cano with more power. Seriously. As soon as the Yankees were eliminated from postseason contention, they effectively shut him down for the season. They never called it that, but they did skip his final start.
The Yankees faded out of the race partly because of Kuroda's poor finish, but then again they wouldn't even have been in the race in the first place had he not pitched so well during the first four-and-a-half months of the season. Those disastrous last eight starts, exactly one-quarter of his season, doesn't erase all of the good he did before then. That he pitched to a 3.31 ERA and 3.56 FIP in 201.1 innings overall despite that ugly finish is a testament to how outstanding he was for much of the summer. The guy was truly dominant and the anchor of the staff.
It will take quite a bit of research to answer definitively, but my hunch is that Kuroda was one of the best one-year pitching contracts in baseball history. Not just Yankees history (that's a given), but all baseball history. Heck, he might be on that list twice for these last two seasons. He's been that good. New York made Kuroda a qualifying offer before the deadline earlier this week, so if he leaves for another MLB team, they'll receive a draft pick in return. There is reason to be concerned about him going forward given his age and how he finished, but there's not doubt #HIROK was one of the few things to go right for the Yankees in 2013.