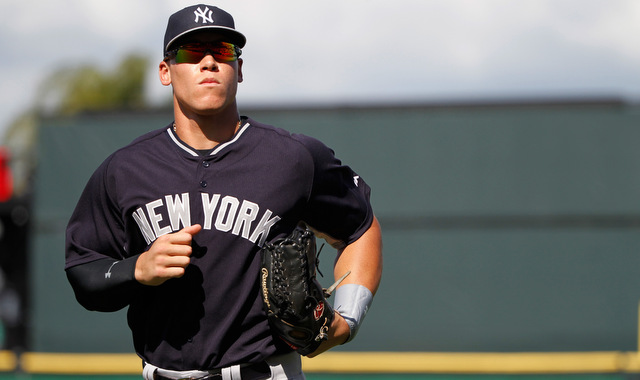 Prospect season is in full swing now. One day after Baseball America published their top ten Yankees prospects list, the crew at Baseball Prospectus did the same. For BP, the top ten list plus the write-up for the top prospect are free. Everything else is behind the paywall. Here's the top ten:
OF Aaron Judge
SS Jorge Mateo
C Gary Sanchez
RHP James Kaprielian
OF Dustin Fowler
2B Rob Refsnyder
RHP Drew Finley
3B Eric Jagielo
RHP Brady Lail
LHP Ian Clarkin
Again, as a reminder, both RHP Luis Severino and 1B Greg Bird are no longer prospect eligible, which is why they're not on the list. They both exceeded the rookie playing time limits this past season.
Judge, Mateo, Sanchez, and Kaprielian are very clearly the top four prospects in the organization right now, as I said yesterday. We could argue the precise order until we're blue in the face, but those are the four guys. It's them, then everyone else right now.
The BP gang appears to be quite high on Fowler — "If he isn't an everyday center fielder at the highest level, he could be a very good fourth outfielder," said the write-up — and I'm glad to see someone shares my Finley affection. I'm not sure Finley's a top ten guy, but he's close.
Both Jagielo and Clarkin were understandably dinged in the rankings after losing so much time to injury in 2015, but the BP crew opted not to ignore their ceilings. I don't know where Jagielo will play long-term, but he can mash. Clarkin didn't have surgery and showed his pre-injury stuff in the Arizona Fall League.
"Recent success with early-round draft picks and aggressive tactics in the July 2nd market have given the Yankees a deep system with a healthy mix of almost-ready major-league regulars and teenagers with loud tools," said the write-up, which also listed SS Wilkerman Garcia, OF Leonardo Molina, C Luis Torrens, 3B Dermis Garcia, and LHP Jacob Lindgren as other interesting prospects to watch. One of those things is not like the others.
The Baseball Prospectus feature also includes a ranking of the top ten players in the organization age 25 or younger. Severino sits in the top spot, followed by Judge, Mateo, Sanchez, Bird, Kaprielian, Fowler, Refsnyder, RHP Bryan Mitchell, and LHP Chasen Shreve. SS Didi Gregorius, 2B Starlin Castro, and RHP Nathan Eovaldi all missed the age cutoff by a few weeks and weren't eligible for the 25 and under list.
Of nothing else, the 25 and under list shows how much better shape the Yankees are in right now than a year ago. Last year Molina was in the top ten under 25 list and, uh, no. This year eight of the ten are either in MLB or will be very soon. "The Yankees of the future likely won't take shape for a year or two at least," said the write-up, "but if the end of 2015 was any indication, we'll get an increased glimpse into its promise in 2016."