Got 12 questions for you this week, but some of the answers are really short. Like two sentences short. I also trimmed some questions a bit. A few were pretty long. Send us anything via the Submit A Tip box in the sidebar at any time.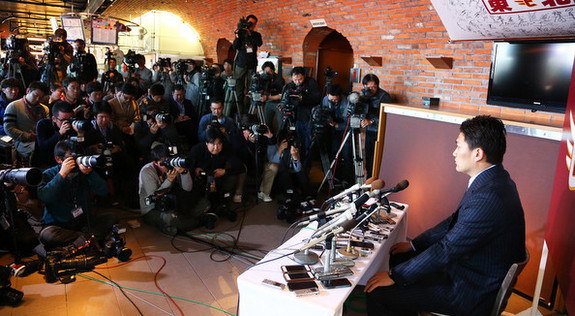 Paul asks: Does Masahiro Tanaka have a legit shot at Rookie of the Year this year? I'm still bitter about Hideki Matsui getting robbed.
Hey, you can make a case Matsui wasn't robbed. He hit .287/.353/.435 (109 wRC+) with 16 homers as a bad fielding left fielder while Angel Berroa hit .287/.338/.451 (101 wRC+) with 17 homers as an average fielding shortstop. If you want to take fWAR/bWAR at face value (fine for something like this), Berroa edges Godzilla out (Berroa: 2.7/2.5, Matsui: 0.2/2.2).
Anyway, yes Tanaka has a legitimate shot at RoY this season. The last three RoY starting pitchers (Jose Fernandez, Jeremy Hellickson, Justin Verlander) averaged a 14-8 record with a 2.94 ERA (~143 ERA+) and 4.7 bWAR in 180-ish innings, if you want a performance benchmark. That's doable but a sub-3.00 ERA in the AL East and at Yankee Stadium will probably take some luck. Tanaka is going to have some stiff competition in Xander Bogaerts and Jose Abreu (my early RoY pick), plus the voting has been skewed heavily in favor of position players these last ten years (13 position players, four closers, three starters).
Craig asks: How about John Mayberry Jr.? He could double as the fourth/fifth outfielder and first base back-up. If they are looking for a lefty we could eat Ichiro Suzuki's contract or send Brett Gardner and get some bullpen help.
Mayberry, 30, had that huge season in 2011, hitting .306/.358/.595 (157 wRC+) against lefties with a 132 wRC+ overall. He hasn't hit much since then, just .259/.309/.481 (111 wRC+) against lefties and an 86 wRC+ overall. There was talk the Phillies might non-tender him earlier this winter, but they kept him for $1.59M instead. Mayberry can play first and the two outfield corners, but he's a net negative on defense. His only redeeming quality is his power against lefties. There's no way I'd trade Gardner for him — the Phillies have been looking for bullpen help all winter, so I doubt they'd kick in a reliever, and I'd need a great reliever to even out a Gardner-for-Mayberry swap — but a straight up Ichiro-for-Mayberry deal would make some sense given the current roster. You'd wind up the same replacement level-ish extra outfielder, just instead of doing it with defense, he'd do it with power.
Billy asks: What are your thoughts on Brendan Ryan coming in for Derek Jeter defensively in save situations? Obviously it should be done but does Joe Girardi actually do it?
Should this happen? Yes, absolutely. Will it? I don't think there's any chance unless Jeter shows he is completely immobile following the leg injuries. If that happens, the team will have a bigger problem to worry about other than simply replacing Jeter for defense in the late innings. If he's not used a defensive replacement, I'm not sure how the team will use Ryan this year aside from giving Jeter and Brian Roberts the occasional day off.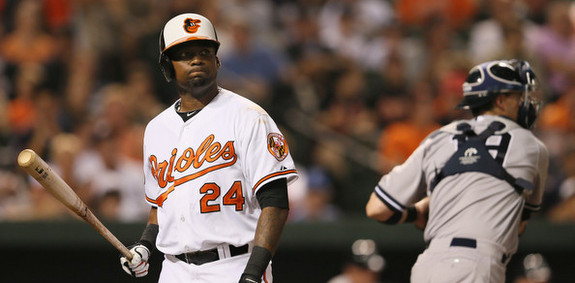 Roy asks: Should the Yankees take a look at Wilson Betemit as insurance for Mark Teixeira? Can Betemit stabilize the infield better than Scott Sizemore, Russ Canzler or Eduardo Nunez?
Did you know Betemit is still only 32 years old? He just turned 32 in November too. I figured he would 35 or 36 by now. Anyway, he missed almost the entire 2013 season due to a knee injury, and he only has 81 games and 515.1 innings worth of experience at first base in his career. Betemit has played a ton of third but the defensive stats crush him there, and he's a switch-hitter who should be a platoon bat because he punishes righties (127 wRC+ since 2011) but can't touch lefties (36 wRC+). As a bench bat who backs up first and plays third base in an emergency, the 24th or 25th man on the roster, yeah it might work. It would be worth bringing Betemit to camp as a non-roster player, but I'm not sure he's clearly better than Sizemore, Nunez, Canzler, or whoever else at this point.
UPDATE: Betemit agreed to a minor league contract with the Rays this morning, according to Jon Heyman. So scratch that idea.
Eric asks: Can and should the Yankees employ a six-man rotation this year or at least for part of it? You can lighten the load on Hiroki Kuroda and CC Sabathia, help Tanaka transition from pitching every seven days in Japan, and give the young arms a better look other than just Spring Training.
I feel like the six-man rotation idea comes up every offseason around this time. The obvious question is this: do the Yankees even have six starters worthy of a rotation spot? Do they even have four at this point? No one really knows what to expect out of Sabathia, Tanaka, and Ivan Nova in 2014. Taking starts away from your top guys for someone like Vidal Nuno isn't a luxury a team like the Yankees can afford. They're going to have to fight for a playoff spot, remember. Kuroda's and Tanaka's (and Michael Pineda's) workloads are going to have to be monitored, no doubt about it, but I don't think a straight six-man rotation is the answer. It sounds so good on the paper, but successfully pulling it off is so difficult.
Michael asks: I'm trying to find out what Tanaka's nickname "Ma-kun" translates to English as, but i'm not having any luck. Do you know what it means?
According to Jim Baumbach, "Ma" is simply short for Masahiro while "kun" is a familiar way to address an equal. Wikipedia says it is an old high school nickname that stuck.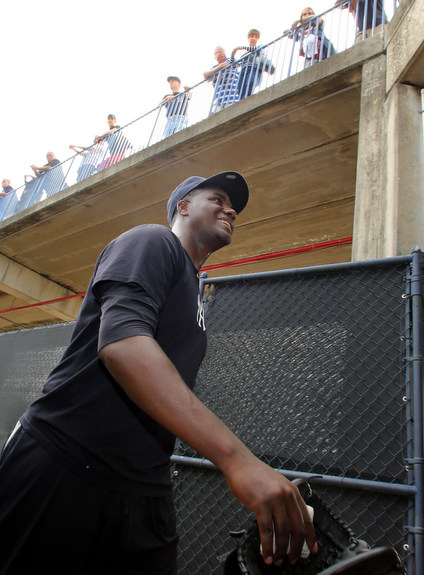 Jason asks: If I remember correctly, prior to being injured, there was an advantage to keeping Pineda in Triple-A until at least mid-May to push back his arbitration clock. Does that benefit still exist if the Yankees did that this year?
Pineda was the on the DL until the team activated him and sent him to Triple-A in early-July last year. He was down long enough to both delay his free agency and arbitration clock one year. Pineda will be a Super Two now (four years of arbitration rather than three), but they get to keep him for another season (through 2017) and that's the important thing. They've already received the benefit and would have to keep him in the minors pretty much all season to push things back another year. If Pineda goes yet another year without pitching in the big leagues, it would be close to time to write him off completely.
Adam asks: When a player gets a non-roster invitation to Spring Training, what compensation does he receive?
Non-roster players don't get paid anything during Spring Training. They get meal money and some kind of housing arrangement/allowance. That's all. Guys on minor league contracts get paid a salary during the regular season only.
Dylan asks: Can you give an explanation for why pre-arbitration players don't get exactly league minimum (i.e. J.R. Murphy's extra $2,700 on top of $500,000)? Thanks!
Most teams have a sliding salary scale based on service time for pre-arbitration players. Murphy was in the big leagues for a month, hence the extra $2,700. Teams can simply renew a pre-arb player's contract for any salary as long as it is at least 80% of the previous year's salary, but that's a good way to get your players to hate you. A sliding scale based on service time (with adjustments for awards, All-Star Games, etc.) makes it nice and easy.
Anonymous asks: Would you guess Shawn Kelley is Opening Day setup man on this current Yankee roster?
Yeah, that's the safe bet, but I wouldn't count on him holding the job all summer. We've been spoiled these last few years by David Robertson. Here's a quick recap of the team's primary eighth inning guys from 2007-11, the five years before Robertson emerged.
| | Opening Day Setup Man | End of Season Setup Man |
| --- | --- | --- |
| 2011 | Rafael Soriano | David Robertson |
| 2010 | Joba Chamberlain | Kerry Wood |
| 2009 | Brian Bruney | Phil Hughes |
| 2008 | Joba Chamberlain | Joba Chamberlain |
| 2007 | Kyle Farnsworth | Joba Chamberlain |
Remember, Joba moved into the rotation at midseason in 2008. He only wound up in the bullpen late in the season after hurting his shoulder. Farnsworth took over as the primary setup man when Joba gave the starting thing a shot. Point is: don't sweat who holds what bullpen role on Opening Day. They'll all change. They almost always do.
Mike asks: Assuming it was allowed, how would you look at a Robinson Cano – Jacoby Ellsbury trade before the season starts? Would Ellsbury fit better with Seattle and would Cano fit better with NY than the way things stand now? Would either NY or Seattle have to throw in a player or pay part of a contract?
I completely understand why the Yankees didn't match the Mariners' offer to Cano, but there's no doubt Robbie makes more sense for the current roster than Ellsbury. The team could go with an Alfonso Soriano-Gardner-Carlos Beltran outfield with Cano at second and a low-cost DH (or an expensive one like Kendrys Morales). The Mariners are going to let Dustin Ackley sink or swim in center this year while Nick Franklin slides into a utility role thanks to Cano, so they need the outfielder and not the infielder. Cano makes more sense for the Yankees, Ellsbury makes more sense for Seattle. I assume the Yankees would have to add another player to facilitate a trade (despite the salary difference) because Cano is the considerably better player.